The Best Ways To Answer The 'I'm Looking For' Hinge Prompt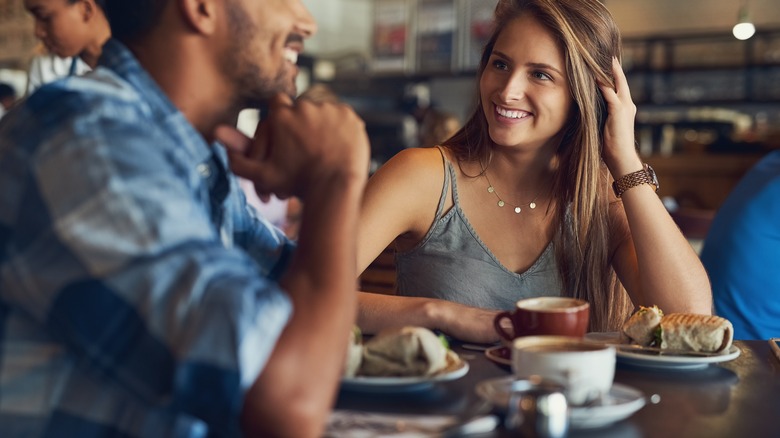 PeopleImages.com - Yuri A/Shutterstock
Let's face it, dating is digital in 2023 — or at least moving in that direction. In 2019, Pew Research Center found that 30% of adults used a dating app at least once, and that statistic has only increased since. There's still the chance of meeting a special someone without the help of the internet, but, like much of society in general, the digital world has a growing influence. 
Creating an intriguing profile is crucial for landing a date. After all, it's your first introduction to potential matches. It's an enticing endeavor, yet, creating such a profile can be quite the challenge — especially on Hinge, where you have to choose at least 3 prompts to respond to. Of course, you can fly through them with flippant answers, but your profile will likely come across as generic and unmemorable to other users scrolling through numerous profiles. Finding creative ways to showcase who you are in 150 words or less in each prompt will make your profile stand out. Carefully selecting which prompts to respond to can help you do just that. For now, we'll focus on Hinge's "I'm looking for" prompt.
What does your profile say about you?
Ground Picture/Shutterstock
Your online dating profile should tell a story about who you are. What do your photos and responses say about you? Are they thought out? Do they show you're looking to date with intention? The amount of effort you put in shows. "What we found in our research is people are like, 'I'm looking for someone who's going to put effort into dating,'" Logan Ury, Hinge's director of relationship science and author of "How Not to Die Alone," told Cosmopolitan. "And if you're not willing to put effort into your profile, maybe you aren't willing to put effort into dating."
Before you take to typing out an answer, reflect on what it is that you want. This pause can help you get in touch with yourself before communicating exactly what you're looking for. The clearer you are about what you want — in a partner and a relationship — the better it is for you and everyone looking at your profile. This also gives you the opportunity to get creative with your response.
Being creatively honest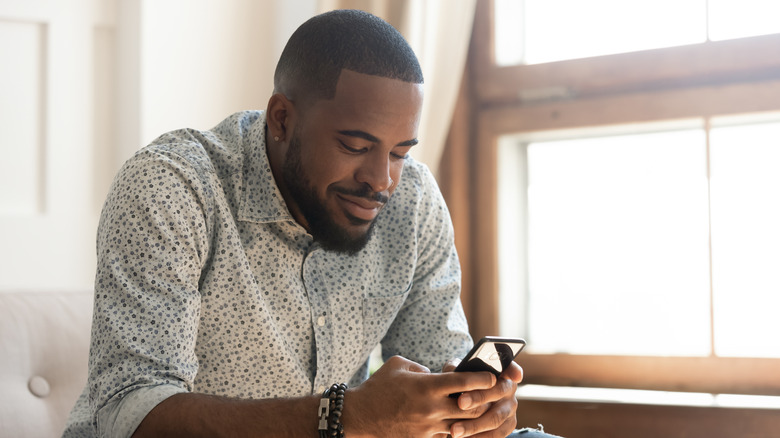 fizkes/Shutterstock
Once you begin answering the prompt, you must be truthful. "Put the games aside and be honest and direct about who you are and what you're looking for," Rhonda Milrad, a California-based licensed clinical social worker, told mindbodygreen. Once you figure out what you're looking for, you can find creative ways of saying it.
The prompt "I'm looking for" is straightforward. Your answer can be just as straightforward, or you could also have a little fun with it. Sure, you could say "a long-term relationship," but it might be more fun and telling to spice it up. For example, Logan Ury told Cosmopolitan that one of her clients' now partner used "'I'm looking for somebody to combine my bookshelves with" as a response. This cute answer implied something long-term while also revealing a bookish person behind the prompt.
Taking time to craft your response rather than blurting it out can make a world of difference to those viewing your profile. This is your time to be witty or showcase your personality. If you're looking for something more casual, say that clearly. However, if you're looking for something lasting, getting clever with your words could bring you one step closer to finding what you're looking for.