How Can You Detangle Fine Hair Without Lasting Damage?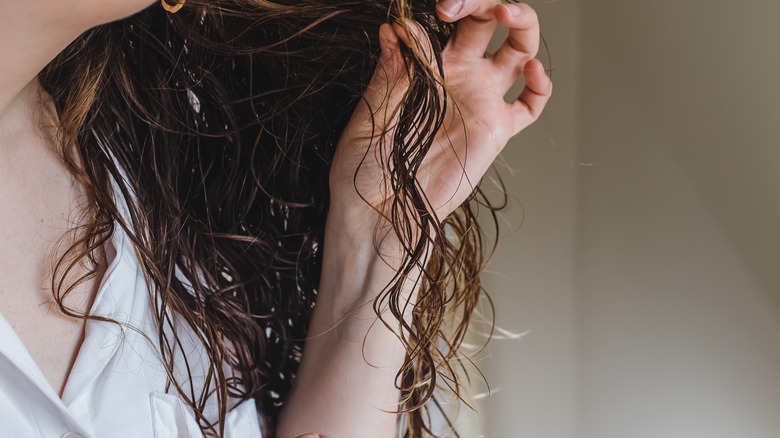 Chiociolla/Shutterstock
We may receive a commission on purchases made from links.
The dread that slowly sinks in when wash day approaches is enough to want to put off the whole thing. Shampooing, conditioning, and blow-drying can be a long and frustrating process for many people. However, having fine hair often makes the routine even more irritating. To make the process easier, you may detangle throughout wash day to reduce knots. When brushing your wet hair to minimize damage, you'll end up with smoother, stronger hair.
Detangling is important when it comes to removing shed hair that may cause knots and tangles down the line. Even though the method is preventative, detangling may make you pull out more hair than you intended. Fine hair is delicate and prone to breakage and excess shedding. We lose roughly 50 to 100 strands a day in general. When your hair is on the thinner side, you don't want to lose the hair you do have to breakage and shedding. Learning how to detangle to retain hair rather than lose it will help your mane look much fuller.
How to detangle fine hair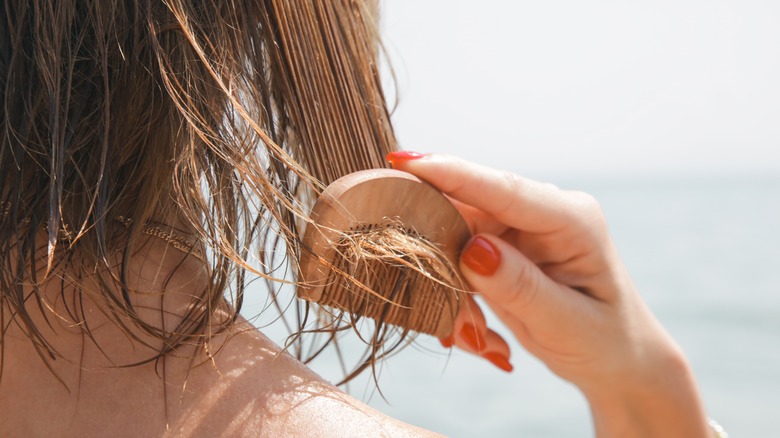 triocean/Shutterstock
The first rule of detangling is to always be gentle with your hair. Any excessive tension or pulling will cause more strands to fall out of your head. To detangle, use water or a detangler. Opt for a lightweight spray that won't weigh your hair down, such as the Not Your Mother's Knotty To Nice Conditioning Detangler. Once your hair is thoroughly soaked, run your fingers through your hair, starting from the ends of your hair.
Finger detangling before using a comb or brush will help you to feel around for any knots, giving you the opportunity to gently remove them before dragging a comb through them. Afterward, you can go in with a wide-tooth comb or brush. The Briogeo Wide Tooth Detangling Comb glides through hair easily and has a curved handle that makes holding it a breeze. If you have natural hair, use a brush like the Bestool Detangling Brush. Position the brush vertically to work out tangles without pulling on your curls too much.
How to strengthen fine hair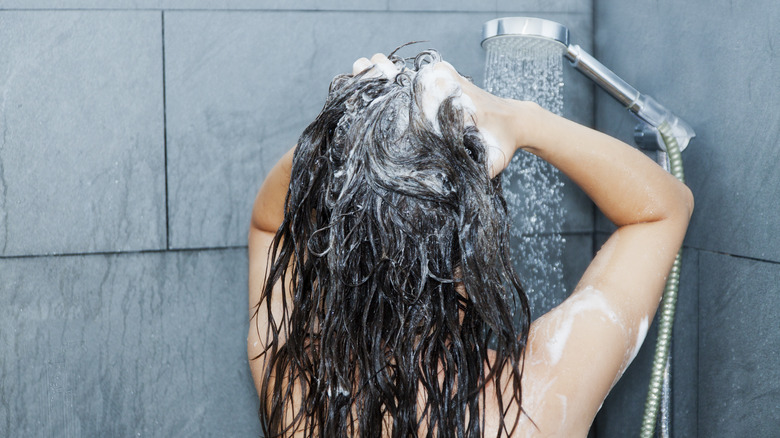 Esp2k/Getty Images
Strengthening your strands prevents excessive breakage that thins out the hair even more. To achieve this, you'll need to focus on what you put on your hair and scalp, as well as what you put in your body. Following a diet that promotes hair growth will help you achieve the results that you want. Aside from eating a protein-rich diet, you also need to add some to your hair. Protein treatments can thicken the strand, giving it more strength and body.
The Ouai Treatment Mask for Fine to Medium Hair is formulated with keratin, shea butter, and panthenol. It fights frizz and makes your hair stronger, while also hydrating it, remedying the dry feeling that may come with using protein on your strands. When washing and styling, be as gentle as possible. Try to avoid heat in general, whether it's when shampooing or blow-drying your hair. Heat can dry out your hair and scalp, diminishing growth and causing breakage. To fake the appearance of thicker hair, you can use volumizing shampoo or a texturizing spray that will add body to thin hair.