How To Use A Powder Puff For A Flawless Makeup Finish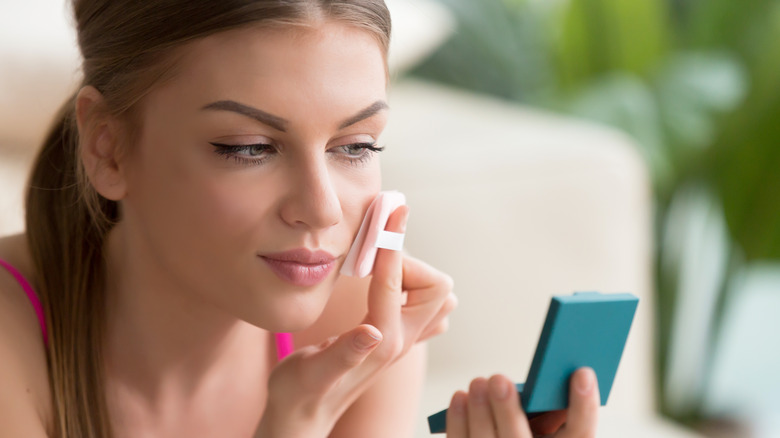 fizkes/Shutterstock
You don't have to be a beauty expert to know that you can find all of the latest beauty trends and hacks online. For instance, powder puffs are going viral, with videos tagged under #powderpuff garnering over 91 million views on TikTok. The tools and brushes you use to apply your makeup are just as important as the type of makeup you use when it comes to creating a beautiful, unblemished look. If you've ever found your makeup looks patchy and uneven after applying, it could be from not using the right tool. A powder puff is the new favorite soft pad you can use when applying setting powder the right way to your face and lock in your makeup.
Nikki La Rose, a professional makeup artist, tells Byrdie, "A powder puff gently locks in makeup without the tugging or streaking of a brush, giving an overall more flawless finish."
How to use a powder puff to apply your makeup
The powder puff is typically used to apply setting powder to the face in order to mattify makeup while still leaving the skin with a smooth and clean-looking finish. First, you need to apply the base of your makeup to your skin. Once your look is complete and you've contoured, start to apply your setting powder with the powder puff. You can choose to use a loose powder or a pressed powder, depending on your makeup preference.
Makeup artist and content creator Isra shows how she uses the powder puff to set her makeup with translucent powder. Isra recommends pushing the puff into the skin, rather than dragging or swiping it across. At the end of the video, Isra shows how the half of her face where she used the powder puff to set the makeup looks much more mattified, even, and flawless than the other. 
The dos and don'ts of using a powder puff
There are a few tips to keep in mind when using a powder puff to set your makeup. When using a powder puff, don't apply the puff directly to your face — instead, put the puff into the powder and spread it on the palm of your hand first. TikTok influencer, Mari Bajari, recommends dabbing the powder with the puff once it's on the palm of your hand and rubbing it in a circular motion. This will give you a "nice and smooth spread apart powder onto your powder puff."
Less is more when it comes to setting powder, so make sure to start off with a small amount and add more to achieve the look you're working towards. It's also important to know when it's time to throw out makeup products like your powder puff, as they aren't meant to last long lengths of time. Nikki La Rose, a professional makeup artist, tells Byrdie, "Once the material starts to get balled up like an old sweater, that's when it's time."