What Niall Matter Loves About Being A Hallmark Star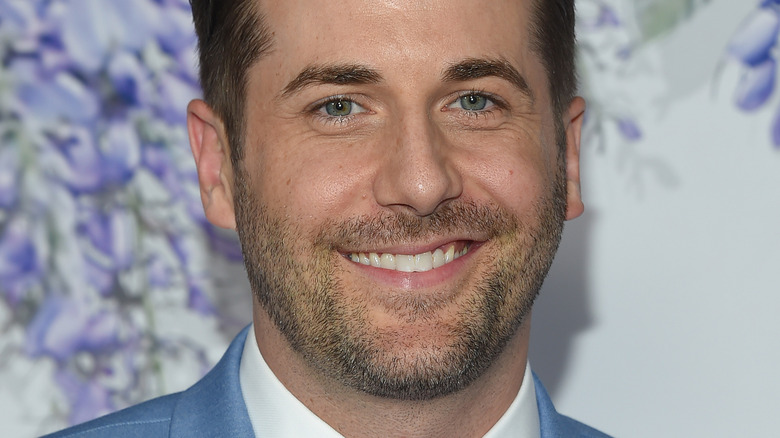 DFree/Shutterstock
Hallmark has been known for producing films filled with nostalgia and optimism. Comforting and somehow predictable with a blend of heartwarming storylines, Hallmark films have been holiday staples for years. These movies are basically what everyone needs at least once a year because why not? After a stressful year full of hustle and bustle, one also needs to decompress and destress through a mushy film. They perfectly encapsulate the festive spirits during the holidays, which is probably one of the reasons why people love watching Hallmark films. 
But Hallmark isn't only about producing feel-good flicks; the network also maintains a feel-good working environment for all its stars and several actors have been singing praises on what they love about working for the network. These longtime Hallmark actors confirmed that the network takes care of them really well. That's at least what "Never Kiss a Man in a Christmas Sweater" star, Niall Matter, said when asked why he loves working for Hallmark. 
Hallmark is filled with good people.
There are several actors who've been part of the channel for years; even former Hollywood celebrities have joined Hallmark. Matter made his Hallmark debut in 2016 through the film adaptation of "Stop the Wedding" by Stephanie Bond. That same year, he also starred in "Finding Father Christmas" along with Erin Krakow. The movie went on to make history, becoming the highest-rated and most-watched premiere on the Hallmark channel at the time of broadcast.
Seven years of working relationship is no joke and the reason Matter continuously works with the network for so long is simple. "Why Hallmark? Because of the people. It's because of the people I work with [and] it's because of the care that they put into the product. And at the end of the day, they're just good people," the actor told Us Weekly in October 2022. 
The longtime Hallmark star added that when you are working with good people, it transcends on the screen. "All the actors, we're literally all friends. I've never been a part of a network, or a studio, that has this atmosphere. Like, we get together and we literally want to know about each other's lives because we care."
Niall Matter is thrilled to be part of Hallmark's new journey
While Hallmark had this formulaic plot line when it comes to their holiday films, the network has been taking a new direction when it comes to their regular movie offerings and has been seeking to be more diverse and inclusive.  As a result, the channel has been aiming to make more realistic films these days. Matter shared that he's thrilled to be a part of Hallmark's new journey. 
After starring in "The Secrets of Bella Vista", Matter said he loves seeing the diverse scripts he's being handed to. "As an actor, an artist, and somebody that's always very happy working with Hallmark as a company, I'm excited about the scripts I see come through," Matter told Media Village in September 2022. "They're evolving, and the brand is something I'm excited to be a part of. I like the direction these scripts are heading in, and it's been great getting the opportunity to sink my teeth into different types of work within the company."