The All-Natural Skincare Oil That Helps Protect Against Harsh UV Rays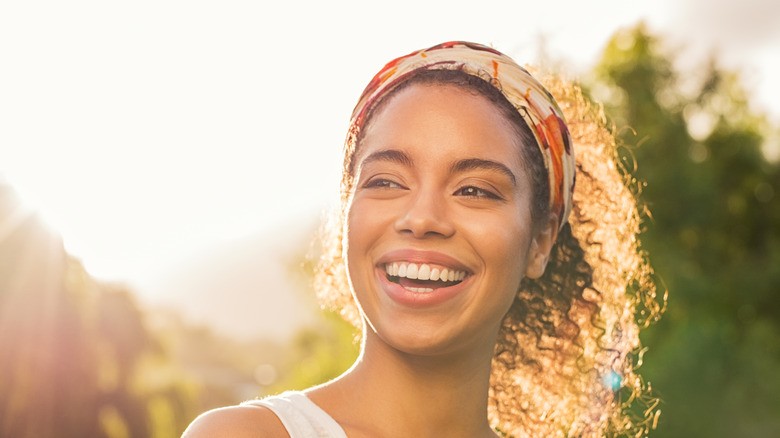 Ridofranz/Getty Images
Batana oil (not banana oil) may not get as much mainstream attention as other natural oils on the market, such as argan or jojoba. However, it has one serious benefit that tends to set it apart from the others — UV protection.
These days, we're all about products that do double or even triple duty, like makeup that includes acne-fighting ingredients or cleansers that moisturize as they remove debris. So when we heard that batana oil not only nourishes and hydrates but also protects skin against damage, we were intrigued. Plus, the oil can be fantastic for your hair too. If there is such a thing as a quadruple-duty beauty product, batana oil would be it.
We're only now learning about its benefits, but the people of Honduras, where the oil hails from, have been using it for years. Extracting the oil from the American oil palm fruit can be a long and painstaking process. Still, even though harvesting and pressing is almost exclusively done by hand, clean beauty brands are willing to invest in this miraculous oil due to its benefits.
What are the benefits of batana oil?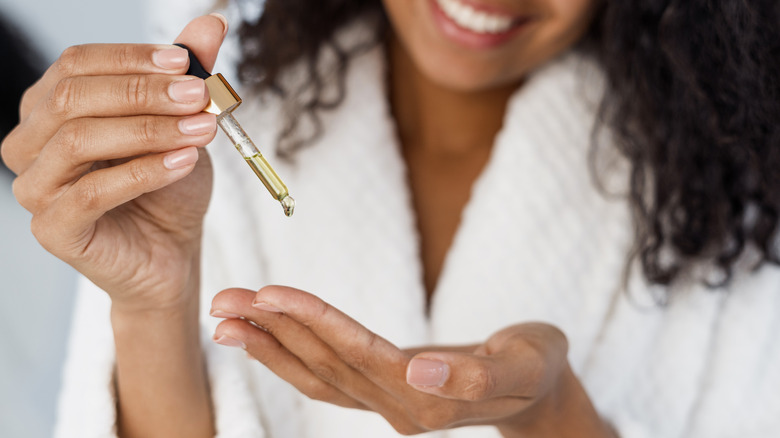 Brizmaker/Getty Images
Batana oil is packed with nutrients, making it a plant-based powerhouse for nourishing skin. Ron Robinson, cosmetic chemist turned BeautyStat founder, explains: "Given it is rich in vitamins and Omega-6 fatty acids, it can work as an emollient to help moisturize the skin," (via InStyle). When applied to the face, it can be hydrating and soothing while offering even more benefits. These acids, like linoleic acid, help to plump skin and reduce the signs of aging, as do the phytosterols and carotenoids also found in batana oil.
But that's not all; it has antioxidants like tocopherols and tocotrienols, two substances known as free-radical scavengers. You may have heard of free radicals, those cell-damaging molecules that can trigger oxidative stress. The stress often appears as wrinkles, dark spots, sagging, and a dull, uneven skin tone. Things like UV radiation from the sun and environmental pollution can provoke free radicals, leaving you with unwanted signs of aging. Dr. Lauren Penzi, a board-certified dermatologist, told InStyle that batana oil protects your epidermis from environmental factors like UV rays while its antioxidants battle photodamage, almost like sunscreen.
Can batana oil replace your Banana Boat?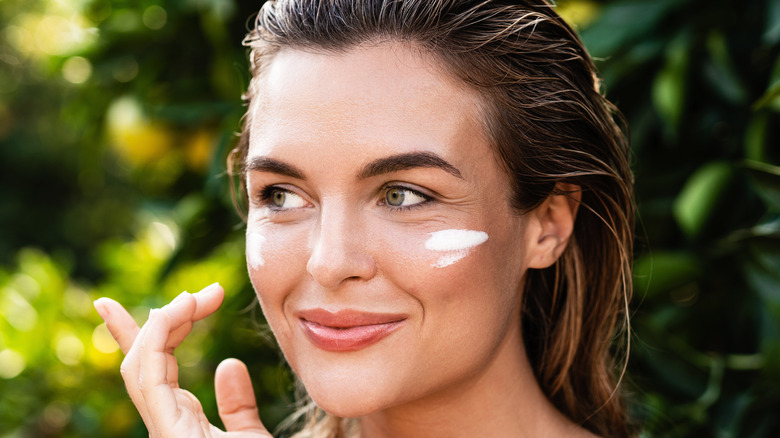 Jun/Getty Images
With that said, you're still encouraged to wear traditional SPF sunscreen even if you want to try batana oil (and never go below 30 SPF). Batana oil helps to protect the skin against powerful UV rays. However, there is no sun defense like specially formulated sunscreens.
Instead of using the oil like an SPF, try adding it to your beauty routine as a hydration booster. A few drops in your favorite face mask or moisturizer works well. Additionally, you can massage it into your scalp and leave it overnight to nourish dry, dull locks. Batana oil makes a great cleanser, too, by putting a few drops onto a makeup remover pad or in your cleansing products. Penzi advises that those who are acne prone will want to use the batana oil during step one of their routine and follow it with a water-based cleanser to prevent clogged pores (via InStyle). Another word of warning is to not overdo it with batana oil.
Once or twice a week is all you need to add hydration, nourishment, and protection to your hair or skin routine. Before you slather it all over, a patch test is recommended to test your skin's reaction, and those with a tree nut allergy may be sensitive to batana oil. If there's no reaction, you can feel comfortable adding a few drops of this secret beauty oil to your cleanser, moisturizer, or mask as a plumping and protective pick-me-up!