The Daily Dry Skin Fix You Can Do In The Shower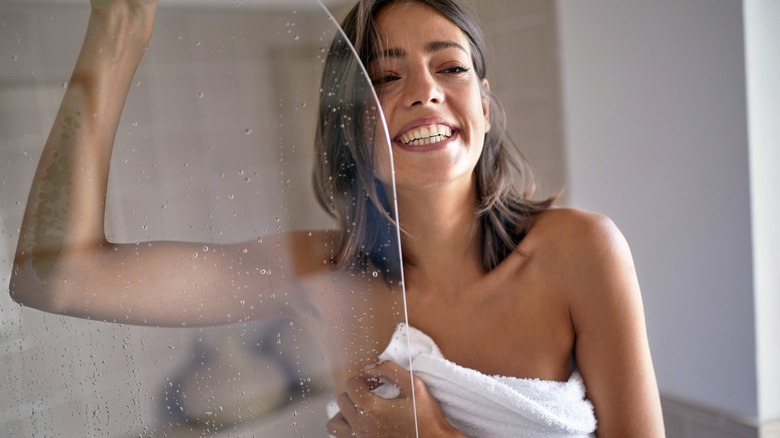 Lucky Business/Shutterstock
When talking about skin needs and issues, it's so often just about the face. If your face is on the drier side, there are moisturizers, acids, and many other beauty products that can help you almost instantly if you choose the right one.
What about the body? Skin is the largest organ of the human body, and it's bound to get dry at some point for whatever reason, just like the skin on your face does. According to the American Academy of Dermatology Association, the majority of people develop dry skin by the time they enter their senior years. "As we age, the skin is less capable of maintaining moisture, and age-related loss of moisture can cause more dryness over time," dermatologist Judith Hellman, MD, explains for Healthline.
Combating dryness on the body can be more demanding since it's a much larger surface to deal with than just the face. Oftentimes, when you finish moisturizing your body, it can still feel rough to the touch or simply uncomfortable. If you use a body lotion or oil to moisturize your skin after you've taken a shower and dried off, you might be doing it wrong.
Locking in moisture after showering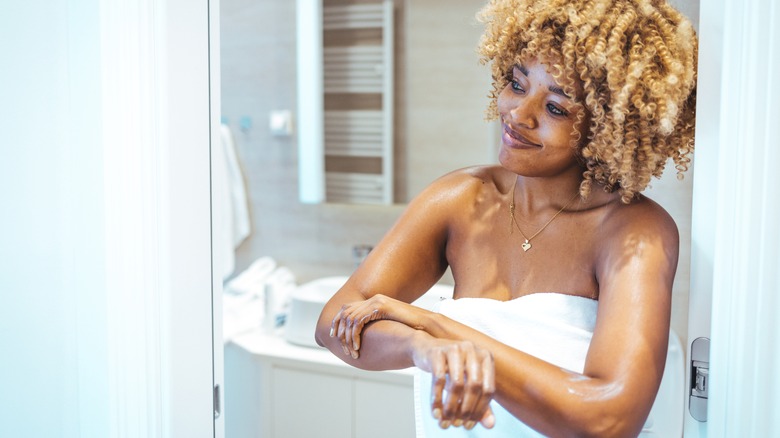 Dragana Gordic/Shutterstock
Harvard Health Publishing emphasizes that the overall cause of dry skin is water deficiency, not a lack of oil. Therefore, the key to properly hydrating the skin is locking in moisture and not just mindlessly lathering yourself in lotions and oils. To achieve that, Who What Wear advises using your moisturizing agents before your skin has completely dried off after showering. You don't want to be dripping wet, but make sure your skin is at least damp for this dry skin fix to work its magic.
Board-certified dermatologist and Botox pioneer Patricia Wexler, M.D. tells The Cut that the ideal period to lock in moisture is within the first five minutes post-shower if you're air drying, or immediately after you've lightly dried your body off with a towel. It is perfectly safe to do this every day, even recommended, as it's "creating an environment to sustain moisture in extremely dry skin ... over time," Wexler explained.
To prevent overly drying your skin out on a daily basis, you can also try reducing the temperature and length of your showers, drinking enough water throughout the day, and using the right products to moisturize your body.
What to look for in body moisturizing products
@dermfriends

After shower routine by a board-certified dermatologist 💛#boardcertifieddermatologist #dermfriends #aftershowerroutine #aftershowercare After shower routine, after shower body routine, after shower skincare, after shower body oils, after shower body care, after shower products, after shower body care routine, after shower routine eczema, after shower routine at night, dry skin, dry skin on legs, dry skin on body, extremely dry skin on body #greenscreen

♬ original sound - Skincare Dermatologist
A regular drugstore body lotion or cream might do the trick if you don't have excessively dry skin. Still, when shopping for a body moisturizer, try to look for certain ingredients anyway. "The particular form that a product takes, gel, balm, oil, cream, etc., doesn't really affect the performance of the product. It's the ingredients that matter. The form just affects the experience of applying the ingredients," Perry Romanowski, a cosmetic chemist, tells Healthline.
If you're wondering what to look for in a hydrating body lotion for dry skin, remember what works for the face — it's usually alpha-hydroxy acids, or AHAs. Adding lactic acid to your skincare works for the body as well. Don't forget the classic go-to's for combating skin dryness: the skin-smoothing urea and hyaluronic acid. The latter is especially a good choice, according to Melissa Lekus, a Los Angeles esthetician, as hyaluronic acid is capable of retaining "up to 1000 times its weight in hydration," she shared with Healthline.
Skincare shouldn't be just about the face; it should extend to the body as well. If you're already moisturizing frequently, changing the routine just a little bit and minding the ingredients in your moisturizer can go a long way.