Why Blondes Typically Have Thinner Hair Than Brunettes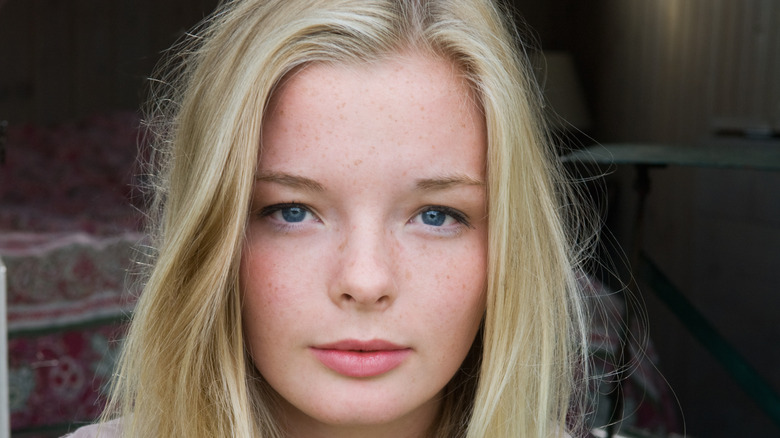 Henry Arden/Getty Images
We may receive a commission on purchases made from links.
Blondes don't always have more fun. In fact, natural blondes can deal with an array of hair issues that brunettes don't typically have. Yes, being a natural blonde is a rarity that many people wish for, and having lighter locks can often make you look younger (as grays are less noticeable) and can hide scalp issues like dandruff much better than your darker-haired counterparts. Unfortunately, though, it's not all sunshine and rainbows.
According to Women's Health, besides the old, and untrue, saying that blondes aren't as smart, blondes actually deal with some unique hair problems. Blondes are more prone to heat damage, meaning that constant blow drying can lead to brittle, dry ends much quicker than brunettes. Blonde hair is also more susceptible to grease, so washing your hair more often is usually advised. Natural blondes may also struggle with lighter hair elsewhere like their eyebrows and eyelashes. But one of the biggest things blondes deal with is hair thinness. Here's why many blondes have thinner hair than brunettes.
Blonde hair is more fragile than darker shades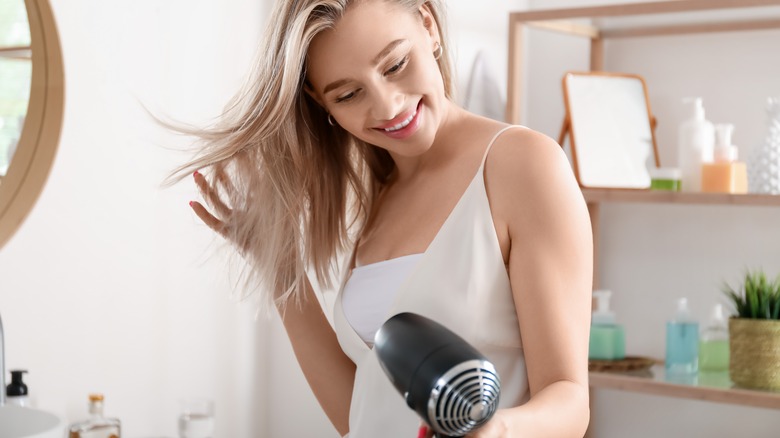 Pixel-Shot/Shutterstock
There are a lot of things to be said about blondes. While most of them are opinion-based, there is one fact that can be scientifically backed: blondes are rare. According to the book Blonde Like Me: The Roots of the Blonde Myth in Our Culture, only 2% of people in the world are blonde, making natural blondes extremely unique. With that uniqueness, though, comes some issues, mainly with thinning hair.
According to Robotic Hair Restoration Long Island, blondes have a higher scalp density than brunettes, making their locks thinner and therefore, more susceptible to damage. The more heat you apply to blonde strands, the more likely you are to experience things like hair loss, which can be detrimental to already thin hair. If you are naturally blonde, you can be grateful that you do not have to spend hundreds of dollars becoming blonde in the salon, but you also need to do things at home to keep your hair healthy.
How to keep thin, blonde hair healthy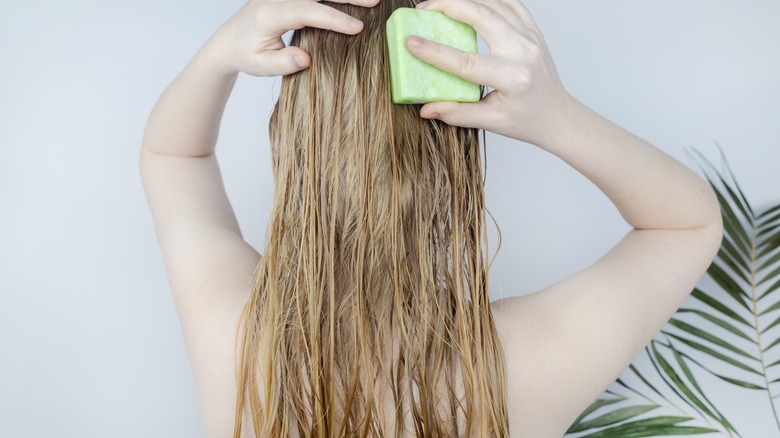 Alona Siniehina/Shutterstock
When it comes to keeping your natural blonde hair healthy and avoiding breakage and hair loss, the number one thing you can do is keep your hair hydrated. The Kérastase Blond Absolu Hydrating Illuminating Shampoo is a great option, as it not only keeps hair moisturized, it also strengthens the hair, making it ideal for natural blondes. If you want to work on keeping your natural blonde hair from darkening, you can also try a purple shampoo. Contrary to popular belief, purple shampoo is not just for color-treated hair, and it can help natural blondes keep their light strands even as they age and hair tends to darken. Mane Addicts recommends the Eva-NYC Tone It Down Blonde Shampoo, especially for those with dry or brittle hair.
To really keep your hair hydrated and healthy, consider an overnight treatment like the Amika Dream Routine Overnight Hydrating Hair Mask that contains hyaluronic acid for some serious hydration.