Vanessa Simmons On Her Buttah Skin Collaboration And Best Beauty Tips - Exclusive Interview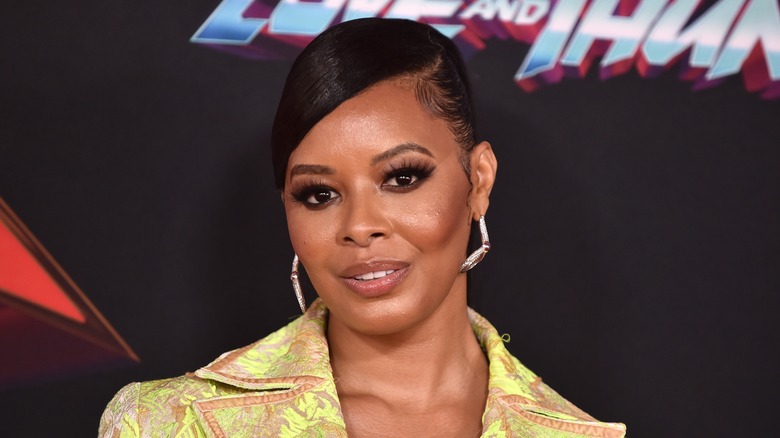 DFree/Shutterstock
For most people, a life on stage or on camera seems like a distant fantasy — something that perhaps a tiny handful of people manage to attain, but few can realistically aspire to in real life. The closest most of us will ever get to a career in entertainment is a seat in a church choir or maybe a minor role in a community theatre production.
This wasn't the case, however, for Vanessa Simmons. The daughter of Run-D.M.C. rapper and actor Joseph Simmons, she not only grew up in the entertainment world, but also got used to life in front of the camera at an early age. Her life growing up with one of the foundational figures in rap was featured in the MTV reality show "Run's House," and from there, she ventured into an acting and modeling career of her own, as well as entrepreneurial ventures.
In her latest venture, she's taking on another role as a spokesmodel for Buttah Skin, an all-organic, cruelty-free line of skincare products specially formulated for Black skin. Founded by Dorion Renaud, whose frustration with existing skincare products in his own acting and modeling career prompted him to seek something better, Buttah Skin is also a personal favorite brand of Simmons. In an exclusive interview with the List, Simmons shared how she became involved in the campaign and some of her best skincare tips.
Here are Vanessa Simmons' favorite Buttah Skin products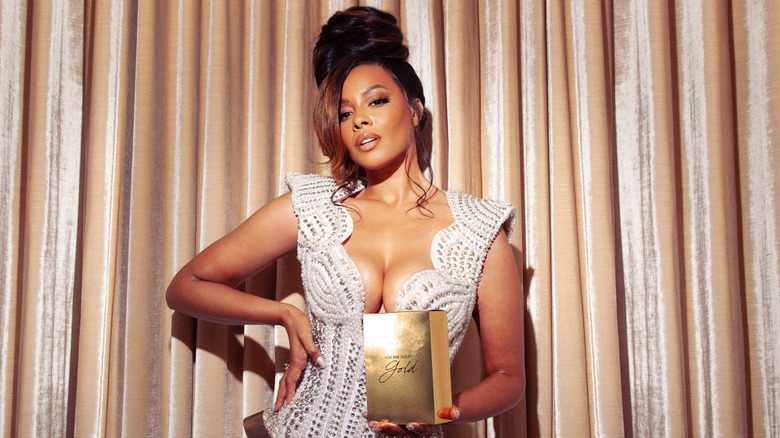 Tyren Redd
I have a few questions for you about your new campaign with Buttah Skin. Can you tell me how you got involved with that?
Well, I've been friends with Dorion [Renaud] for a very long time, but what resonated most with me about being a part of this campaign is the mission that Buttah Skincare has and how it's really effective. I'm in love with the products. It's not just because Dorion is my friend, but his products work. They've been tried and tested by me, and the glow is definitely real.
What are some of your favorite products?
I have what I like to call the Holy Grail. In the morning, I wash my face with the wash, and then the Holy Grail is the Vitamin C drops. As soon as you put them on, you can definitely see a difference in the glow. I follow up with the Hyaluronic Gel-Cream, which adds moisture and makes sure I stay moist throughout the day.
Then I go in with the CocoShea Revitalizing Cream, which is amazing because it's adding shea butter to my skin, but in a light way. Sometimes shea butter can have a little bit of a thicker consistency. The cream allows for the shea butter to be whipped in, so it leaves your skin with a really light feeling, moisturized, and the hydration stays.
Those are my three favorite Buttah products ever. It's the Vitamin C, Hyaluronic Gel-Cream, and the CocoShea Revitalizing Cream. You'll have a glow like no other — I highly recommend.
Black skin sometimes needs extra TLC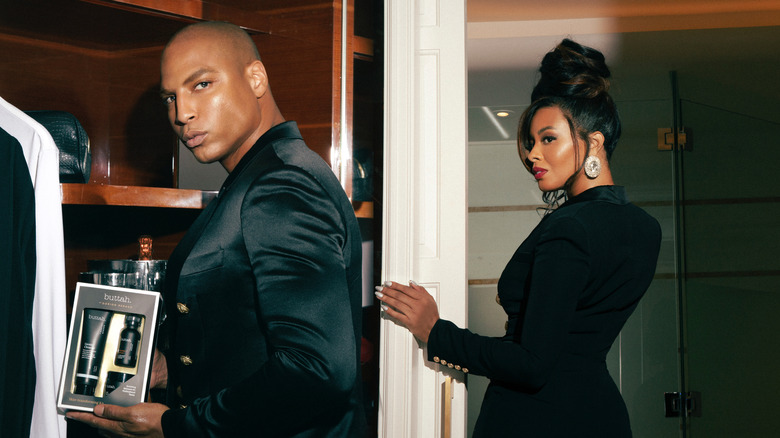 Tyren Redd
One of the things that's special about Buttah Skin is it's Black-owned and it makes products for Black skin. Would you mind sharing any skincare challenges specific to Black skin?
I'd like to start off by saying that everyone's skin is different. It's amazing that this stuff is actually targeted toward melanin. I find that as a Black woman myself, I suffer with hyperpigmentation from sometimes getting acne scarring. When you get those little bumps that pop up and they leave a little residue behind, we need a little extra TLC in that lane to target those problems.
It helps with my hyperpigmentation. I see a difference, especially with that Vitamin C. It's true, we need a little extra care, and I feel like Buttah is targeting that. There's no other brands out there right now that are targeted toward melanated skin, and [Dorion Renaud]'s doing a really good job with that mission.
In your own work as an actor and model, you spend a lot more time in makeup than most people do, and you probably have to put it on and take it off a lot more than most people. How do you protect your skin when you're doing all that?
Half of the battle is making sure you're taking off all that makeup at the end of the day. It's beautiful and we feel gorgeous when we have all this makeup on, but for me, it's coming home after a long day and taking all of that off.
It's important that you're taking out those toxins, taking the time to try masks. For me, it's steaming. I'll sit in front of a steamer I've bought myself and steam all that makeup off to make sure it's coming out of your pores. Because if you get makeup left over in your skin, that's when you start to see the problems show up and pile up.
I can tell you from my twenties, I spent a lot of time falling asleep with makeup on. My skin saw the havoc from doing that. Now in my thirties, almost 40, I'm finding that making sure you take off all of that makeup before going to sleep, you're going to see the best skin that you could possibly see.
Vanessa Simmons believes real beauty starts on the inside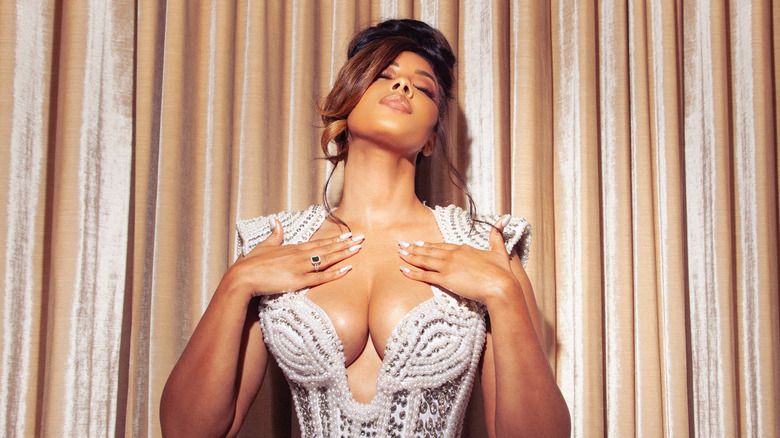 Tyren Redd
Can you share any other beauty tips that you like?
I'm a firm believer in what we are putting on our skin in the external is important, but what we're feeding ourselves on the inside is more important. The supplements you're taking, what you're feeding your body, how you're even speaking to yourself — all of those things play a part in what you see externally. Affirmations are big for me, masks, everything self-care. I like to call myself the self-care queen, because I love to indulge in different beauty rituals, but the most important being what we're feeding ourselves on the insides and we see the best results on the outside.
Switching gears a bit, you grew up in the showbiz family, and you've been on the screen for most of your life. Did you always want to follow your father's footsteps into show business?
I've been very blessed to see a lot of my family members dive into different areas in the entertainment business, and definitely have always been a big fan of music. But I've never gone that way completely. I don't know if I can make a contribution there, but in acting and entrepreneurship would be the biggest thing that I feel like I'm following in my family's footsteps.
Being able to be of service and finding products and services that can help enhance humanity and enhance mankind ... Definitely entrepreneurship — that's how I followed in my father's footsteps. I want to add to the legacy.
Time will tell if her daughter will also pursue an entertainment career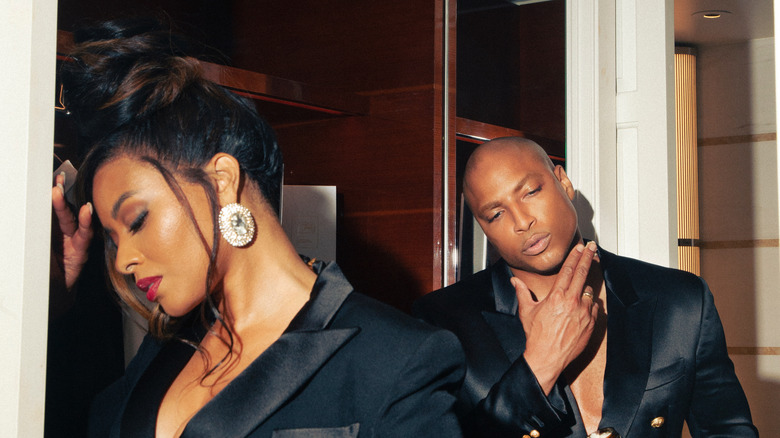 Tyren Redd
You also have a daughter now yourself. Do you think she'll want move in to your footsteps, or do you think she's interested in other things?
My daughter is 9 years old, and she obviously comes from a heavily entertainment-based family on both sides of her family. But I want her to grow into what her interests are naturally, not pushing her or forcing her to get into anything too fast.
We do a lot of activities. She's into tennis right now. She's in theater, so I'm happy about that, and even coding — a lot of her friends are taking coding classes. We're trying to offer as many activities and interests so that she can pick the direction she naturally wants to go in, not forcing her into entertainment. But if she does, of course, Mommy will be there to give her all the advice in the world because I definitely have been living this life for almost over a decade now. I'm excited to see how she'll grow up and where she'll go with everything, but I don't want to force her into anything too prematurely, just let her explore and be a kid.
Buttah Skin is available to purchase at the Saks website. Choices in their customizable kit include a gentle cleanser, Vitamin C serum, and a choice of moisturizer. You can also find the entire Buttah Body Line, which contains Cocoshea Body Wash, the Oatmeal & Shea Cleansing Bar, Whipped Body Butter, and Luxe Lip Balm. 
This interview has been edited for clarity.