Days Of Our Lives Star Peter Reckell On Why He Never Got A Chance To Say Goodbye To John Aniston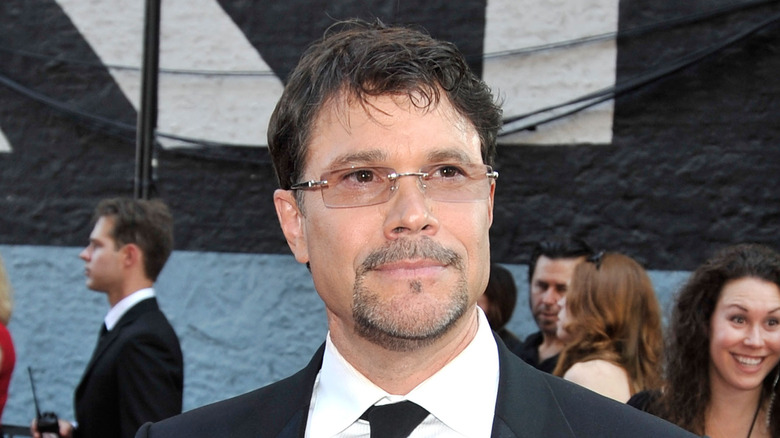 Kevin Winter/de/Getty Images
Peter Reckell is known for playing one of the most popular and beloved soap opera characters of all time, Bo Brady on "Days of Our Lives". Bo's life in Salem has been dramatic, to say the least, but he's always had his family to fall back on. Over the years, Bo's life and family have changed drastically. As a kid, the character always believed that Shawn Brady Sr. was his father. However, as a young adult, he was rocked by the news that his mother Caroline Brady had an affair and that his true biological father was none other than one of Salem's resident bad guys, Victor Kiriakis (John Aniston).
Bo was unhappy about the revelation and he even looked to take Victor down after finding out that he was his real father. Bo and Victor butted heads, especially when it came to the Kiriakis family business. Eventually, Bo left town with his wife Hope, and Victor disowned his son. However, Victor later saw the error of his ways and looked to make amends with Bo.
Although Bo and Victor didn't have the best relationship, they did mend fences and even became close. Victor became a father to Bo and a grandfather to his children. Bo also connected with Victor's other children, Isabella and Philip. In reality, Reckell seemed to have a lot of love for Aniston as well.
Peter Reckell opens up about John Aniston's death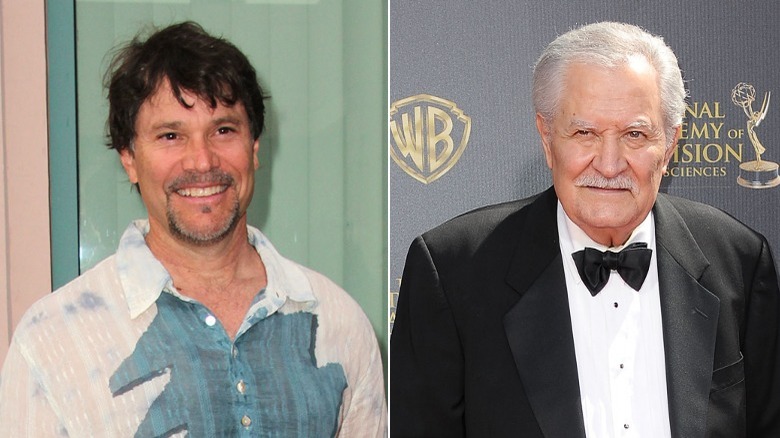 Angela Weiss & Frederick M. Brown/Getty
Playing a father and son duo on "Days of Our Lives" seemed to bond Peter Reckell and John Aniston together. In 2022 when Aniston was awarded a lifetime achievement honor, Reckell spoke out on his on-screen father. "[John] certainly deserves it," Reckell told Soap Hub at the time. "Our characters would be angry with each other or they'd love each other. It was one of the most powerful relationships on the show," he added.
Sadly, Aniston died in November 2022 at the age of 89. Many fans and co-workers took to social media to share their thoughts on the iconic soap actor's death. Months later, Reckell found himself getting emotional while speaking about Aniston's passing, and the fact that he never got to say a final goodbye to his friend.
Reckell revealed that he missed out on the chance to see Aniston before his death due to his busy life and commitments, which he regrets (via Michael Fairman TV). "It was difficult just that he was gone and not to have the chance to see him," Reckell also admitted on the Soap Digest podcast (via Soaps). "It hit me kind of hard. You look at the scenes that we did together and he's my father. That ran a little deeper than what I thought when I found out he had passed." Of course, this wasn't the first time that Reckell had to mourn a member of his soap family.
Reckell has mourned many of the Days of Our Lives greats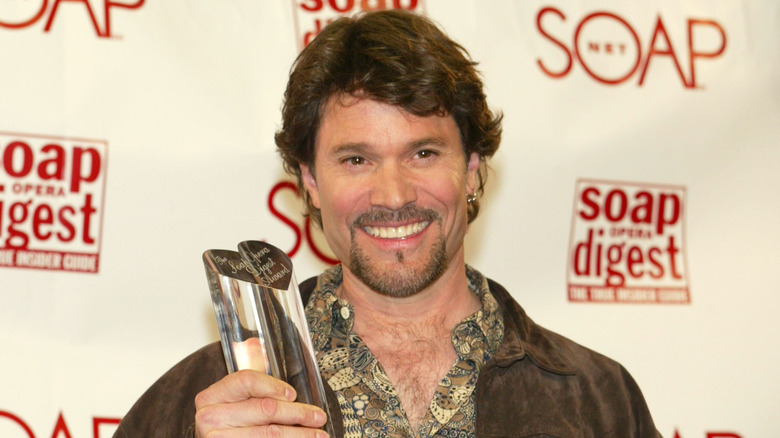 Kevin Winter/Getty Images
Over the years, "Days of Our Lives" viewers have been through an emotional rollercoaster with the characters. Sadly, they've also been forced to say goodbye to some of the actors such as Peggy McCay (Caroline Brady), Frank Parker (Shawn Brady Sr.), Francis Reid (Alice Horton), Macdonald Carey (Tom Horton), Joseph Mascolo (Stefano DiMera), and most recently, John Aniston (Victor Kiriakis).
"The older actors that were such a huge part of, not only Bo's life, but my life," Peter Reckell told the Soap Opera Digest podcast (via Soaps). "You never caught them acting. They were just who they were to you. He's my dad. Frances was my grandma," he continued. However, Reckell did get a chance to pay homage to Aniston's character when he returned to the soap in 2023. During a huge storyline, Bo was revealed to be alive after being resurrected by Megan Hathaway. The process changed him, and he found himself wanting to emulate Victor's business model for power and fortune, leaning more into the Kiriakis side of his bloodline.
Much like Reckell, many were touched by Aniston's portrayal of Victor, and it's a character that fans are sure to remember for many years to come.