Here's How Much Employees Make Working For The Royal Family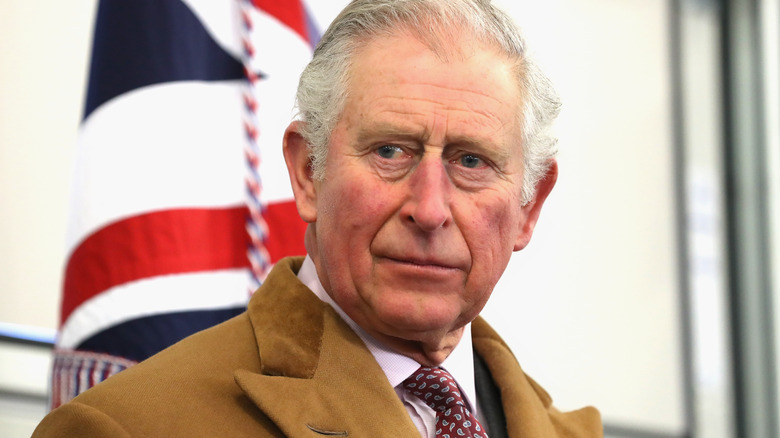 Chris Jackson/Getty Images
For some, working for the British royal family is a dream come true, and it might surprise you to learn that some of the jobs at the various palaces are as easy to get as filling out an application online and sending it in.
Of course, once you get a job in a royal household, reality begins to set in. For starters, it's a lot of work — as Simon Morgan, who worked for the royal family as a royal protection officer from 2006 to 2013 told Reader's Digest that for every royal event that appears to go seamlessly "lots and lots of work has gone into that" and that those who work for the family should be credited with the success of each event because "It's not a case of we turn up and hope for the best."
At any given point, there are typically a number of jobs available serving the royal family, from taking tickets and guiding visitors at the palaces to working deeply within the royal household as an assistant to one of the most senior members. With that in mind, here is a look at one of the most important parts of any job: How much do employees working for the royal family make?
Working for the royal family isn't an easy job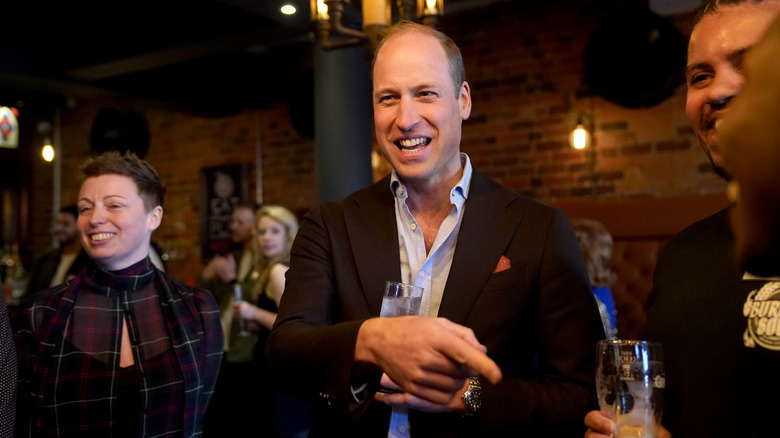 Wpa Pool/Getty Images
While it might seem like a cushy and plush environment, working for the royal family isn't an inherently easy gig. While many who apply for open positions with the family are doing so out of a desire to further their careers, that doesn't mean that getting the job means spending time basking in lavish palaces.
As Simon Morgan told Town & Country Magazine, some jobs with the family require a long application process as well as weeks and even months of additional training. Not only did Morgan say that he needed the ample experience he got as an officer with the Metropolitan Police before applying for the job, but he also said that he spent five weeks learning how to be a bodyguard and two weeks learning how to conduct himself while working with the member of the family he was assigned to.
Morgan said, "You're also taught how you speak to people, and how to address the 'principle' is massively important. There has to be an acceptance that you are in their life. You have to be very respectful of the role that they occupy. You're there to support them like any other support role, to help them do their job." 
There are plenty of minimum-wage jobs with the royal family available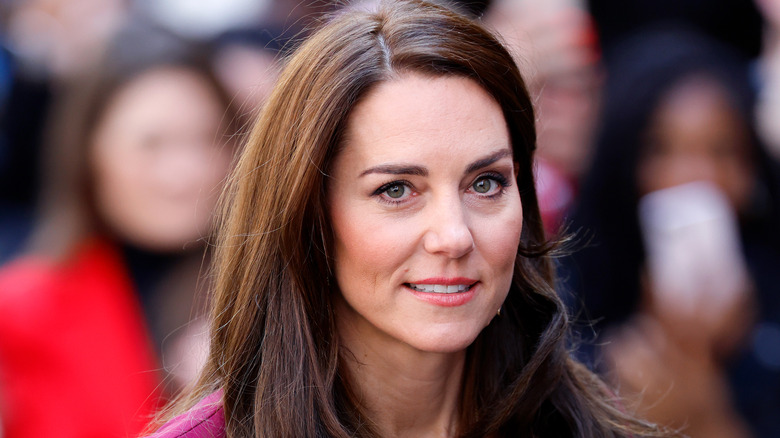 Max Mumby/indigo/Getty Images
Employment with the British royal family can encompass everything from working directly with the powers that be all the way to a variety of minimum-wage jobs. For example, eligible parties can apply to work as an admissions assistant at Windsor Castle, home to 150 people and considered an official home for the monarch and members of the royal family.
The job pays £10.90 ($13.51) per hour. That's a hair above the U.K. minimum wage of £10.42. The job listing notes that training and lunch are provided. Both full- and part-time options are available, and the listing notes that Tuesday and Wednesday are typical off days. An admissions assistant helps sell tickets, directs tourists to where they need to go, and is described as "a vital part of each visitor's experience."
When it comes to the type of person who might fit the bill, the Royal Collection Trust is looking for "an excellent team player, with the ability to work flexibly and effectively even when things get busy and remain calm under pressure." Those in the position undoubtedly experience stress from time to time, especially as working in customer service can be taxing — throw in hundreds of tourists each day, and it can't be an easy job.
Hospitality positions also begin close to minimum wage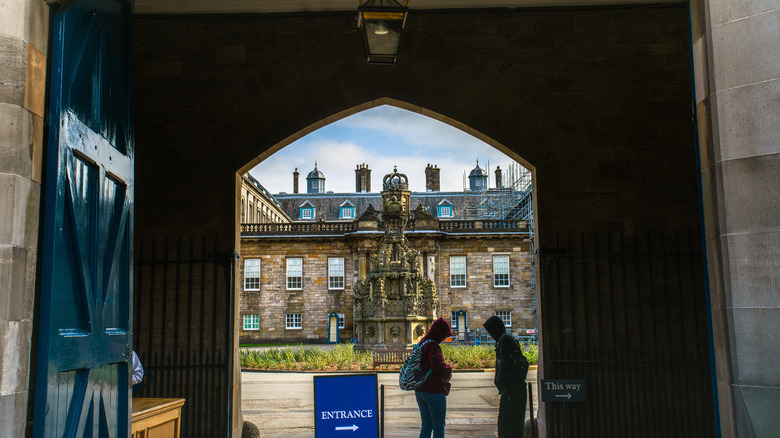 b-hide the scene/Shutterstock
As a housekeeping assistant, one might be more likely to one day meet a member of the royal family. An opening at the Palace of Holyroodhouse, the monarch's official home in Scotland, also advertises £10.90 per hour, plus an employer pension contribution of 15%. (Such a pension contribution is well above what the average job in Scotland offers.) The position involves keeping the palace clean and presentable.
The job posting also notes that it's not essential to have worked in housekeeping or hospitality before and that the Master of the Household's Office is more interested in soft skills, such as one's "proactive approach and ability to tackle new challenges." Those who secure this role with the royal family will also receive a benefits package that includes training and 33 days for vacation.
Art history student Alicia Healey took up a summer job in hospitality at Balmoral Castle and later told Historic Cornwall, "It was a 'tale of two jobs': dusting Antonio Canova's sculpture one minute and cleaning the royal toilet the next." Healey's position pays minimum wage, but live-in maids make even less than that.
People who work in HR for the royal family can make over $30k a year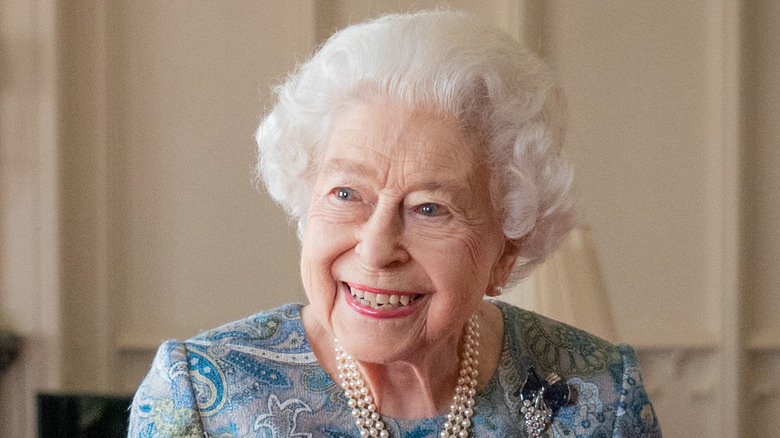 Wpa Pool/Getty Images
It may surprise you to learn that working for the royal family doesn't guarantee a royal-sized paycheck. As noted by Hello! Magazine in 2020, a junior assistant in human resources can expect to bring home between £26,000 and £30,000 ($32,237 and $37,197) a year. This is well under the average salary of a full-time worker in London in 2020, which was £36,611 ($45,393).
It's unclear how much access a job in human resources gives an individual to the royal family, though the family is reportedly respectful and friendly with staff members they encounter. Grant Harrold, who previously worked as a butler for Prince Charles and Camilla Parker Bowles for four years, told Reader's Digest, "If you bumped into them, they'd have a conversation with you. It wasn't like, 'You're staff; I'm not going to speak with you.'"
A comptroller is one of the highest-paid jobs with the royal family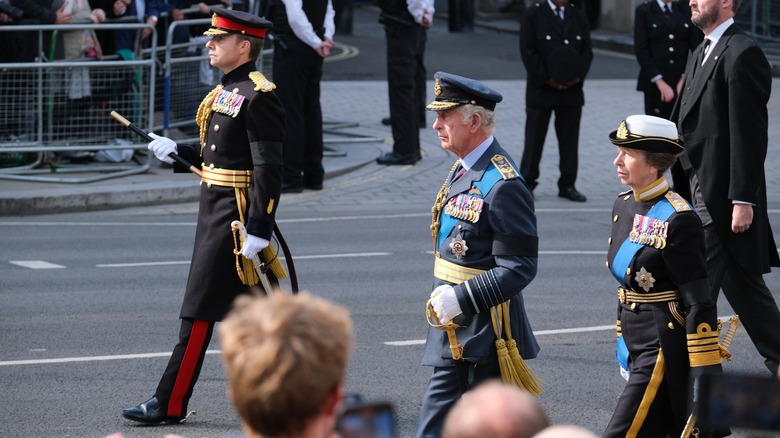 Turgut Cetinkaya/Shutterstock
Of all the positions one could have with the British royal family, the comptroller is among the highest-paying. It's unclear exactly how much a comptroller makes, but in 2020, Hello! Magazine reported that the comptroller at the time, Mike Freer, was being paid six figures while working in the role. Lt. Col. Sir Andrew Ford, who occupied the position prior to Freer, faced a lot of pushback when it was revealed that his salary was raised to £116,000 in 2012.
The role of comptroller dates back centuries. It's believed that the first comptroller was Mr. George Dawson-Damer, who stopped working in the role in 1846. In 2022, Rebecca Harris became the first woman to hold the position — and she even walked in front of the members of the Royal Navy in Queen Elizabeth II's funeral procession.
Harris told the BBC that she didn't realize the role came with so much responsibility. As she put it, "Several days into mourning Her Majesty, the three of us in the whips' office with ceremonial roles in the household found out we also had roles in the ceremony. It's been 70 years since the last monarch's funeral, so no one had remembered. So it came as a bit of a bolt in the blue, and what an incredible honor."
The premier sous chef at Buckingham Palace works 45 hours a week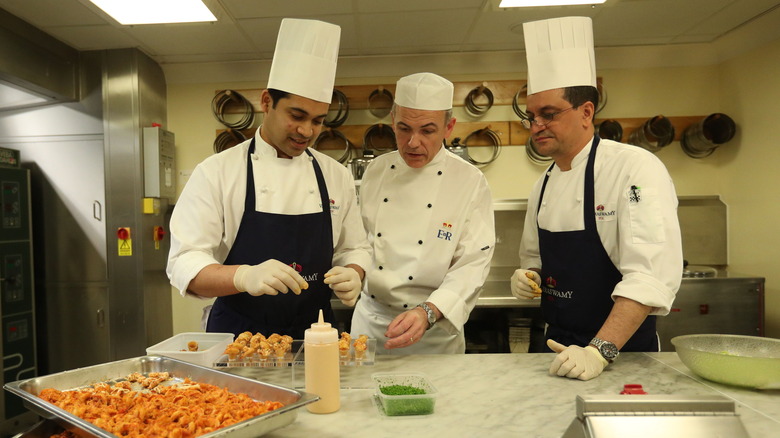 Wpa Pool/Getty Images
As perhaps the most well-known of royal residences, Buckingham Palace is a big deal. There are a number of employment opportunities at the residence and professional headquarters of the British royal family. One such job is the premier sous chef, which offers a competitive salary and reports directly to the head chef at the palace. The palace isn't looking for just anyone to fill what is likely a crucial role. The team is hoping to find someone who has "good knowledge of classical cuisine, and of the food industry in general" and "excellent people management skills, and you're used to empowering and motivating a large team," but the job listing also notes that having great IT skills is a serious plus.
The similar role of royal pastry chef also reports to the head chef. The position, according to an interview with a working royal pastry chef, involves creating and writing menus, managing supplies, training staff, maintaining health and hygiene in the work environment, and managing a pastry team.
One 2018 opening for a line cook at Buckingham Palace offered a salary of £20,604 (about $28,000 at the time) — less if the cook lived on the premises. A position offered a year later for a chef de partie position, responsible for preparing menus for royal events, paid £22,076 ($27,776 at the time) per annum. For reference, in 2018, McDonald's employees in the U.K. made about £15,800 annually, while U.S. workers made around $18,000 per year.
Senior attendants live in the castles they work in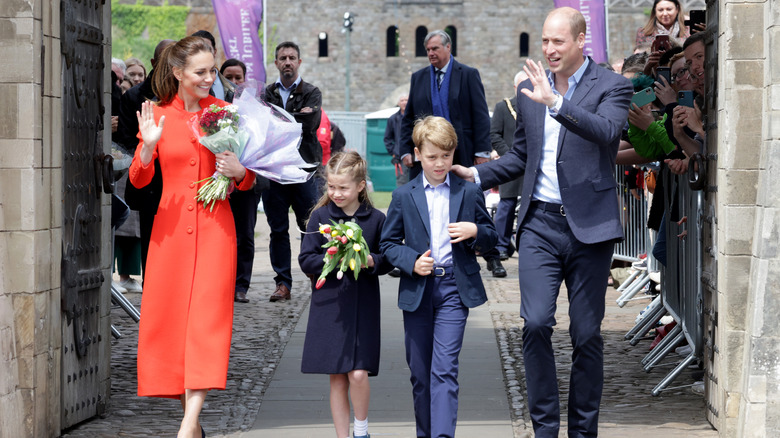 Chris Jackson/Getty Images
Attendants have one of the more important jobs in the castles they work in. The job listing for senior attendant notes that a position available in Windsor Castle reports directly to the master of the household's office and earns £23,750 ($29,448) a year depending on experience. While that might not seem like much, the position also includes a home at Windsor Castle.
Living at the castle in which you work must be super helpful for any attendant of the royal family, especially since the family hosts hundreds of events a year. The job listing notes, "Every day will be different. Whether it's reviewing a function sheet to plan the week ahead, or helping to prepare for a state banquet, you'll make sure that every item is in place and presented to its very best."
Attendants will likely encounter a wide variety of people who provide services to the family through the job. The official website for the family notes that the Master of the Household's Office generally encounters everyone from "florists and upholsterers to specialist craftspeople and caterers."
A job as a security access control officer means lots of time with the public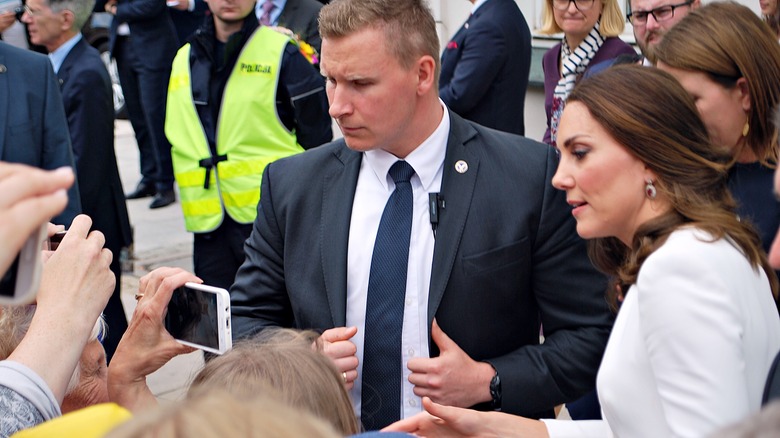 Grand Warszawski/Shutterstock
People who have a history in security might be interested to find out that there are plenty of opportunities within the royal family to work in the field, such as the position of security access control officer.
The role is a pretty important one, especially as the person who snags it will be responsible for clearing anyone who enters St. James' Palace, which is often used for important ceremonies like the christening of newborn members of the royal family. Princess Anne also calls St. James' Palace home, as does Queen Elizabeth II's first cousin, Princess Alexandra.
In addition to performing security checks and clearances, candidates need to be comfortable with Microsoft Office and be "digitally fluent." The starting salary for the position tops out at £25,000 ($30,997) a year, and the position requires 37.5 hours of work a week. That's about the mean salary of a security guard in the U.K., who reportedly make between £18,000 ($22,318) and £32,000 ($39,677) annually.
Senior gardeners have an enormous responsibility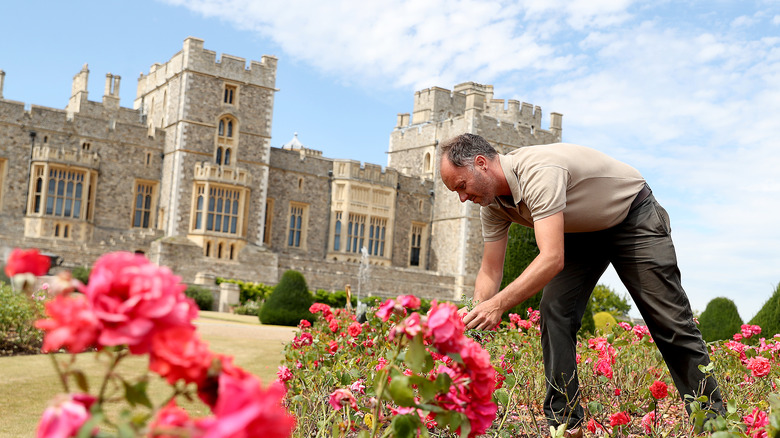 Chris Jackson/Getty Images
One position in the royal family that many people with green thumbs might find attractive is that of a senior gardener. The full-time position pays £27,000 ($33,477), and the family provides housing, though there is a deduction for rent. This senior gardener post is responsible for attending to the gardens at Windsor Castle.
As the leading gardener, interested candidates should be able and willing to be in charge of a group and prepared to recommend what flowers and greenery should be planted on site. The job does require the appropriate licensing or degrees, with at least Level 3 qualifications, including a Botanic Diploma in Horticulture, listed as being acceptable.
Additionally, the person who ends up filling the position of senior gardener needs to have experience that matches the expectations of the role. This includes maintaining a high-quality landscape garden in a historic environment, as well as knowing how to care for a variety of lawns, trees, and shrubbery.
A records officer might be an ideal job for the royal-curious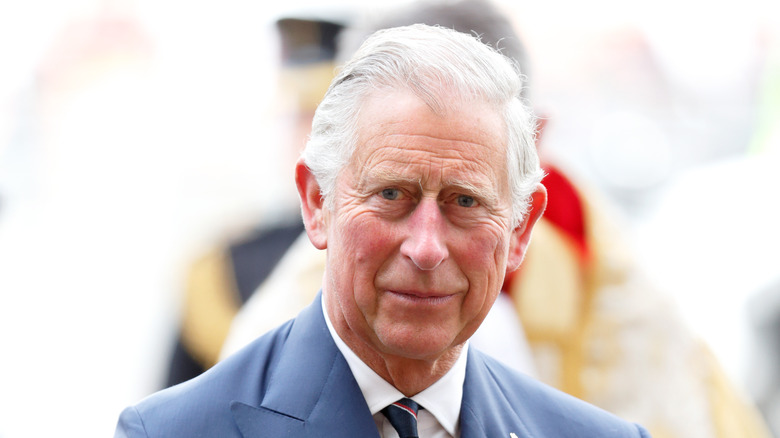 Max Mumby/indigo/Getty Images
If digging into the archives associated with the royal family sounds like a dream come true, you might be the ideal person to apply to be a records officer. The position is located at the heart of things in Buckingham Palace, and the work includes the ability to "file information requests and manage loans, as well as maintaining the records for future reference."
The right candidate will have plenty of experience working with databases and filing systems, as well as be able to take in, understand, and work with potentially massive amounts of information and know when and where to store it. The position is five days a week, 37.5 hours a week, and pays £23,000 ($28,518) per annum. A similar position that requires more experience, that of senior conservator of archives, manuscripts and books at Windsor Castle, pays significantly more: £35,000 ($43,396) to £37,000 ($45,876) per year.
When it comes to what kind of records someone in these positions might encounter, there's really no way to know. From time to time, the records officer is expected to transfer some files to the Royal Archives, which, among other things, maintains and preserves the letters written to and from monarchs. The senior conservator, on the other hand, is required to be an authority on the subject of the preservation of royal history and maintains collections in both the Royal Library and Royal Archives.