Hallmark's Jill Wagner Reacts To The Unexpected Cancelation Of Mystery 101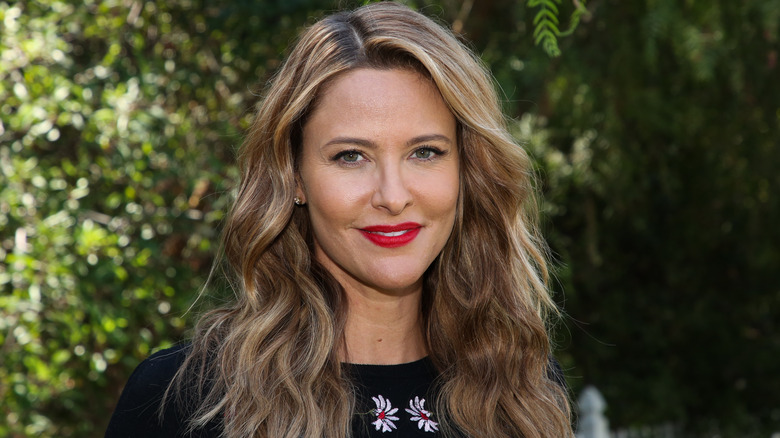 Paul Archuleta/Getty Images
If you're a Hallmark fan, you've no doubt heard that the network just unexpectedly canceled its signature series, "Mystery 101," in a stunning move. The series of seven movies premiered on Hallmark Movies & Mysteries from 2019 through 2021. The final installment, "Mystery 101: Deadly History," ended on a major cliffhanger, which left fans patiently awaiting another film. However, their hopes were dashed on April 24 when the Hallmark Movies & Mysteries Facebook page replied to a comment on one of their posts, revealing that there would be no more "Mystery 101." 
Fans blew up in the comments section, demanding to know why the series would finish with no conclusion and with so much still up in the air. Leading man Kristoffer Polaha quickly took to Twitter and confirmed that the show was over but finished his tweet with a curious "But..." and a wink emoji. He also replied to a fan's comment by cheekily suggesting that he'd like to "shoot a wedding scene," since, "We love a happy ending." While the actor's tweets made it clear that he was open to more "Mystery 101," Polaha's co-star and Hallmark darling, Jill Wagner, had yet to wade in. 
One comment on the original Facebook post shared what many fans were thinking: "Hallmark has made a very bad decision. And so sad Jill doesn't care about her fans." Wagner has since responded, but it's only sparking more questions, further adding to the mystery surrounding the sudden disappearance of "Mystery 101." 
Jill Wagner responded with a lengthy post
On April 25, Jill Wagner took to Instagram and posted several photos with Kristoffer Polaha and some of their other "Mystery 101" co-stars, captioning it: "The End," followed by loving messages of gratitude to the cast and crew. Most notably, the Hallmark star finished her post with: "And to the fans ... just so you know in my mind, Amy and Travis get married and go on a super long honeymoon to Fiji.!! 😉 thank you all for being so supportive and loving the show like you did."
So, while Polaha may be hoping to film a new finale, Wagner seems content with a "Mystery 101" ending that exists purely in our collective imaginations. It's important to note that while Polaha's Hallmark movie, "A Winning Team," premiered in March, and "A Biltmore Christmas" is already in post-production for the 2023 Hallmark holiday lineup, Wagner hasn't worked with the channel since 2021. 
However, she has since starred in two movies for their competitor network, Great American Family. Wagner has also got her own Paramount+ series, "Lioness," which is set to premiere later this year and on which she also served as an executive producer. So, while "Mystery 101" is officially over, we have a feeling that the mystery of what's going on behind the scenes is only just beginning.