Prince Harry Reportedly Still Waiting For Answers About Big Coronation Concern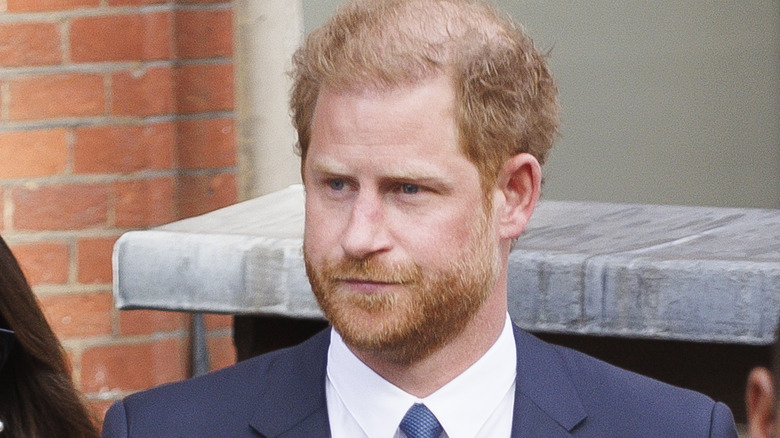 Belinda Jiao/Getty Images
In case you somehow missed the announcement, the coronation of King Charles III will take place on Saturday, May 6, 2023. The event is predicted to be huge, with artists including Lionel Richie, Katy Perry, and British band Take That all confirmed to be performing at the coronation concert on Sunday, May 7. Alongside this, organized street parties are expected to be popular, and those who live in the U.K. will also get an extra bank holiday on the Monday following the coronation to further celebrate. It's safe to say Charles is definitely going all out for his ascension to the throne, which has been a long time coming.
Of course, it wouldn't be a royal event if there wasn't at least some drama surrounding the day. Speculation was rife in the weeks before Buckingham Palace confirmed Harry and Meghan's plans for the coronation, with it eventually being revealed that Harry would attend his dad's coronation without the Duchess of Sussex. 
Now, a source has revealed to Page Six that Harry supposedly has no idea about many of the finer details of his dad's coronation, including where he will be sitting. 
The coronation planners seem to have omitted telling Harry a key detail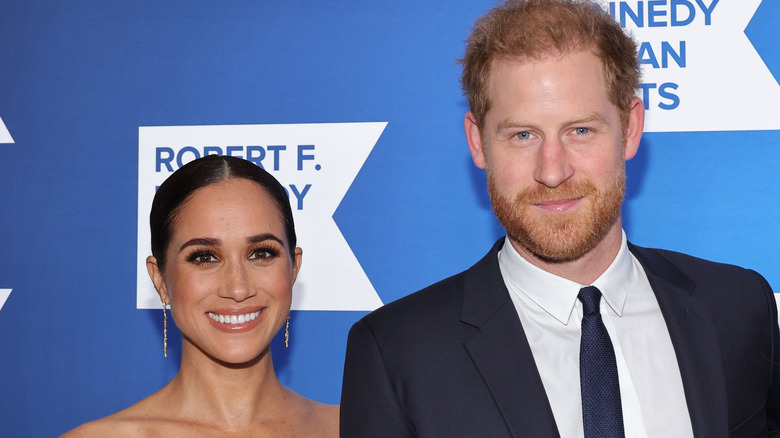 Mike Coppola/Getty Images
As if it weren't awkward enough for Prince Harry to attend the coronation already in light of the details he revealed in "Spare," his not being told basic information like the seating plan could be another way to make him feel out of place. Despite reports from The U.S. Sun that claim Harry will be seated 10 rows away from the rest of the family, Page Six's source disagrees: "Harry has not been told where he's sitting yet, but I highly doubt that [it's as far back as the 10th row]." Still, the location of his seat is likely a source of concern for Harry, as his relationships with brother Prince William and sister-in-law Princess Catherine are reportedly still strained. He's close, however, with his cousins Princess Beatrice, Princess Eugenie, and Zara Tindall.   
There have been no more official statements regarding Harry, but, whatever the drama surrounding the coronation is, it seems he wants no part of it. "Harry's going to show up to support his dad. All I know is that it's a stretch to ask much more for him ... he doesn't have any sort of agenda other than just getting in and getting out," the source further revealed. 
No matter whether Harry not being told details such as where he should sit is deliberate or just an oversight from the planners of the coronation, there's guaranteed to be some tension between parties on the day itself.
The whole coronation celebration will be tricky for Harry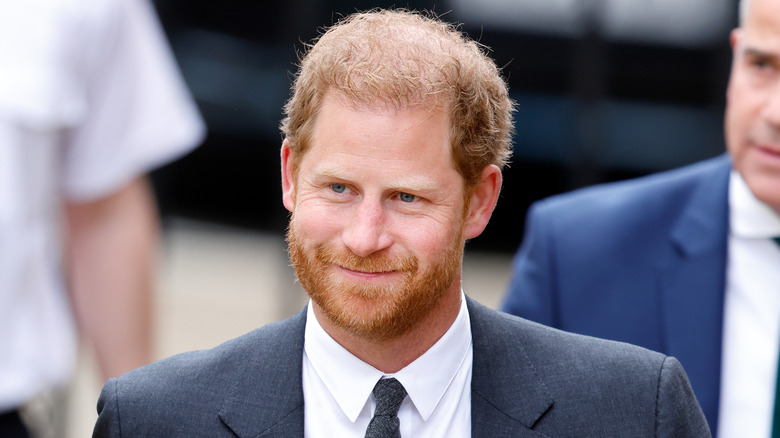 Max Mumby/indigo/Getty Images
As well as not being informed about the seating plans, it seems Harry has other things to worry about, too. Despite his status as the son of the king, Harry supposedly will not play a role in the coronation itself. A source who is aware of coronation plans revealed to The Mirror that Harry will not stand with other members of the royal family, stating, "The King has been very clear who he wants to represent the monarchy. There is little room for sentiment, this is a State occasion, not a family occasion and it is right that only the working members of the family are there at the big public moment."
Prince Andrew, who was disgraced and stripped of his titles in 2022, is another royal who will not stand with the others, a decision that definitely gives credence to the rumors Harry essentially dug his own grave after the release of "Spare." However, the source's comment that Charles is viewing the coronation as a "State occasion" rather than a family one puts the decision more into context, seeing as it was Harry's own decision to step down as a working royal.