Buckingham Palace Finally Confirms Harry And Meghan's Coronation Plans (And We're Not Surprised)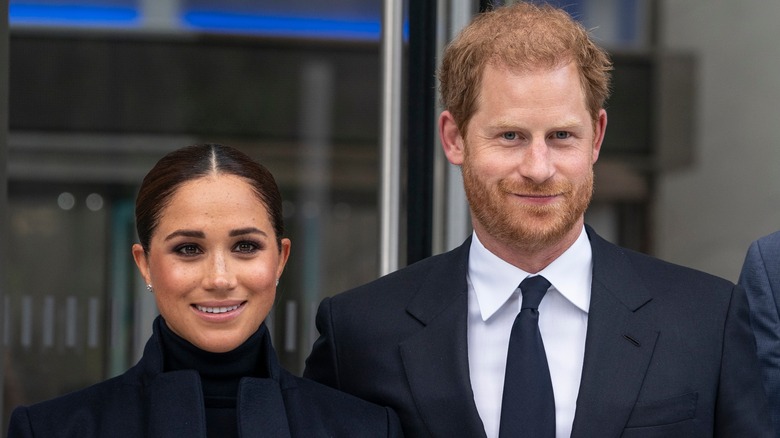 lev radin/Shutterstock
Well, royal fans, we've been waiting, and the verdict is officially in: The Duke of Sussex is headed to King Charles III's coronation, but his wife, the Duchess of Sussex, is not. Harry and Meghan took their time accepting Charles' coronation invitation, and there's been plenty of speculation as to what exactly was being discussed in the interim, as well as what their final decision would be. 
A Buckingham Palace spokesperson has now announced, "Buckingham Palace is pleased to confirm that The Duke of Sussex will attend the Coronation Service at Westminster Abbey on 6th May. The Duchess of Sussex will remain in California with Prince Archie and Princess Lilibet," (via the Daily Mail). The fact that the children won't be attending is noteworthy, considering the fact that Archie and Lilibet's role in Charles's coronation has been up for debate too. 
In fact, it was even reported that they weren't originally invited to the ceremony, at all. As Omid Scobie, a close friend of the Sussexes, revealed, "I understand that Archie's fourth birthday (also on May 6) played a factor in the couple's decision. Expect it to be a fairly quick trip to the UK for Prince Harry, who will only be attending the coronation ceremony at Westminster Abbey." As far as the palace is concerned, it's safe to say that a win is a win.
What this decision means for the royal family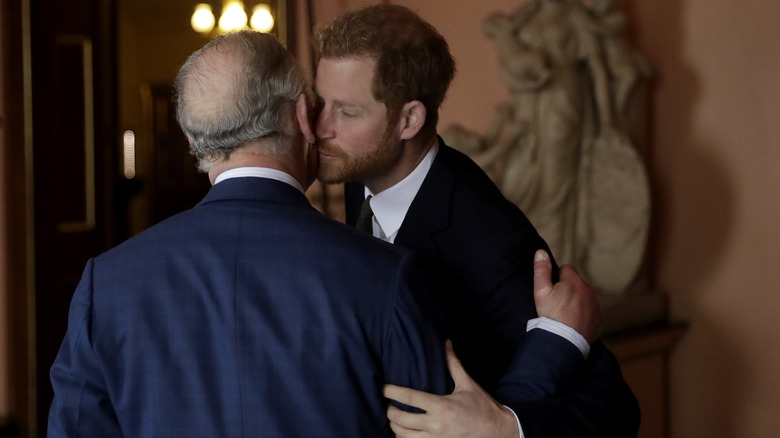 Wpa Pool/Getty Images
In light of the bad blood between the Sussexes and the senior royals, there was really no way for Prince Harry and Meghan Markle to RSVP to the coronation without causing a bit of awkwardness. Ultimately, it seems that their final decision minimizes the discomfort and bad optics all around, which wasn't an easy outcome to achieve. A source close to the family spoke to People about how important Harry's presence at the ceremony is to his father.
As they explained, "It is such a momentous occasion for Charles, and he would want his son to be at the coronation to witness it. He would like to have Harry back in the family. If they don't sort it out, it will always be part of the king's reign and how he has left his family disjointed. He has had a reputation as a distant parent, and it would be awful for him for that to continue." 
While it's safe to say that this move doesn't mean that it's all water under the bridge in terms of this royal feud, Meghan and Harry's decision likely means that things are moving in the right direction. In the end, both Charles's coronation and Prince Archie's upcoming birthday celebrations are set to make May 6th a very happy day for the famous family.
With Harry and Meghan's RSVP, coronation details are finalized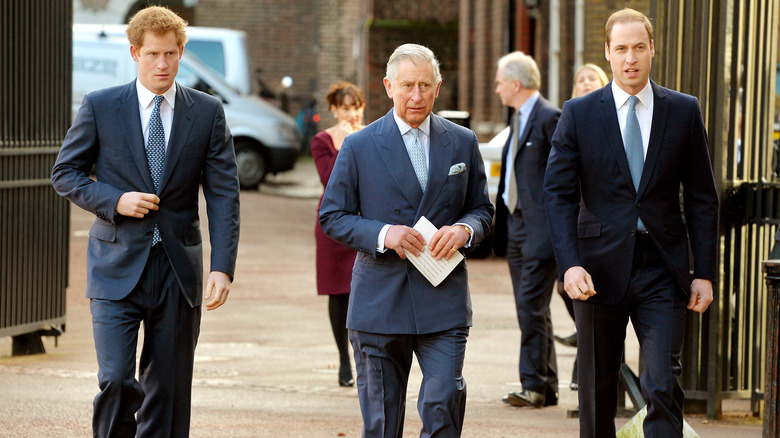 Wpa Pool/Getty Images
We're mere weeks away from King Charles III's historic coronation, so with the Duke and Duchess of Sussex's long-awaited response to the coronation invite finally set in stone, it seems that most plans for the big day are in place. Prince Harry will be among over 2,000 guests at King Charles' ceremony, but since he is no longer a working member of the royal family, he isn't likely to have a major role in the coronation. As was the case for Queen Elizabeth II's Platinum Jubilee, Harry won't appear with his father on the Buckingham Palace balcony like the other working royals will.
Since Harry's brother, Prince William, is officially the next in line for the throne once Charles begins his reign, he'll be occupying a vital role in the ceremony. Even his son, Prince George's, coronation role is reportedly going to be a big one. As for Harry and Charles, it's certain that the Duke of Sussex's relationship to the ceremony will be a bittersweet one. Yet, seeing as this will be Harry's first time seeing his fellow royals after the release of his wave-making memoir, "Spare," which set more bad blood among the royals in motion, everyone will have to put on a happy face during the reunion, whether they want to or not.