How HGTV's Leanne Ford Achieves Her 'Construction Chic' Style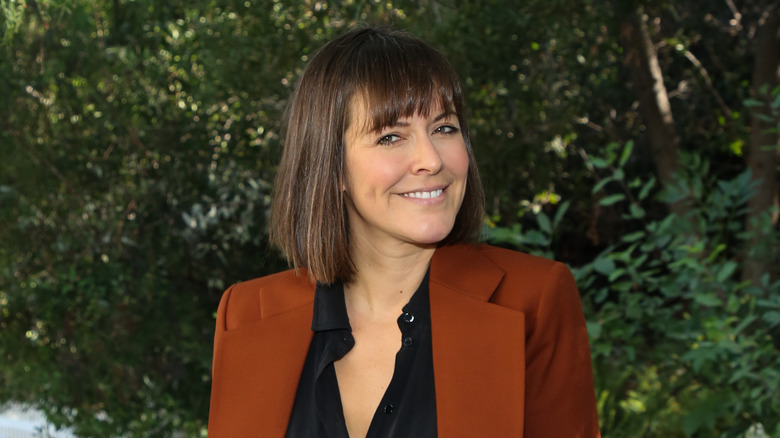 Paul Archuleta/Getty Images
Each HGTV personality has their own unique style — that's usually what they get paid for, after all — but Leanne Ford of "Home Again With the Fords" has become known for more than her interior decorating skills. Her unique fashion sense has gained its own fans, with viewers reaching out to Ford to ask where she's obtained certain pieces of clothing. "I'm an extremist; I'm either in scrappy clothes or heels," she told House Beautiful in 2018. 
She apparently had so many inquiries, she ran a poll on Instagram stories that helped her name her fashion sense. The winner? The fans chose to call it construction chic, and some have even dedicated Pinterest pages to the look. The interior designer might have found inspiration in developing her fashion sense from her husband: after all, she's married to fashion designer Erik Allen Ford, with whom she shares a daughter.
If you aren't familiar with Ford or her TV series, you might be asking yourself, what does construction chic look like? Ford often oversees remodeling and design tasks dressed in classic blouses paired with skinny jeans and Dr. Martens, but some days, she rocks a stylish pantsuit and heels. "Coming from fashion, I just automatically like to wear fun clothes," she told House Beautiful. "They're not even that crazy, right?"
Her closet combines the practical with whimsical
If you take a peek at Leanne Ford's closet, she insists you might be surprised at what you find. "Honestly, I wear the same, like, seven things over and over," she told House Beautiful. The secret to her style seems to be in the way she takes those articles and pairs them. "I look for interesting cuts and shapes," she pointed out, adding that some shirts are "all about the cut." The interior designer also revealed that she shops in every department — including the maternity section, men's, and boys' — and pays more attention to how clothes fit on her than anything else. 
Another secret? She adds some pizzazz to classic, simple items through such gestures as pushing up the sleeves or popping the collar. Take, for instance, the blazers she often wears with her jeans and a T-shirt. "This is a T-shirt and jeans, but you throw on a blazer, and you look like you care," she added. "I always push my sleeves up. It kind of gives it a vibe."
The HGTV personality also revealed the other staples in her wardrobe, including overalls, bell-bottom and skinny jeans, and jackets, which seem to be her favorite article of clothing to buy. "Jackets are where I'll spend money," she said. "They just pull an outfit together."
She has experience in fashion
Before she was an interior designer, Leanne Ford made her living as a wardrobe stylist, and it's clear she still enjoys sharing her fashion picks with others. Her company's website has its own section devoted to fashion, where Ford shares her personal favorites and tips for looking stylish in everything from jumpsuits to shoes, complete with links to buy her recommendations. "Most of you only know me as an interior designer — but before this wild life, I worked in fashion, as a creative director, and a stylist before that," she states on the webpage. "After all, it's all the same side of the brain — the way things live together, playing with proportions, shape and size."
Ford, who recently moved to Pennsylvania with her husband and daughter, has also expanded into publishing, creating her own magazine titled Feel Free. The publication features more than interior design, also containing sections on fashion, music, and travel.