How To Pick The Perfect Outfit When Attending A Beach Wedding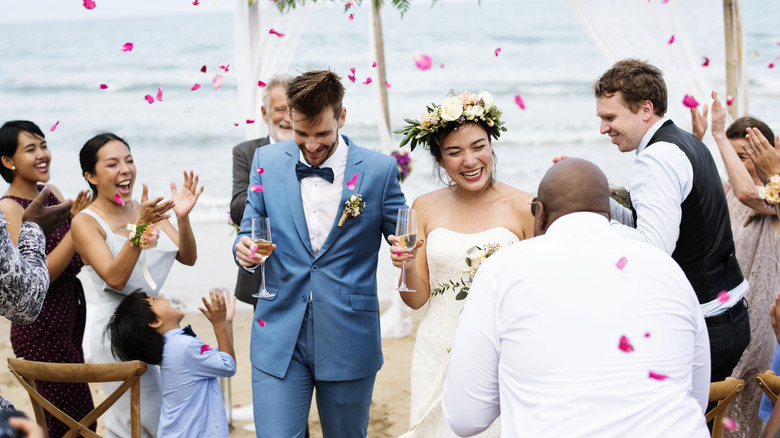 Rawpixel/Getty Images
Church weddings have been the norm for the last few centuries, but they're waning in popularity as couples today are saying their "I dos" in rustic barns, ranches, and even Taco Bell. Olivia Wilde and her ex-husband, Tao Ruspoli, got married on a school bus in 2003, and Facebook's former president Sean Parker had a "Lord of the Rings" themed forest wedding in 2013.
Destination venues are also a popular choice. Mexico is the most popular choice due to its white sandy beaches and relative affordability, as travel advisor Terrah Van Meter told Condé Nast Traveler. Mini-weddings and backyard weddings are falling out of favor, as "everyone is ready to get dressed up," wedding planner Kelly McWilliams said in a Martha Stewart interview. "Two-thirds of the weddings we have planned in 2023 are black tie or black tie-encouraged; I think we may even see the resurgence of white tie in the months to come," she added. 
So, whether you've been invited to a beach wedding in Mexico or a coastal New England town, we've got your back. Here's what to pack when the invitation suggests attire from "black tie" to "cocktail."
Lighter fabrics are the way to go
Rawpixel.com/Shutterstock
Rule number one? Never wear white to a wedding. Next, find a way to stay cool on the beach. "Generally speaking, I think the fashion aesthetic for a beach wedding is effortless, light, and flowing," bridal stylist Gabrielle Hurwitz told Martha Stewart. However, make sure to check your invitation or the wedding website for specific requests, since "you can still have varying degrees of formality, even if the wedding is in the sand," Hurwitz added. For instance, if the dress code specifies cocktail attire, stick to a breezy midi dress or a classy jumpsuit. If it's black tie, think about a maxi dress and elegant jewelry. Fair warning: A gust of wind will probably crash the wedding. If your hemline is on the shorter side, wear shorts underneath.
To stay on theme, avoid dark colors like black, burgundy, or forest green for beach weddings — those should be reserved for wintertime ceremonies. Instead, light blues, pastel greens, or sunshine yellows are a must when it comes to tropical destination weddings. Stick to shades that reflect the natural landscape. As a general rule, avoid loud patterns, sequins, or anything too risqué so as not to distract from the real stars of the show, the happy couple.
Finally, make sure to choose fabrics that will keep you cool under the sun. Cotton, linen, and jersey allow for appropriate air circulation, whereas thicker materials in the velvet and leather families are clearly a no-go — unless you enjoy sweating, that is.
Appropriate footwear is key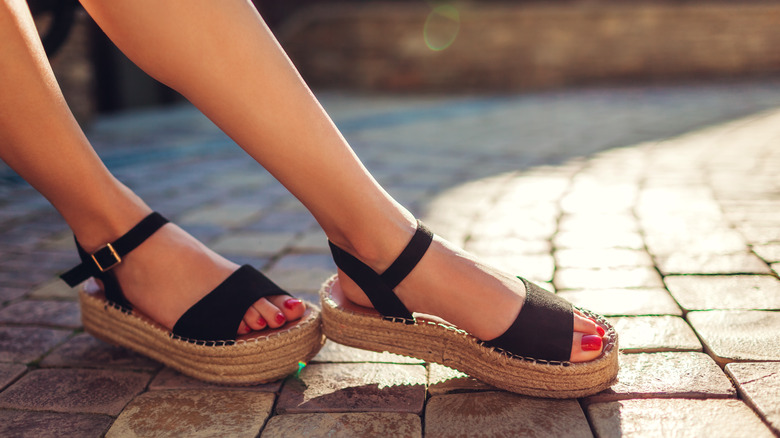 Mariia Boiko/Shutterstock
There's a time and place for stilettos. Beach weddings just aren't it. Why? It all comes down to the sand. Stylist Grace Thomas suggested asking, "Will [I] be walking on sand or grass?" If the answer is yes to either option, she told Brides that "A flat shoe or block heel will be your best option." Platform sandals are the perfect compromise if you're looking for height without the risk of sinking. However, any type of tall shoe can start to feel tedious throughout a long night of dancing, toasting, and hitting up the buffet. If comfort is your main priority, stick to strappy sandals like these Steve Maddens, and make sure to give yourself a pedicure at home or visit the salon beforehand. Wearing a breezy suit? You can't go wrong with boat shoes.
Beach weddings are also a great opportunity to play around with accessories. If the ceremony is at or before golden hour, opt for a wide-brimmed hat to keep the sun out of your face. Find a pair of stylish sunglasses while you're at it. For semi-formal or casual weddings, colorful, whimsical jewelry will take your outfit up a notch. Dangling gold and silver pieces are best for fancier occasions. 
If you're still struggling with what to wear, it's time for some light internet stalking. Google the venue to get a better understanding of what you'll be dealing with, and scroll through pictures of previous on-site weddings. It's always best to err on the side of formal if you're unsure.