Exclusive Clip: New Doc Explores King Charles' Complicated Bachelor Past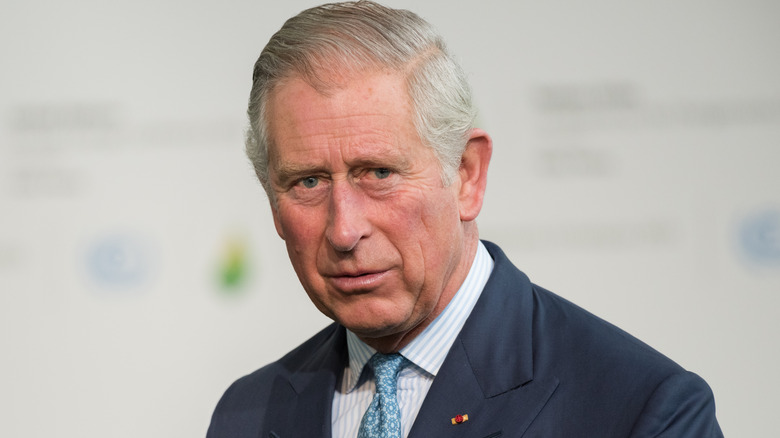 Frederic Legrand - COMEO/Shutterstock
As King Charles III prepares to solemnize his new role with his official coronation on May 6, a new documentary takes a fresh look at the long road he took to get there. Tom Jennings, creator of the new documentary "Charles: In His Own Words," exclusively shared with  The List that viewers will be "really surprised" to find "Charles is a much more complicated and complex person than most of the world either recognizes or is willing to give him credit for." 
Unlike typical documentaries, which take a chronological timeline format, the National Geographic special event takes specific events from the king's life and relates them to his life and challenges today. We see his stoicism in the face of the bullying he endured during his boarding-school years and the courage he displayed in 1967 as he faced Welsh protesters who opposed the monarchy. Charles's passion for the environment was also born in Wales when he sat down with an elderly farmer who spoke of his love for the earth. 
Speaking of passion, we see that in the documentary as well. Looking at Charles' happy marriage to Camilla, Queen Consort, it's easy to forget that he was once an eligible young prince who, as they say, sowed more than a few "wild oats" in his day. Of course, It didn't hurt that he had a beloved relative who was more than willing to help Charles enjoy his single life, as revealed in a clip from "Charles: In His Own Words" exclusively shared with The List. 
Lord Mountbatten had big role in Charles' love life, doc says
One segment of "Charles: In His Own Words" chronicles the king's single days. He knew he was required to marry well, and to a "virginal" girl who could bear him heirs. But in this exclusive clip obtained by The List, we see he wasn't above having a little fun during his search. His great-uncle, Lord Mountbatten, supposedly encouraged this by letting Charles use one of his private properties on weekends, as the queen's former secretary William Heseltine explained in the National Geographic doc. (A crown prince can't exactly be seen snogging in a public park, as the doc aptly points out.) Even Charles said in a 1974 interview, "It's not so bad for me, but it's much worse for the girl concerned, because she's not used to dealing with the press at all."
But, as the documentary points out, the prince's eventual choice of bride would "trigger a chain of events that [would] damage his image and threaten his path to the throne." His marriage to Princess Diana satisfied his royal obligation, but his continuing love for Camilla ultimately led to the infamous Charles and Diana divorce. The fallout from the split, from Diana's death just years later, and yet again when Charles wed the future queen consort, left many Britons wondering if the disgraced prince was worthy to succeed his mother as ruler. Yet he has managed to do just that, which says a great deal about His Majesty's persistence, patience, and desire to prove himself.
"Charles: In His Own Words" premieres on National Geographic on Friday, April 28, at 10:00 ET/9:00 CT. Stream the documentary on Hulu from Saturday, April 29, and on Disney+ from Friday, May 5.