Times Royals Sent A Subtle Message With Their Jewelry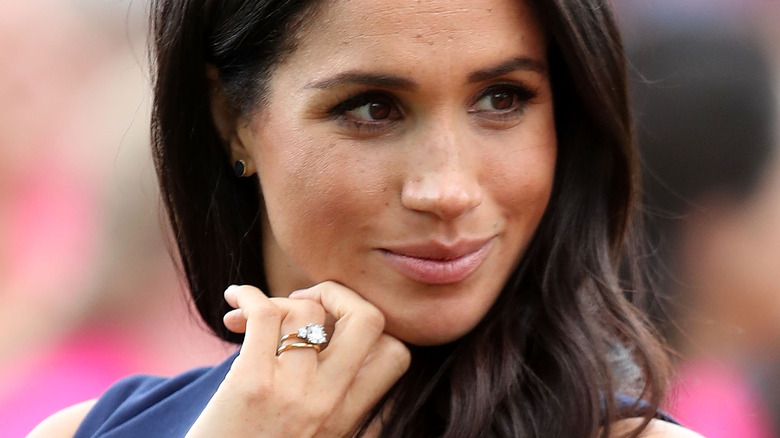 Chris Jackson/Getty Images
Many celebrities are known for making their thoughts and feelings clear on just about every topic, be it personal, professional, or political. However, the British royal family don't really fall into that camp. Yes, they are of the highest profile internationally, but the members of The Firm are known for being tight-lipped, only releasing official statements once in a blue moon. One way that members of the royal family can say something without actually saying it is via their jewelry choices.
Catherine, Princess of Wales, has been known to channel the late Princess Diana with her fashion nods over the years, even replicating some of the beloved royal's looks. Meghan Markle has embraced Diana's post-royal life and has sported some of her jewelry pieces since leaving Britain. Other royals have let their jewelry speak volumes, be it during an official state visit or in an appearance following a loss within the family. From the late Queen Elizabeth II to Camilla, Queen Consort and many others, the extensive jewelry collection afforded to the royals has been — and still is — used to tell a story.
Catherine's tiara choice for her debut as Princess of Wales spoke volumes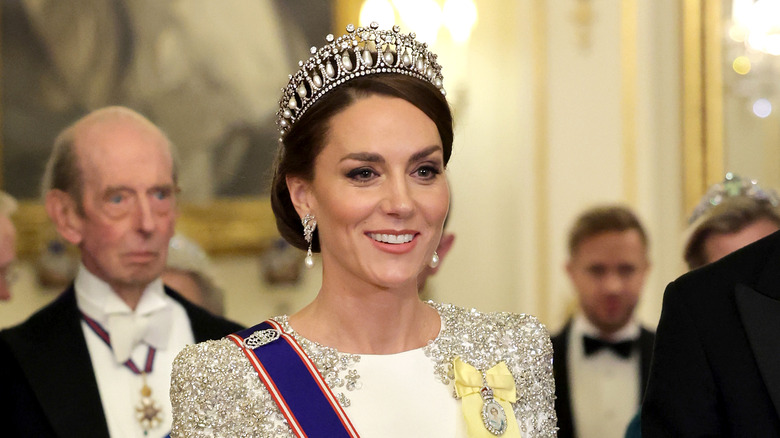 Chris Jackson/Getty Images
After she became the Princess of Wales, the late Diana Spencer was often seen in Queen Mary's Lover's Knot tiara. This dazzling headpiece features drop down pearls adorned across the band. Wearing it on many occasions, the tiara became synonymous with Diana and her role, so much so that Camilla, Queen Consort (who famously had an affair with Prince Charles when he was married to Diana), has never been seen wearing it. The tiara itself was gifted to Diana after her wedding to Charles by Queen Elizabeth II, but sadly she had to give it back to the royal collection following her divorce. Still, its implicit tie to Diana made Catherine, Princess of Wales, think twice when it came to her first appearance with the designation.
Following the queen's death, King Charles III bestowed the Prince and Princess of Wales titles onto Prince William and Catherine, respectively. When it came time for their first state banquet with their new titles, Catherine paid a touching tribute to the late Diana by wearing Queen Mary's Lover's Knot tiara. Hosting South Africa's President Cyril Ramaphosa at Buckingham Palace, Catherine dazzled in the headpiece — she also wore a pair of Diana's earrings, specifically the South Sea Pearl pair that have become a favorite. Stunning in a Jenny Packham gown that screamed royal, Catherine's tiara choice for her debut as the Princess of Wales did not go unnoticed given its deeper meaning.
Did Queen Elizabeth II throw shade at Donald Trump with her jewelry?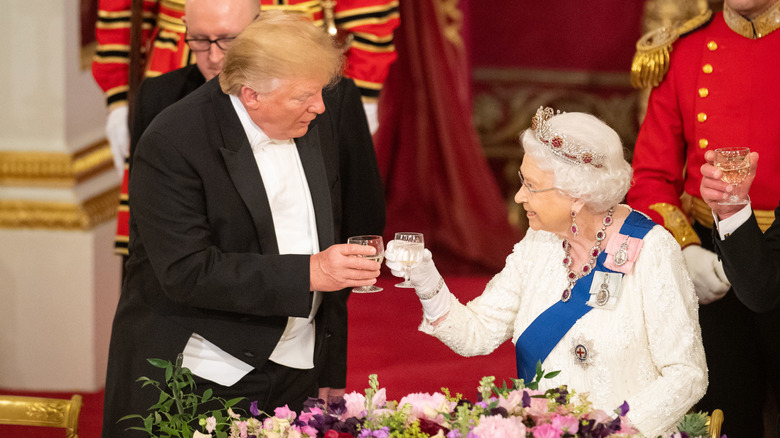 Wpa Pool/Getty Images
For all the time she sat on the throne, the late Queen Elizabeth II was incredibly stoic when it came to politics. She saw a range of prime ministers run her own country's government, she entertained international diplomats, and met a slew of United States presidents, all while keeping her own political opinions to herself. However, when she met former president Donald Trump while he was in office, royal watchers couldn't help but notice the poignant brooches and jewelry she wore throughout his visit.
On the first day of Trump's time in Britain, the queen wore a subtle green brooch. Eagle-eyed fans quickly realized that it had been gifted to her by former president Barack Obama and Michelle Obama, which many saw as a subtle jab. On day two, she donned a brooch that was given to her by the Commonwealth country of Canada — not only was Trump taking aim at Canada at the time, but the brooch featured a snowflake design, the former president's favorite way to describe his critics.
By day three, Elizabeth upped her brooch game and wore the pin that the Queen Mother wore to her husband's funeral — certainly not representative of joy or pleasure. As The Guardian put it, "Queen's brooches: 3. Trump: 0." When it came time for the state dinner with the then-president, the queen chose the Burmese Ruby Tiara, which is symbolic of keeping away enemies.
Prince Harry sent a message about his commitment to Meghan with this jewelry choice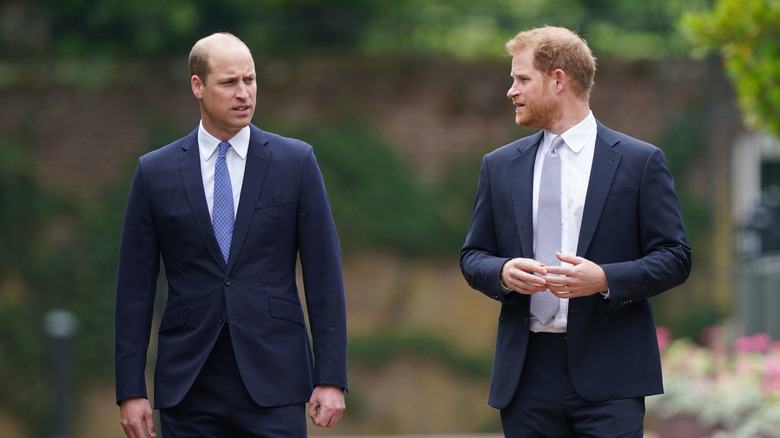 Wpa Pool/Getty Images
You may not have noticed it over the years, but it is very uncommon for male members of the royal family to wear wedding rings. Ahead of his wedding to Princess Catherine, a palace aide revealed that Prince William would not be wearing one. "It was something the couple discussed but Prince William isn't one for jewelry — he doesn't even wear a signet ring — and decided he didn't want to," the aide said (via the Daily Mail). "It really is just down to personal preference."
Author Peter York, who co-wrote "The Official Sloane Ranger Handbook," explained that such a custom is rooted in aristocratic practice. "It is code, like so many of these things," York told The Telegraph. "There is a group of upper-class people who think the less of that stuff you wear the better, less bling." In fact, a posh etiquette manual in England called the "New Guide to Etiquette and Modern Manners" notes that while it's common practice for a bride to wear a wedding ring, the groom is not expected to don a band.
All of this is to say that Prince Harry's decision to wear a wedding band after he married Meghan Markle did not go unnoticed. Commenting on his choice during an interview with Vogue, royal expert Penny Junor said, "I think it shows, as if proof were needed, that Harry is the least conventional member of the royal family. Harry's chosen to do what most married men do today. I like it."
Diana's decision to wear her family's tiara instead of royal ones spoke volumes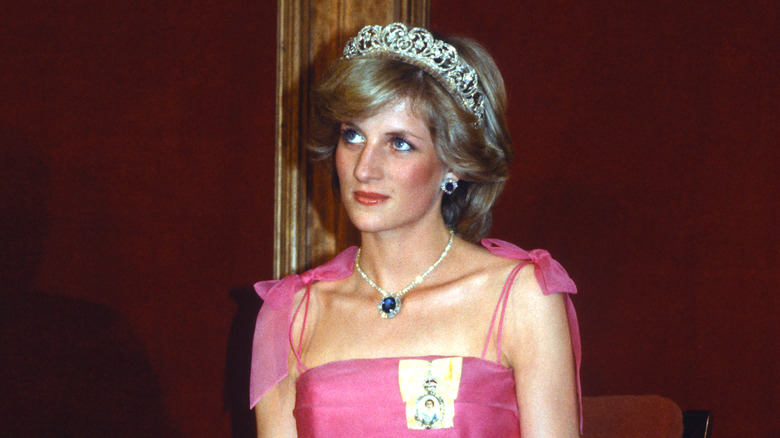 Anwar Hussein/Getty Images
Diana Spencer was only 19 years old when the then-Prince Charles asked her to marry him. She was front and center on the domestic and international stages, and in 1981, she tied the knot in a ceremony that looked like something from a fairy tale. Diana's wedding dress is still spoken about to this day, and she paired it with a delicate tiara of special significance.
Instead of borrowing one from the royal collection, Diana chose the Spencer Tiara, made from jewels owned by her own, aristocratic family. The Spencer Tiara kept her stunning veil in place on the big day, and its sparkle designated her as the princess she became. This was far from the last time Diana was seen wearing this special tiara.
Despite having access to the royal jewels after she got married to Charles, Diana continued to wear the Spencer Tiara throughout her time as a member of The Firm. Though a little bit smaller than other tiaras she had access to, Diana's choice to wear her family's jewels on formal occasions as a royal pointed to the deeper connection she had with her roots — it was as if she held onto a piece of who she was before her marriage.
A ring Meghan wore at her wedding foreshadowed her future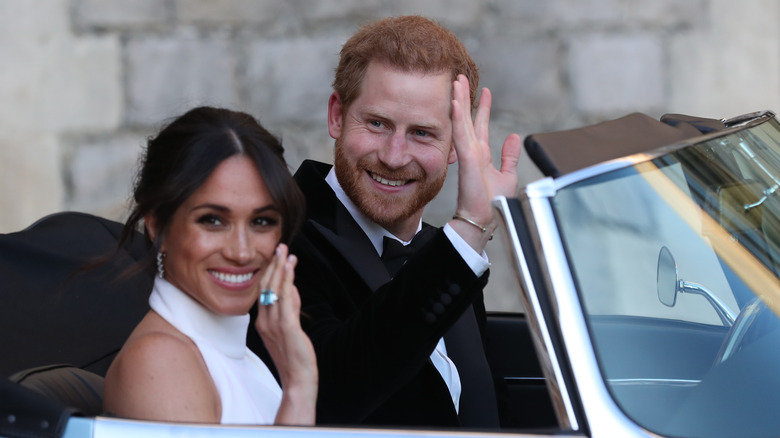 Wpa Pool/Getty Images
Prince Harry and Meghan Markle have certainly cast themselves as the royal rebels, shocking many with their revelations about the family and the royal rota since leaving Great Britain. However, Meghan may have foreshadowed just how independent she would become from the family all the way back on her wedding day. It was a gorgeous day in England when she and Harry tied the knot. After the beautiful ceremony, the newlyweds stepped out in new ensembles and hit the road in an open top sports car. Meghan looked incredible in a sleek, backless Stella McCartney gown, and on her finger was Diana Spencer's Asprey Aquamarine ring.
Dubbed her "Freedom Ring," Diana purchased the piece from Asprey in 1997 — which, sadly, is the year she was tragically killed. The sparkler features 24 carat gold with tiny solitaire diamonds flanking the stunning middle stone, and the late Princess of Wales used the ring to replace her diamond and sapphire engagement ring, which now sits on Princess Catherine's finger. Though it could be seen as just a piece of jewelry, Meghan's decision to wear a piece of Diana's from after she left The Firm behind did not go unnoticed, and it certainly holds more weight now that Meghan and Harry have left their roles as senior royals.
Catherine wore one of Diana's treasured pieces during a trip to America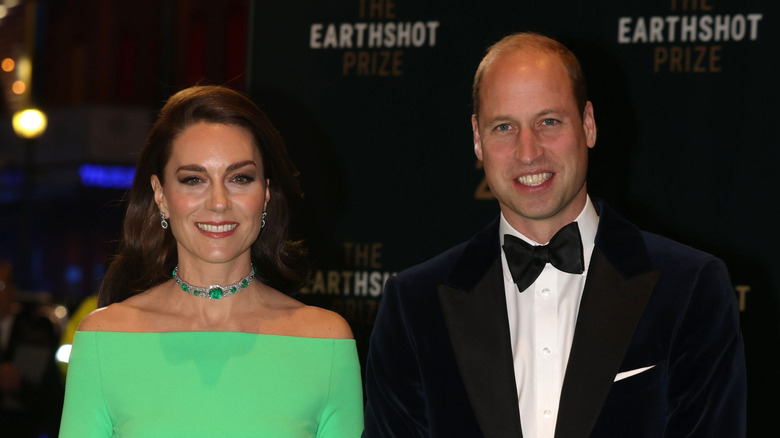 Pool/Getty Images
All eyes are on Prince William and Princess Catherine when they travel abroad — their presence in Boston in 2022 was no exception, and the duo dazzled while attending the 2022 Earthshot Prize Awards. Instead of wearing custom couture, Catherine stunned in a rented Solace London dress, and she paired the green gown with the beloved emerald choker made famous by Diana Spencer. Breaking the choker out was a bold move, as it garnered such a high profile when the late Princess of Wales wore it. The fact that Catherine donned a treasured piece of jewelry on one of her husband's biggest nights in advocacy certainly brought Diana to the event with them — it was an incredibly special look.
Of course, the choker in question was the piece of jewelry that Diana repurposed as a headband, causing quite the stir as she did so. Biographer Kitty Kelley noted that Diana was hurrying while getting ready and attempted to put the choker on over her head rather than hanging on for someone to give her a hand. When it got stuck on her forehead, she simply left it there. "Diana took the necklace and put it over her head rather than wait to have it clasped around her neck. She couldn't get it over the bridge of her nose," Kelley noted in her book "The Royals" (via Marie Claire). "[Canadian diplomat Victor Chapman] roared. 'Leave it there,' he said, 'It's young and fun, like you.'"
Meghan wore Diana's favorite watch to support her husband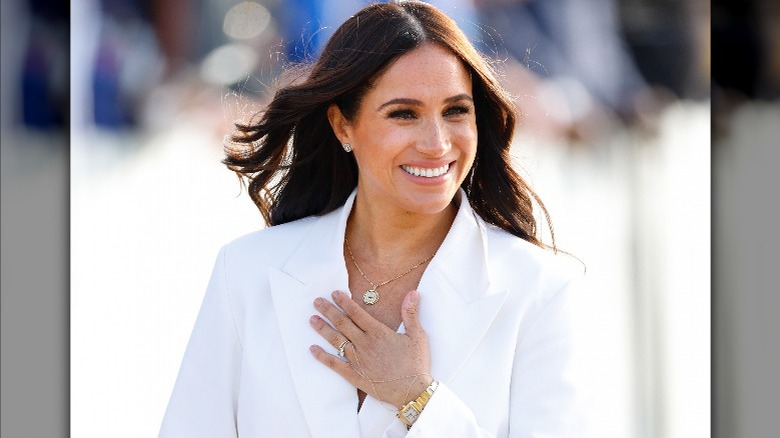 Max Mumby/indigo
Before she was the Duchess of Sussex, Meghan Markle had a life all her own. After graduating from Northwestern University, she pursued a career in acting and landed a starring role in the hit show "Suits." Residing and filming in Canada when she first met Prince Harry, Meghan was determined to live life on her own terms. As she pursued her own line of work and advocacy — even before marrying Harry — Meghan identified that one particular item of jewelry would help her fit the part: a Cartier watch. The ultimate symbol of "I've made it," Meghan bought herself a two-toned Cartier watch in 2015 and even had the back of it engraved. "To M.M. From M.M." it reads, proving that it's always a good idea to reward yourself for your hard work.
Meghan's dedication to her own line of professionalism and her independent love of all things Cartier made the gifting of Diana Spencer's beloved Cartier Tank watch to her that much more special. Similarly determined to live life on her own terms, Diana favored the gold timepiece throughout her life, and Meghan has since been spotted wearing it on a number of occasions. Supporting her husband during the Invictus Games in 2022, Meghan looked incredible — her inclusion of Diana's watch made it that much more meaningful.
Camilla wore a symbolic brooch during her trip to Germany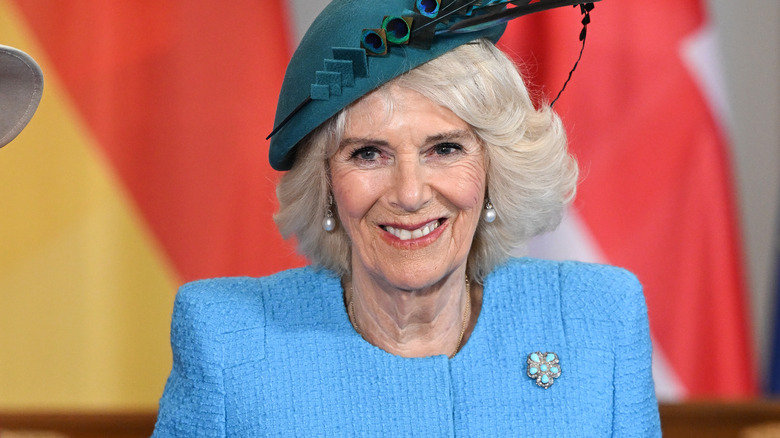 Pool/Getty Images
Queen Consort Camilla has had quite the transformation as a royal. She went from the person who was allegedly described by Queen Elizabeth II as "that wicked woman" to a celebrated member of The Firm who now wears the late monarch's jewels. To say that she blossomed over time is an understatement, and she has seemingly reflected on her metamorphosis through her jewelry choices. After the queen passed in September 2022, Camilla was forced into the royal spotlight like never before, and she appeared to keep Elizabeth close to her. While on an official state visit to Germany with King Charles III, Camilla was spotted wearing a turquoise brooch on her lapel — hinting at the country's national flower — and her choice shocked royal watchers.
As it turns out, the brooch in question was given to the late monarch by Queen Mary all the way back in 1942 amid her confirmation. Given its age, it's said to be one of the oldest pieces of Elizabeth's jewelry to be worn, and Camilla gave it its first outing in decades. "I don't believe we've ever seen any photographs of the late Queen's confirmation presents, and I can't recall seeing her ever wear this small diamond and turquoise brooch in public," The Court Jeweller noted at the time. "It's so wonderful to see little bits of royal history peek out of the vaults on occasions like this!"
Queen Elizabeth's turquoise brooch did the talking amid the pandemic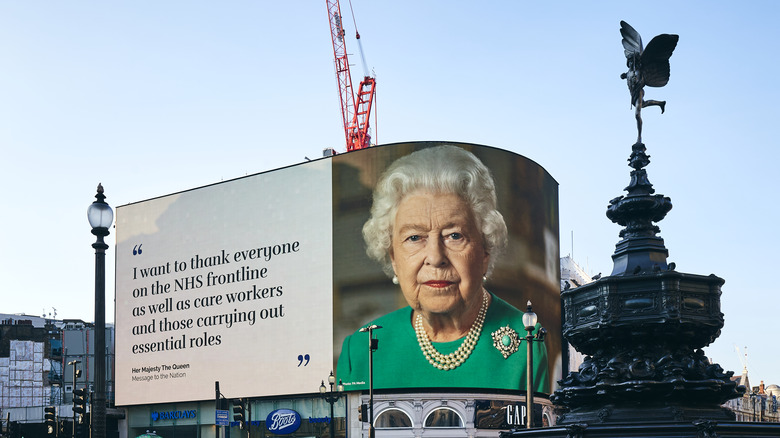 Matteo Roma/Shutterstock
It's during times of crisis that public figures have to really step up to the plate, and Queen Elizabeth II was front and center at the height of the COVID-19 pandemic. Offering a sense of calm and consistency — as she did for decades — Elizabeth sat down for a national address, speaking to Great Britain as the pandemic took a massive toll on public health. Royal watchers were quick to notice the brooch she chose for the occasion — a turquoise piece, which was certainly out of her color wheelhouse. The piece, as it happened, had incredible meaning that made the queen's remarks that much more touching.
The brooch in question was a diamond and turquoise piece that was given to her by Queen Mary, her grandmother and the wife of King George V. While Mary and George were on the throne, they navigated a variety of conflicts including the devastating First World War and the 1918 Influenza pandemic. Not only did the war bring havoc to Britain, but the flu took the lives of about 228,000 people in the United Kingdom, with the king himself surviving the disease. It's no question that George and Mary set the tone for how a royal is to react during a period of crisis, and Elizabeth certainly got the memo when she guided the ship during the worst days of the coronavirus outbreak. Clearly, she looked to Mary for guidance.
Meghan Markle kept her late mother-in-law close during this momentous announcement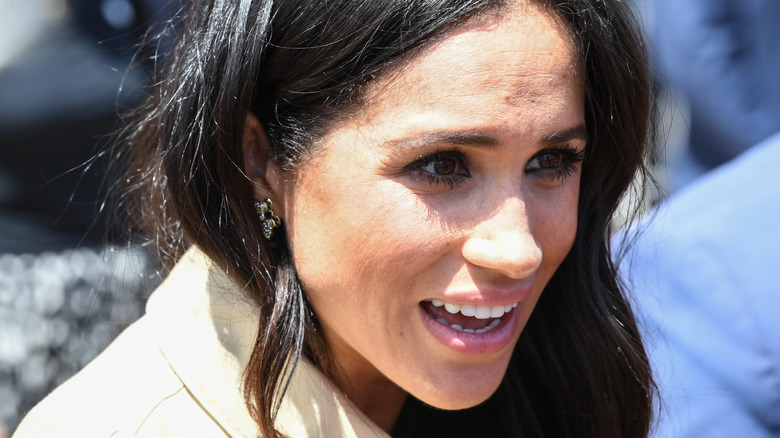 James D. Morgan/Getty Images
The image of a young Prince Harry walking behind his mother's casket is a sight that few will ever forget, and it certainly felt as though the public rallied behind him as he navigated his teenage years and adulthood. Tragically, his mom didn't get to see him grow up, get married, and start a family of his own — a fact that Meghan Markle seemed to be incredibly tuned into shortly after announcing her first pregnancy.
The day following the couple's happy news, Meghan was spotted in a pair of earrings that were a favorite of the late Diana Spencer. A particularly innocent choice, the Duchess of Sussex donned the butterfly studs that the Princess of Wales wore frequently in her early years of marriage to Charles, and she was even seen in them when Harry was an infant. On the same day, Meghan was also seen wearing a gold and blue stoned bracelet that once belonged to Diana, certainly keeping the deeper meaning behind her choices in mind.
It was not the first time that Meghan kept Diana close. When she and Harry announced their engagement and noted that Meghan's ring included two stones from Diana's personal collection, the "Suits" star said (via Harper's Bazaar), "It's so important to me to know that she's a part of this with us."
Princess Beatrice's wedding tiara proved that she's a valued member of the family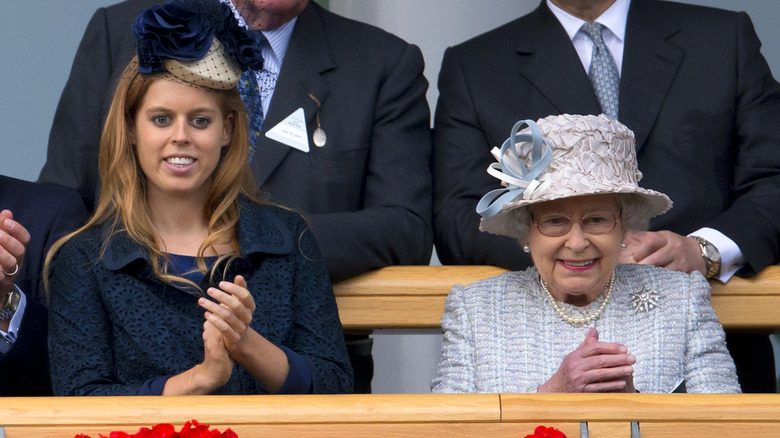 Max Mumby/indigo/Getty Images
Royal weddings are a big deal. The pomp, the circumstance, the planning, the visuals — every detail is catered to. That is unless you got married during a global pandemic, as was the case for Princess Beatrice and Edoardo Mapelli Mozzi. They had a very slimmed down service at The Royal Chapel of All Saints in Windsor in July 2020, but Beatrice and Edoardo were so loved up on their wedding day, despite it not being the grand event they originally expected. The intimate ceremony certainly didn't stop Beatrice from going all out, and royal watchers were quick to notice two specific elements of her wedding day attire.
First was Beatrice's dress. Looking absolutely stunning, it was quickly revealed that Beatrice wore a vintage Norman Hartnell gown that belonged to Queen Elizabeth II. From the fit to the romantic feel, she looked like the perfect bride. On her head was another connection to the queen: The Queen Mary Fringe Tiara, a prominent headpiece in the royal collection that definitely turns heads. Not only is the Fringe Tiara exquisite, it was given to Elizabeth on her own wedding day back in 1947.
By wearing the Fringe Tiara, Beatrice joined the queen and her own daughter, Princess Anne, in a long line of royal brides who donned this incredible piece while tying the knot. Like her sister Eugenie, Beatrice is not a working royal and must support herself financially. By loaning her this special piece, it was like the queen was saying that the daughters of Prince Andrew and Sarah, Duchess of York, are still valued members of the family.
Camilla paid tribute to Queen Elizabeth during her first state dinner as queen consort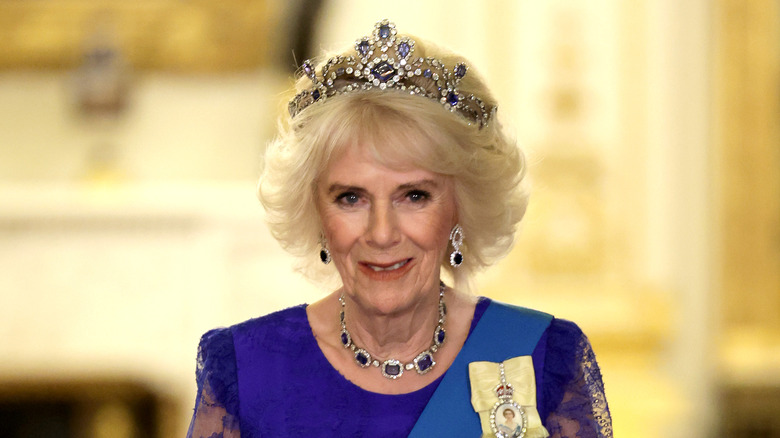 Chris Jackson/Getty Images
Camilla, Queen Consort, pulled out all the stops while attending her first state banquet in her new, heightened role within the family. Welcoming South Africa's President Cyril Ramaphosa, Camilla donned a lovely blue lace gown by Bruce Oldfield and paired the look with her Order of the Garter sash and her Dame Grand Cross of the Royal Victorian Order sash and star.
Of course, what really stood out to everyone was the tiara that Camilla chose for the occasion, dazzling in the Belgian Sapphire Tiara. The royal blue tones stood out against the queen consort's light blonde hair, and the elegance of the jewels could not be understated. Camilla paired the tiara with the corresponding necklace and bracelet, and the deeper meaning behind her jewelry choice had royal watchers talking.
The late Queen Elizabeth II was given the sapphire jewels by her father, King George VI, as a wedding gift. Elizabeth added the bracelet to the collection in 1960 and was seen wearing the jewelry ensemble while in Singapore in 1989. Given the connection to both Elizabeth and her father, Camilla's choice was incredibly touching.