Your Moisturizer Should Include This Ingredient, No Matter What Skin Type You Have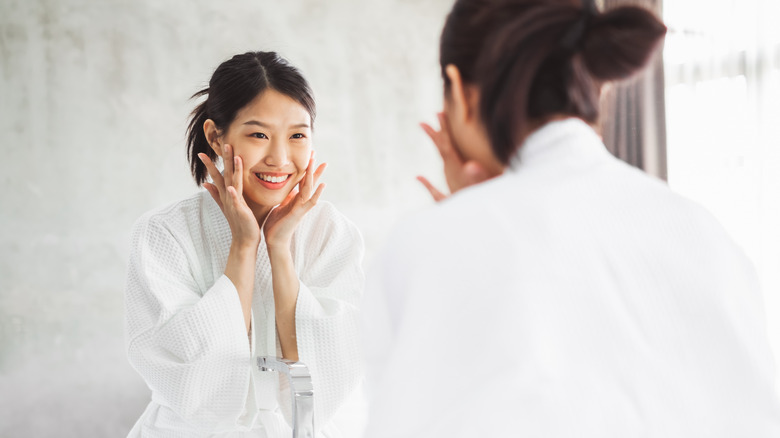 Nattakorn Maneerat/Getty Images
The world of skincare can be overwhelming, especially if you're a relative newcomer and trying to build a solid skincare routine from scratch. Serums, moisturizers, toners, eye creams, and cleansers can all make your skin look gorgeous, but they can also make you feel confused if you're not sure where to start. From hyaluronic acid to peptides and ceramides, it isn't easy to know which ingredients are right for your skin and which ones will only make it worse. 
However, among all of these ingredients is one true standout — niacinamide. A form of vitamin B3, niacinamide is good for your body, but also extremely nourishing for all skin types. Though the ingredient has been around for a while, you've probably noticed it gaining some serious traction over the past few years as more and more brands start to incorporate it into their products.
If you're wondering what niacinamide really does for your skin, we've gathered up all the key things you need to know so you can start your journey fully prepared.
Look for niacinamide if you've been struggling with your skin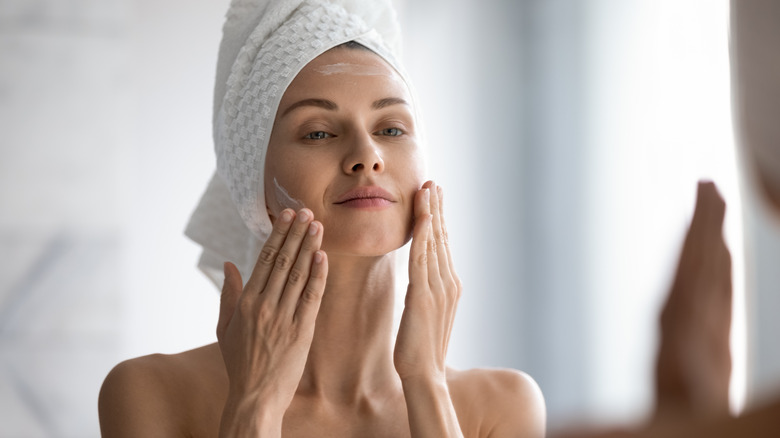 Fizkes/Getty Images
Speaking to Who What Wear, organic esthetician Katie Sobelman recommended niacinamide as the number one ingredient for all skin types, calling it "one of my favorite ingredients to support healthy skin." Sobelman also went on to say that part of what makes niacinamide so special is that it can treat oily and dry skin equally well (if you've struggled with ever-changing skin, you'll know how miraculous this is). 
In fact, if you have dry, flaky skin, Sobelman claims that niacinamide "Increases ceramide and fatty acid production in the skin to restore suppleness, and studies show it to be more effective than Vaseline at reducing water loss and increasing skin hydration levels." But, if you have the opposite problem and instead suffer from oily, acne-prone skin, niacinamide will help you too. 
It acts as an anti-inflammatory for sore, tender skin, so it's especially good at soothing those painfully large, cyst-like pimples. Alongside this benefit, niacinamide can help to reduce the amount of oil on your skin over time, thereby preventing breakouts in the long run. Feeling convinced? We've rounded up some of our favorite moisturizers that contain niacinamide below.
These moisturizers will make your skin glow more than ever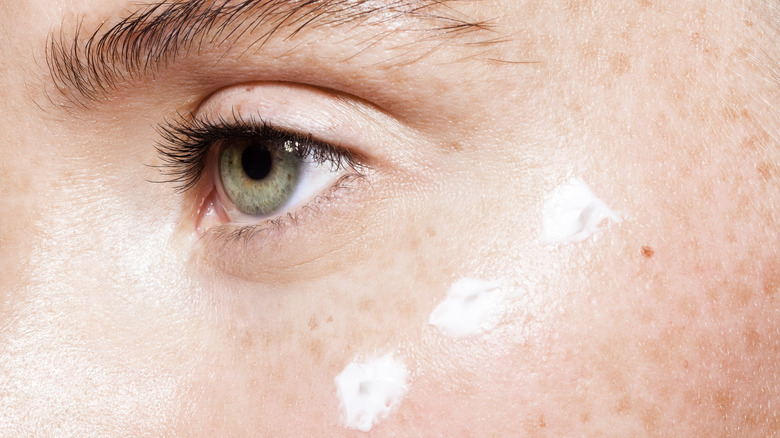 Deniskomarov/Getty Images
The Olay Regenerist Micro-Sculpting Cream Moisturizer is a great choice for dry skin. It contains a high percentage of niacinamide as well as hyaluronic acid and amino peptides that will give your skin a smooth finish. If you're looking for a moisturizer to balance out your skin and regulate oil production, the Nautrium Niacinamide Gel Cream is a solid option. Formulated with coconut fruit juice and marine-derived polysaccharides alongside niacinamide but lightweight due to the gel consistency, it will give you the glass skin of your dreams.
You don't have to miss out on niacinamide if you have ultra-sensitive skin, either. La Roche-Posay Toleraine Double Repair Moisturizer has you covered with plenty of it alongside glycerin and ceramides to restore your damaged skin barrier. It's oil-free too. If you have extremely sensitive skin, it's better to start off with a lower percentage of niacinamide because it can cause redness and irritation if you've never used it before. However, once you get used to it, niacinamide can help to give you better, healthier skin than ever before.