Whatever Happened To Aiden Jennings On Days Of Our Lives?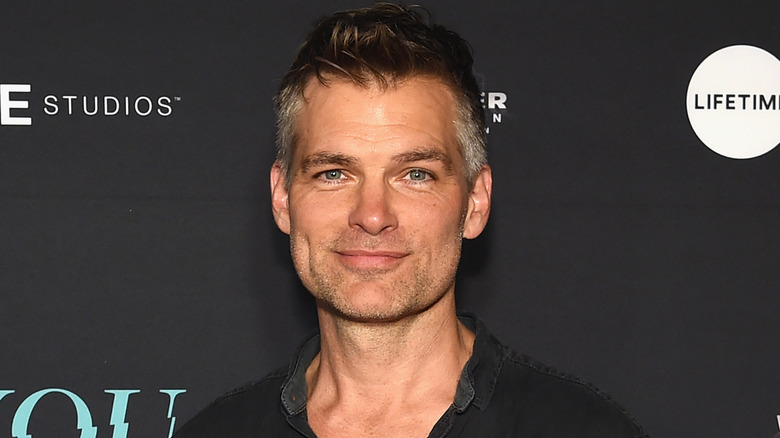 Jamie Mccarthy/Getty Images
Trigger warning: this article contains mentions of suicide and sexual assault
If you're a longtime "Days of Our Lives" viewer, then you know that Bo Brady (Peter Reckell) and Hope Brady (Kristian Alfonso) are the love of each other's lives. However, during the couples' nearly four-decade love story, there have been many ups and downs. This has included Bo being involved with women such as Carly Manning and Billie Reed, while Hope has gotten romantic with the likes of Larry Welch, Franco Kelly, Patrick Lockhart, and Rafe Hernandez. However, one of Hope's most memorable relationships was with Aiden Jennings (Daniel Cosgrove).
Hope and Aiden had a very dramatic romance, and fans of the soap opera were taken for a roller coaster ride of emotion watching the couple try to figure out their relationship. To make matters worse, their children, Ciara Brady, and Chase Jennings were caught in the middle of their parents' relationship and also has issues of their own between them.
Aiden may not have stayed in Salem long, but fans will likely never forget his troubling and exciting run on the sudser. Especially since it was full of murder, mystery, lies, and action that all came to a head when Bo shockingly showed up in Salem after a years-long absence.
Aiden fell hard for Hope Brady
"Days of Our Lives" viewers were first introduced to Aiden Jennings in 2014. The character appeared as the father of Chase Jennings, one of Ciara Brady's childhood classmates. Ciara had been bullying Chase though, so he and Ciara's mother Hope discussed the situation. Hope and Aiden didn't get started in a positive way. During the meeting, Aiden accused Hope of poor parenting, which upset her. The two went their separate ways but continued to bump into each other and butt heads.
Eventually, Hope and Aiden's feelings began to soften and the two became friends. Shortly after, the pair began to have romantic feelings for each other, which was complicated for Hope as she wasn't yet divorced from her absent husband Bo Brady. Finally, Hope mailed divorced papers and agreed to begin a romance with Aiden. As the two got to know each other, Hope discovered that Aiden's wife, Meredith, had tragically passed away. Aiden told Hope that Meredith had killed herself after months of marital issues and that things went from bad to worse when her friends began accusing him of murdering her.
Hope later found a recording of Meredith claiming that Aiden had been trying to kill her. Finally, Aiden came clean, telling Hope that a young Chase had found the gun and accidentally shot his mother.
If you or anyone you know is having suicidal thoughts, please call the National Suicide Prevention Lifeline​ by dialing 988 or by calling 1-800-273-TALK (8255)​.
Aiden tried to blackmail Hope
"Days of Our Lives" fans watched Hope and Aiden's romance progress, and the two eventually tied the knot. On their wedding night, Aiden attempted to kill his new bride on orders from Stefano DiMera. It was then that Bo returned to Salem and saved Hope from Aiden. Bo seemingly killed Aiden, but it was later revealed that the DiMeras has hired a doppelganger to kill Hope. Following Aiden's presumed death, his son Chase lost control of his emotions and tried to lean on Ciara for support. However, things got out of hand, and Chase ended up raping Ciara, leaving her traumatized.
When the real Aiden returned to Salem, he learned that Bo had died from a brain tumor, which led Hope to lose control and shoot Stefano to death. In his desperation, Aiden then attempted to blackmail Hope into getting back together. He also found out about Chase's behavior. Chase was sent to live in Oregon, and after Aiden failed to rekindle a romance with Hope, he left Salem and joined his son.
Aiden certainly left fans feeling confused about his true intentions. However, he hasn't been seen on the show since his exit in 2016, and it's likely that Hope wants nothing more to do with her ex-husband.
If you or anyone you know has been a victim of sexual assault, help is available. Visit the Rape, Abuse & Incest National Network website or contact RAINN's National Helpline at 1-800-656-HOPE (4673).