General Hospital's Laura Wright And Wes Ramsey Celebrate Milestone In Offscreen Love Story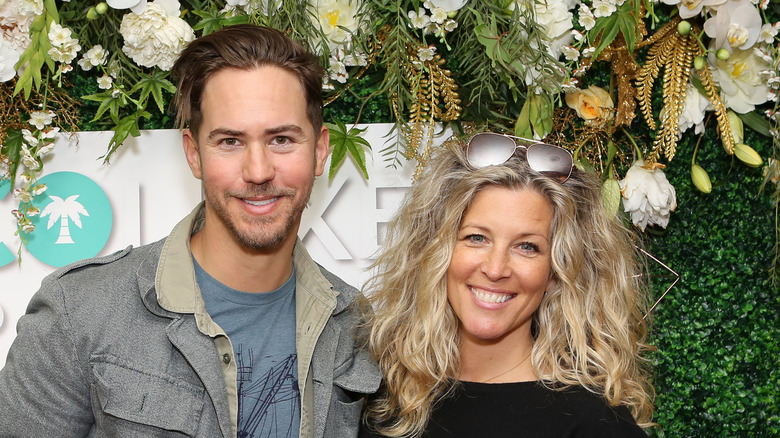 Tasia Wells/Getty Images
While the character of Carly Spencer (Laura Wright) seems to be inserted into almost every storyline on "General Hospital," there was one plot that she only briefly appeared in — that of villain Peter August's (Wes Ramsey) reign of terror in Port Charles. The only portion of Peter's story that Carly was involved with was when he framed Jason Morgan (Steve Burton) for killing Franco Baldwin (Roger Howarth). Beyond that, Peter stuck to his diabolical plans, as well as wrestling with the fact that Anna Devane (Finola Hughes) turned out not to be his biological mother, but rather her evil twin Alex Marick (also Hughes) was. Considering his father was also a criminal mastermind named Cesar Faison (Anders Hove), Peter's story only had one natural conclusion ... his death in 2022.
While both of their characters have done some morally questionable things, Wright and Ramsey have a sweet, real-life romance that's been going on for several years. Ramsey has been very open on social media about sharing his adoration for Wright, especially on Instagram where he posted a loving tribute illustrating how he is very thankful for her in November 2022, writing, "Thank you for helping me to see the best man that I could be." 
As their love story continues to grow and evolve, the happy couple has announced a special occasion in their relationship.
Wright and Ramsey are still in love after six years
Former "General Hospital" actor Wes Ramsey posted a selfie of him and Laura Wright on Twitter, writing, "6 years ago today I had her number and the butterflies to go with it! She agreed to let me take her out on the town! We laughed & fell madly in love in a magical & instantaneous kind of way. We saw live theater, reminisced, courted one another with romance & honesty ... & kept smiling & laughing into the night. I knew my life would never be the same again ... & I'm a better man for it. Happy US day beautiful! Here we are, still making our way ... I love you." Wright responded with, "Best first date ever!!" Costars Cameron Mathison (Drew Cain) and Finola Hughes (Anna Devane) also responded by sending their love to the happy couple. 
The conversation continued on Wright's own Instagram page where she also posted some selfies, lovingly captioning them with, "How it started ❤️ How it's going Happy 6 years Baby!!!! #ILoveUs." Ramsey replied, "You Changed Everything ... " to which Wright turned around and countered with, "@wes_ramsey you did!!" Mathison and Hughes also chimed in with their love and congratulations, as well as "GH" costar Eden McCoy (Josslyn Jacks). Fellow soap star Courtney Hope (Sally Spectra, "The Young and the Restless") posted, "Ahh! Happy Anniversary."
We'd like to join their family and fans in wishing a happy sixth anniversary to Ramsey and Wright!