King Charles' Resurfaced Comments Bring New Meaning To Family Tension Ahead Of Coronation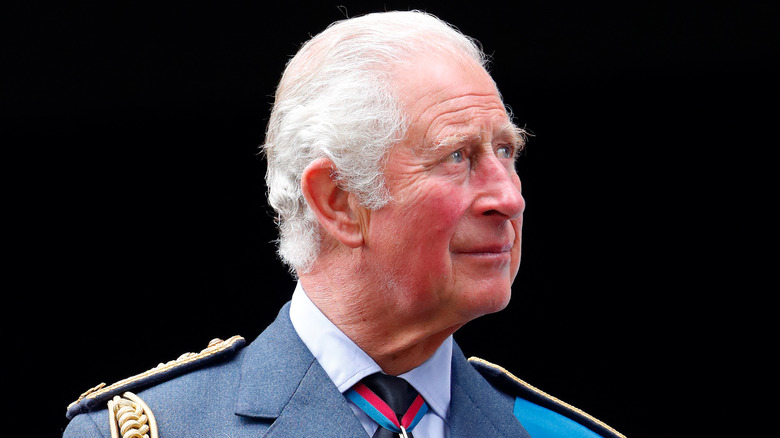 Max Mumby/Indigo/Getty Images
As the oldest child of Queen Elizabeth II, King Charles III's career plans have been decided since birth. Charles knew that, as monarch, he would one day be the most senior member of "The Firm." The idea of the royal family as a company has been frequently associated with his father. "Prince Philip calls it 'The Firm,' and all the royal executives and their powerful associates are supposed to make every effort to avoid even a hint of scandal that could diminish the reputation of the family business," author Penny Junor wrote in "The Firm" (per Independent). 
Navigating between family matters and royal duties is a tricky balancing act played out on a very public stage. "It's very hard to differentiate between the family and the machine," Junor explained to The New York Times. For instance, Prince Harry was hoping for something more personal than an email for his coronation invite. "Harry wanted to hear from his father directly — it's always through somebody," a friend of the Duke and Duchess of Sussex informed People.
Family tensions involving Prince Harry and the rest of The Firm have been on full display with the Netflix docuseries "Harry & Meghan" and Harry's memoir, "Spare." The coronation is just days away, and there has been speculation that Harry might not get a warm reception behind-the-scenes. However, a new documentary featuring commentary from a young Charles on the importance of family adds another dimension to the ongoing tensions between members of The Firm. 
For King Charles, family takes precedence
Using archival footage, the BBC documentary "Charles R: The Making of a Monarch," lets King Charles tell his story in his own words. In one clip from 1969, while decorating a Christmas tree with Queen Elizabeth and Princess Anne, Charles says in the voice-over, "I like to think of us more as a family rather than as a firm. I tend to think of my family as very special people."
By emphasizing family ties over royal responsibilities, Charles flipped the script. Although it's been over half a century since the king made those comments, there's evidence he still believes in a family-first philosophy, particularly when it comes to Charles' relationship with Prince Harry. "The fact that he even wanted Prince Harry at his Coronation ceremony shows that he really does see his family as something to be cherished and he's really trying to treat it more as a family than a firm, even though it is effectively both and he is both leader of his family and the firm," broadcaster Ester Krakue told Sky News.
Similar to his grandfather's experiences, Charles' emphasis on family may also have a positive impact on the royal business side. According to Edward Owens' book, "The Family Firm," during George's VI's reign, " a more informal and vulnerable family-centered image strengthened the emotional connections that members of the public forged with the royals, and that the tightening of these bonds had a unifying effect on national life" (via Bustle).