Donald Trump's Defense In E. Jean Carroll Defamation Trial Suffers Major Blow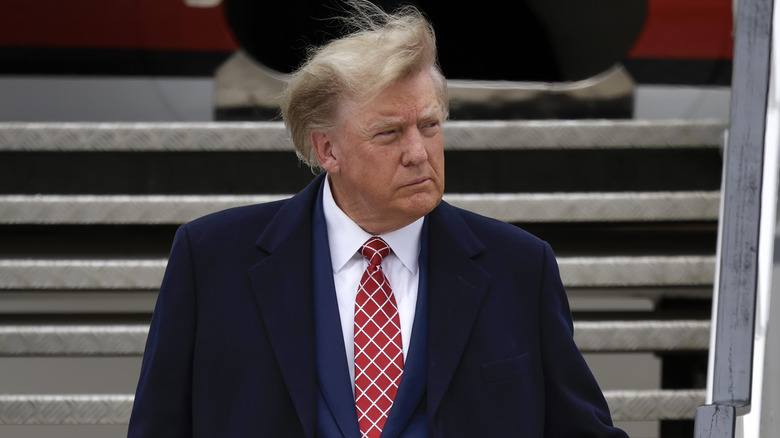 Jeff J Mitchell/Getty Images
Writer E. Jean Carroll has accused former President Donald Trump of rape, which she alleges took place in the mid-'90s in a Bergdorf Goodman dressing room (via AOL). Carroll, a former advice columnist for Elle, also accuses Trump of defamation, claiming that he intentionally undermined her credibility after she came forward with the accusations. Specifically, Carroll cites a 2022 post on Truth Social that Trump posted claiming that Carroll and her case were a "complete con job" and "a Hoax and a lie."
In spite of Trump's very public and very direct denial, Carroll has maintained her story and has pressed forward with legal action in a civil case, since the statute of limitations has run out on a potential criminal case. The trial, which Trump has not yet attended in person, started on April 25 in Manhattan federal court.
Now, however, Donald Trump's latest legal attempt to sidestep the trial, which was filed by his lawyer, has been denied.
Donald Trump's lawyer asked for a mistrial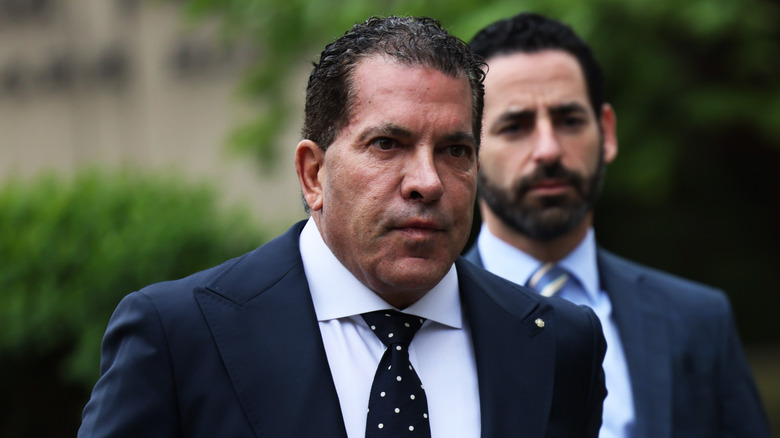 Michael M. Santiago/Getty Images
Though Donald Trump has not personally attended any part of the trial thus far and has instead been traveling in Scotland and Ireland, Trump's lawyer for the case, Joe Tacopina, requested a mistrial on his behalf (per AOL). In the request that was filed Monday, May 1, Tacopina argued that Judge Lewis Kaplan had made "pervasive unfair and prejudicial rulings" against Trump, according to CNN. Tacopina accused the court of being biased against Trump, which, he wrote, "has been witnessed by the Jury" and has given E. Jean Carroll an unfair advantage.
As part of his motion for a mistrial, the lawyer also asked Judge Kaplan to "correct the record for each and every instance in which the Court has mischaracterized the facts of this case to the jury." Further, Tacopina sought additional questioning when cross-examining Carroll.
The request came soon after Tacopina's style of questioning seemed to irritate the judge and create tension in the courtroom. Last week, the Trump lawyer was accused of being "argumentative" by Judge Kaplan, The New York Times reported. "You get to make a closing argument in this case, counselor, and this isn't the time for it," Kaplan told Tacopina in a moment of frustration. While a mistrial may have given some power back to Trump and his attorney, it was a risky move — as noted by The Washington Post, judges rarely give mistrials based on their own rulings in the courtroom.
Judge Kaplan denied Trump's motion, continuing the trial as scheduled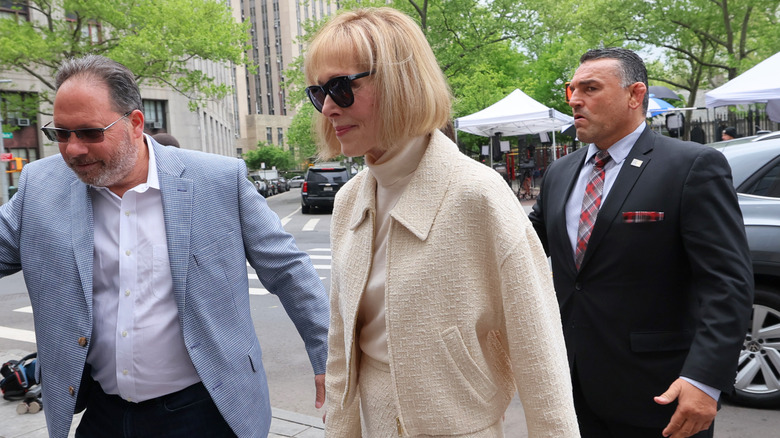 Michael M. Santiago/Getty Images
If Donald Trump's request for a mistrial would have been granted, it may have significantly stalled, or even completely dismissed, the court case between the former president and the advice columnist. Instead, however, Judge Lewis Kaplan kicked off Monday morning with a ruling to deny the request, CNN reported. As a result, the trial continued throughout the day, with E. Jean Carroll returning to the stand for questioning.
According to The Washington Post, Tacopina continued to challenge Carroll's story, asking why she hadn't reported her assault when it occurred. "Mr. Tacopina, I was born in 1943. I am a member of the Silent Generation," she asserted, highlighting that it wasn't the norm to seek help following sexual assaults the way it might be today. "Women like me were taught and trained to keep our chins up and to not complain."
Monday wrapped up Carol's cross-examination, and more witnesses are expected to take the stand as the trial continues, The New York Times reports.
If you or anyone you know has been a victim of sexual assault, help is available. Visit the Rape, Abuse & Incest National Network website or contact RAINN's National Helpline at 1-800-656-HOPE (4673).