Nicole Walker's Long-Awaited Pregnancy Won't Be Without Obstacles On Days Of Our Lives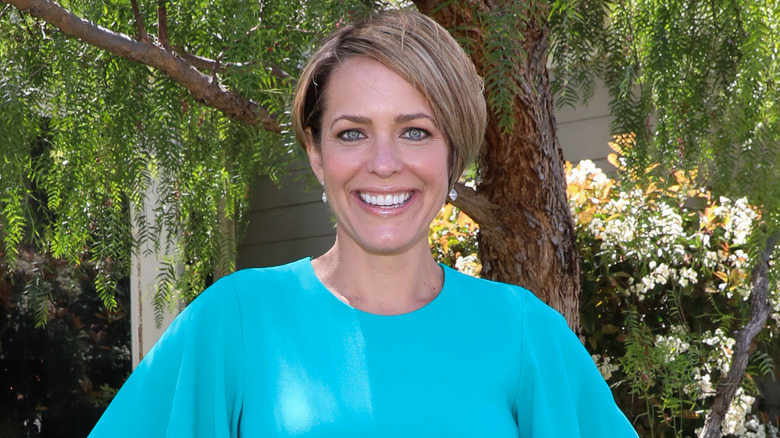 Paul Archuleta/Getty Images
Things are heating up for "Days of Our Lives" fan-favorite character Nicole Walker (Arianne Zucker). In the newest promo for the Peacock soap opera — which was posted to the show's YouTube channel — Nicole is seen feeling under the weather as she grabs her stomach and demands to be taken to the hospital to see a doctor. Dr. Kayla Brady (Mary Beth Evans) is back in Salem and is now treating Nicole. In the preview for this week's episodes, Kayla tells Nicole that she has some big news to share with her. Of course, fans already know what it is. Nicole is pregnant, and it's going to be a miracle for her.
"Days of Our Lives" fans know that Nicole's pregnancy is going to be huge, as the character has had bad luck with her pregnancies years prior. In the past, Nicole has had difficulty getting pregnant and has had two miscarriages over the years. However, her good friend Chloe Lane (Nadia Bjorlin) did make Nicole's dream of becoming a mother come true when she served as a surrogate for her and her late fiance Dr. Daniel Jonas (Shawn Christian).
Now, Nicole will (hopefully) get to have the pregnancy that she's always wanted. Of course, it won't be without drama.
Who is the father of Nicole's baby?
Nicole Walker's pregnancy on "Days of Our Lives" will come with a huge paternity storyline, as she'll be unsure if her boyfriend EJ DiMera (Dan Feuerriegel) or her ex-husband Eric Brady (Greg Vaughan) is the father of her baby. Although Eric and Nicole are still obviously in love with each other, they have been divorced for quite some time. Nicole has moved on to a relationship with her another one of her ex-husbands, EJ — who fathered both of Nicole's lost pregnancies.
After Nicole and Eric were drugged, along with many others in Salem, they hallucinated and hit the sheets together, making it possible for either EJ or Eric to be the child's biological dad. Although Nicole has a long history with both men, Eric is the love of Nicole's life. Fans have wanted to see the couple get together and have a child for decades.
Now that Nicole is pregnant again, many viewers will be hoping that the character will not only have a healthy pregnancy, but that Eric will be revealed as the father of her child. Of course, the drama surrounding the paternity storyline will likely play out over the coming weeks, and viewers will have to wait to see how it all goes down.