All The Worst Dressed Stars At The 2023 Met Gala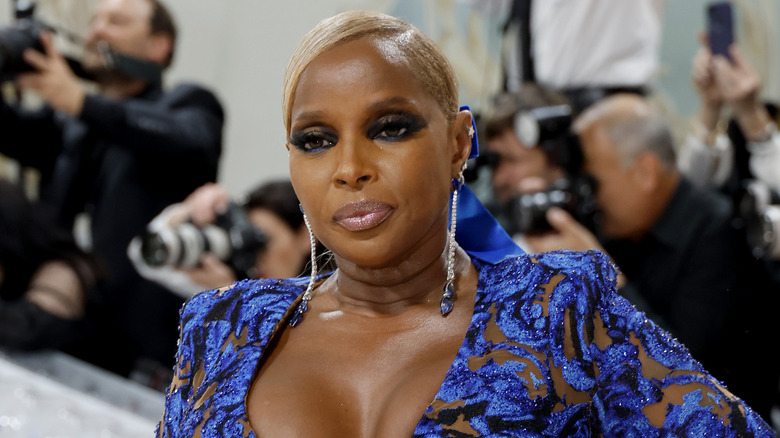 Mike Coppola/Getty Images
This year's biggest event in the fashion world has officially taken place. The Met Gala is known for its outrageous outfits, and the 2023 ball was no exception to this. The famous event has some very specific requirements for its guests. Attendees' outfits should never fall flat, but they shouldn't stop the show in the wrong way, either. To be the best dressed at the Met Gala, you have to make a statement and it has to be the right one. It also has to fit the theme.
The controversial 2023 Met Gala theme was all about one person: Karl Lagerfeld. The 2023 ball was called "Karl Lagerfeld: A Line of Beauty," and was meant to honor the fashion legend who passed away in 2019. As is to be expected from a night all about fashion, some stars were out in truly breathtaking ensembles that fit the night's theme to perfection. Others, on the other hand, didn't stun the way they set out to. So, which looks fell flat? 
Olivia Wilde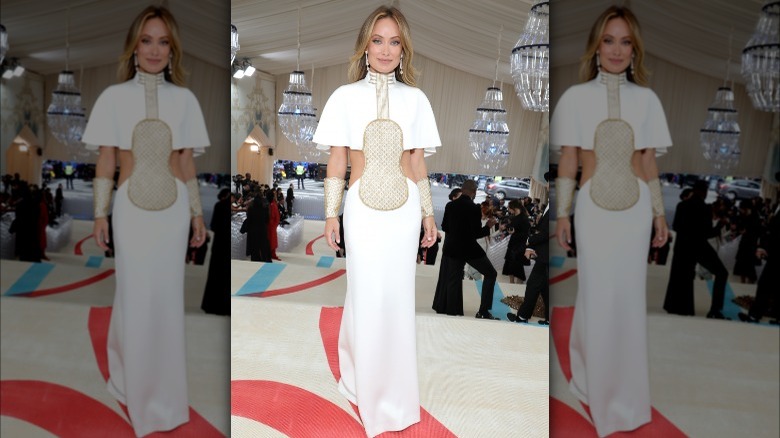 Kevin Mazur/mg23
Olivia Wilde's white, geometric gown with cut-outs by Gabriela Hearst fell a bit flat on the red carpet. Some Twitter users have suggested that the shape on this dress was reminiscent of a certain menstrual product. One Twitter user came right out with it, saying, "It's giving maxi pad." Yet, Wilde wasn't the only one who liked the dress. So did Margaret Zhang, who wore the ensemble in black, and unfortunately for Wilde, we think Zhang wore it better. 
Emma Chamberlain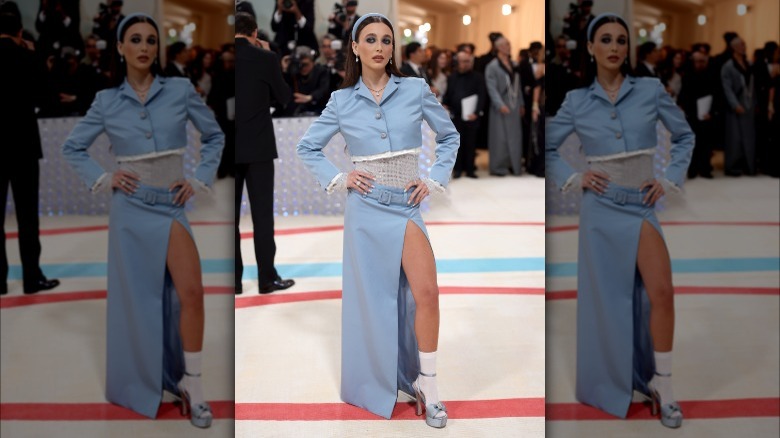 John Shearer/Getty & undefined
In some ways, Emma Chamberlain succeeded by dressing the part she's best known for: gen-z internet it-girl. Unfortunately, she didn't quite dress the part of best dressed Met Gala attendee. The casual vibes of her baby blue matching set with a sequin-covered midriff just didn't fit the grand occasion. And, while a pair of tall, white socks under open-toed shoes paired with a headband are very on-trend at the moment, they only acted to dress the ensemble down even further. 
Ariana DeBose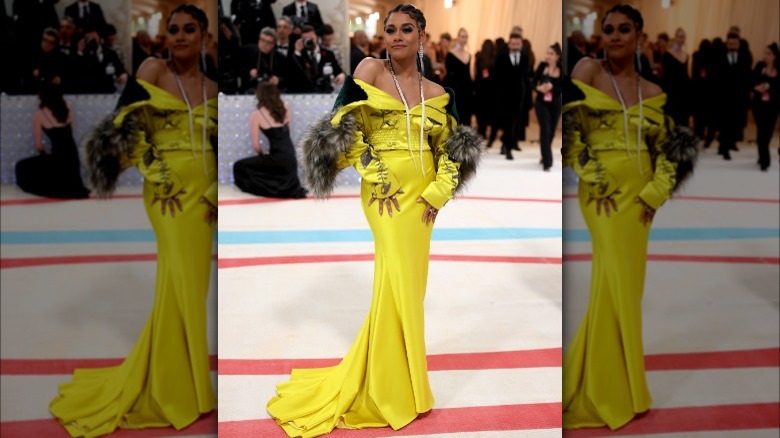 John Shearer/Getty
On one hand, "West Side Story" breakout star Ariana DeBose managed an incredible feat: she stole the show while attending one of the most difficult shows to steal. Yet, while her look was certainly eye-catching, it was also a bit of a mess. While the bright yellow color of her silk off-the-shoulder gown looked beautiful on the star, the fur trim, green accents, complicated hair and makeup, and heavy jewelry made it difficult to know where to look.
Maya Hawke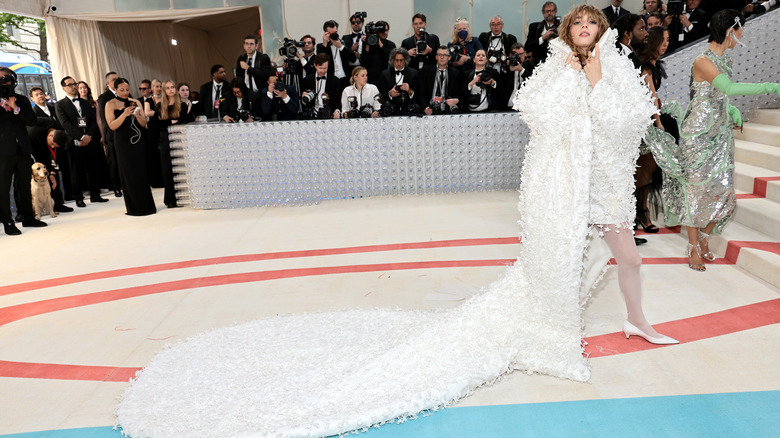 Jamie Mccarthy/Getty Images
Musician and star of "Stranger Things," Maya Hawke hit the red carpet in a show-stopping Prada coat and mini dress. The white, textured look certainly made a statement, but what statement it made, we're not exactly sure. Hawke got lost in this coat, and the white tights and kitten heels didn't complement the outfit, nor did they seem to fit the vibe or the event. While there are certainly some high-fashion elements to Hawke's ensemble, we would have loved to see the star in something that didn't overpower her for her first Met Gala appearance. 
Ben Platt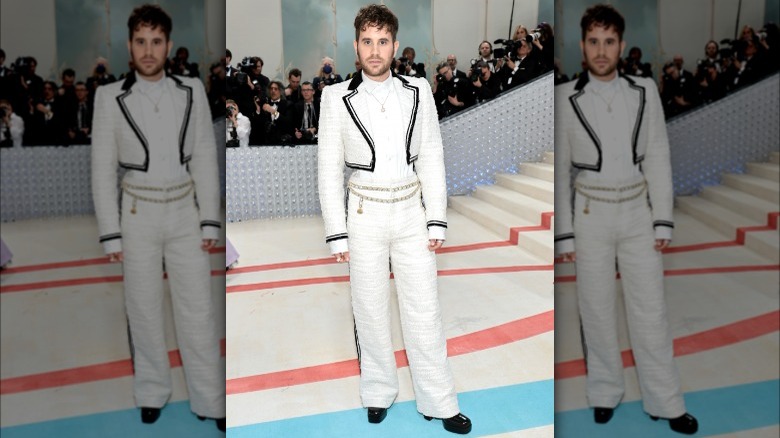 Jamie Mccarthy/Getty
No matter who you thought was the best or worst dressed at this year's Met Gala, we're confident that we can all agree on one thing: no one is jealous of Ben Platt for having to sport that corset all night. The Broadway darling wore a white suit with a crisp, corseted shirt underneath, gold accessories, and black platform shoes. Elements of this ensemble certainly put an interesting twist on what we're used to seeing on the red carpet in terms of men's suits, but the fit and shape of this just didn't work for Platt. 
Kim Petras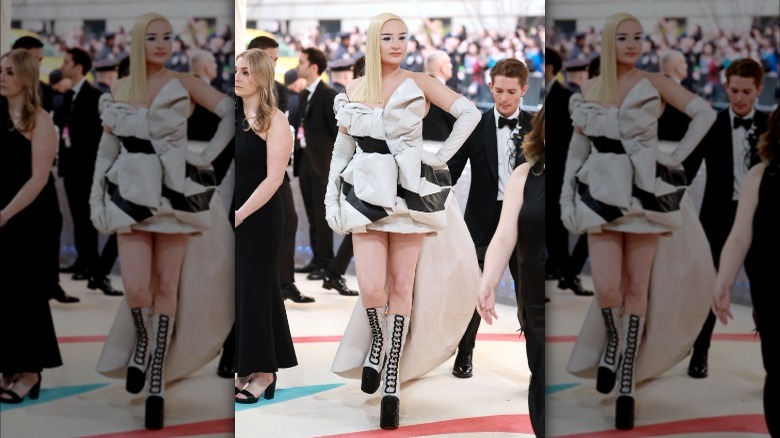 Theo Wargo/Getty Images
Singer-songwriter Kim Petras has become well-known for her bold ensembles. Her dress and statement-making boots at this year's Met Gala were, in fact, out there, but not in the right way. While Petras definitely fit the night's theme in her black and white color palette, the look paired with her extra light makeup and flat hair washed her out, and her large train and matching boots were distracting. Yet, as wild as this look was, it certainly won't be as polarizing as her Collina Strada horse dress from the 2021 Met Gala was. 
Rami Malek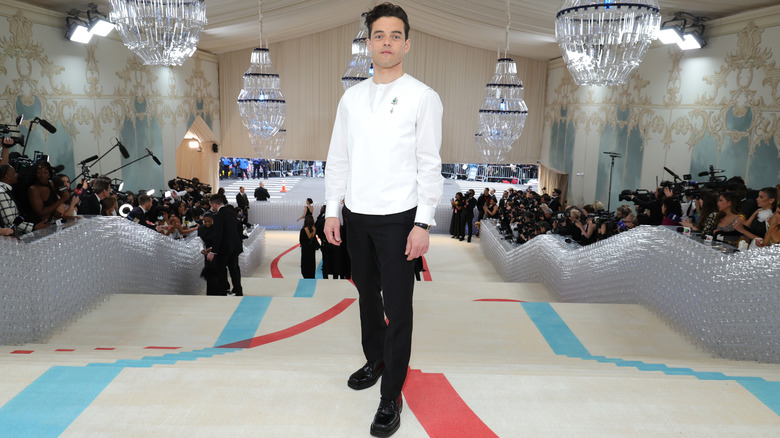 Kevin Mazur/mg23/Getty Images
It's safe to say that Academy Award winner Rami Malek knew about Karl Lagerfeld's signature black and white color scheme. While he clearly knew this year's Met Gala theme, did he actually know that he was going to the Met Gala? Malek looks underdressed for most weddings, let alone one of the biggest nights in fashion. We certainly love twists on the usual suit or tuxedo, but this one didn't have enough of a twist to make it special, and left the actor blending into the background. 
Vanessa Hudgens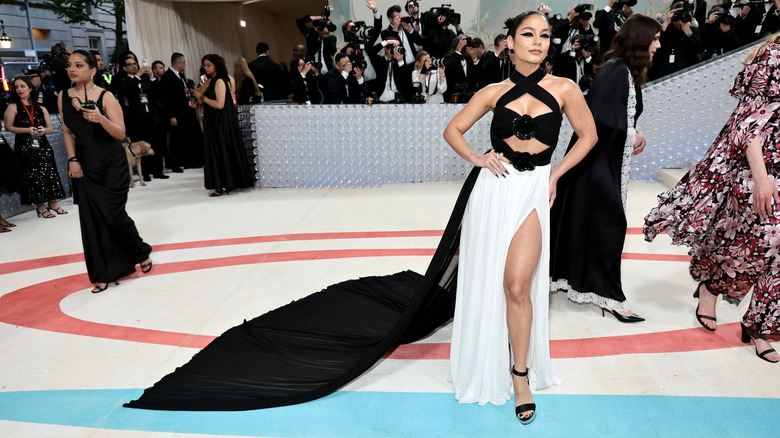 Jamie Mccarthy/Getty Images
We want to love Vanessa Hudgens' black and white cutout gown for this year's Met Gala, but something about it is giving us prom flashbacks. The dress' appliques may remind us of all the trendy rosette looks at the 2023 Oscars, but this look played it too safe for a fashionista like Hudgens on the ball's red carpet. Her makeup is perfectly chic and lets her beauty shine, but we wish it was paired with a more daring, less forgettable gown. 
Kendall Jenner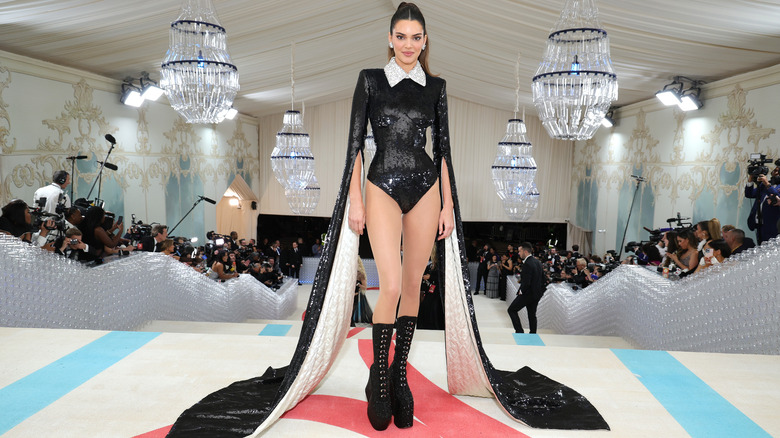 Kevin Mazur/mg23/Getty Images
While we can definitely see the Karl Lagerfeld inspo in model Kendall Jenner's Met Gala ensemble, it crossed over the line from chic to costume-y. The Marc Jacobs bodysuit with extra long sleeves and sky high platform boots has some unique and eye-catching elements, but the pantsless outfit feels unfocused and lacking. When Jenner hit red carpet interviews with her sisters Kim Kardashian and Kylie Jenner, Kardashian discussed Kendall's important professional relationship with Lagerfeld, which made us wish even more that the model had delved more deeply into her inspiration for the night. 
Serena Williams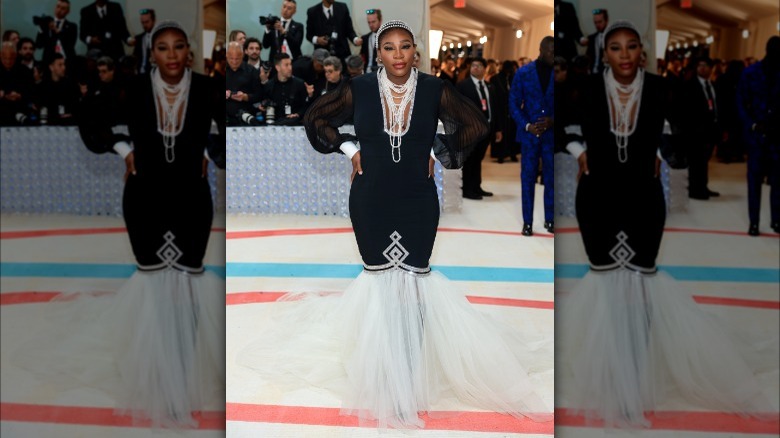 Dimitrios Kambouris/Getty Images
Serena Williams can stun like no one else, but this look just didn't quite do it. The mermaid cut dress definitely made a statement with its white tulle bottom and loose, sheer sleeves, however, this gown already had quite a few different elements all by itself. With the chunky stacked necklaces and headbands added on, there was way too much going on, and none of the many elements seemed to be working together. In the midst of the chaotic outfit, we didn't get to see Serena's beauty shine through as it has on so many red carpets before. 
Mary J. Blige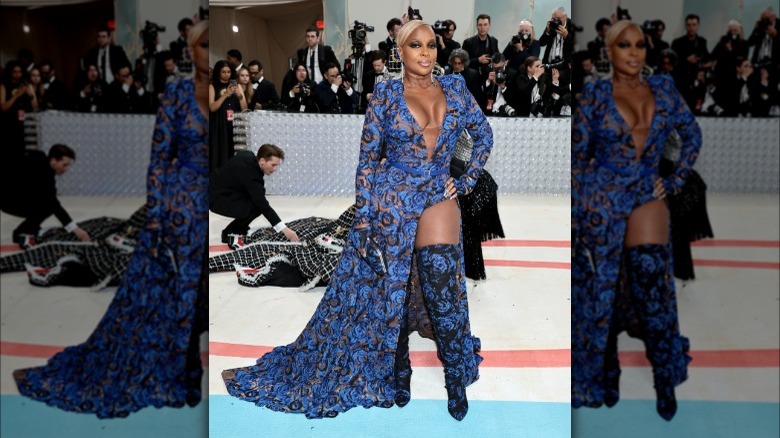 Jamie Mccarthy/Getty Images
Mary J. Blige has a history of some amazing red carpet looks. As far as we're concerned, though, this look is totally wrong for this event. We can definitely appreciate that she was one of the few stars to rock a bold color at this year's Met Gala, but the lace-y pattern and super busy silhouette just isn't making this icon look very iconic. Instead, she gets lost in the overwhelming fabric and skin that's both showing and covered up in all the wrong places. 
Pete Davidson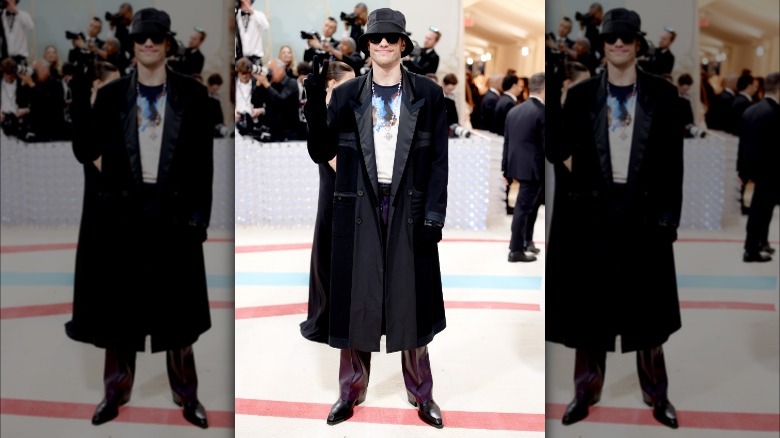 John Shearer/Getty Images
If someone was going to show up to the 2023 Met Gala rocking this outfit, we can't say that we're surprised that it's Pete Davidson. Still, that doesn't mean that this look was a good one for the occasion. It's clear even at first glance that Davidson is a bit underdressed with his graphic tee, bucket hat, and sunglasses. Still his jacket and gloves could have made for a cool and chic look if he chose to style it differently. With these accessories, though, we think he probably should've just stayed home. 
Olivia Rodrigo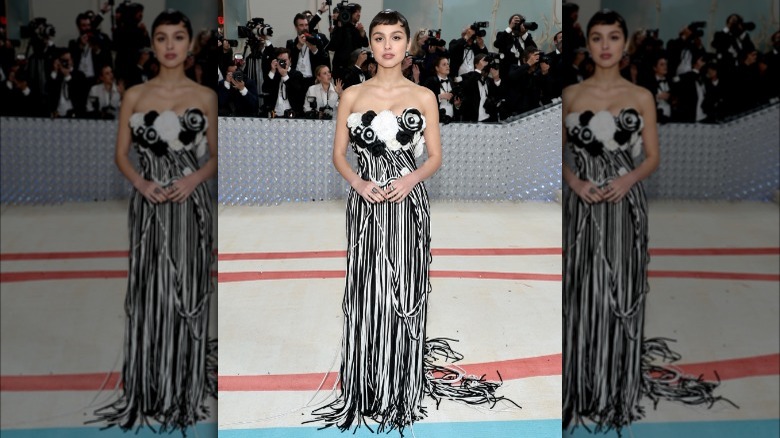 Jamie Mccarthy/Getty Images
When Olivia Rodrigo hit the 2023 Met Gala red carpet, the "Deja Vu" singer had us wishing we were having deja vu about her 2022 Met Gala gown, instead. Rodrigo is a fashion icon in her own right, but this year, she missed the mark. She took Karl Lagerfeld's classic black and white palette and made it way too reminiscent of Jenna Ortega's Wednesday Addams –– and not in a good way. Her gown, hair, and makeup all should have made a bigger statement and stuck closer to Rodrigo's signature style.
Letitia Wright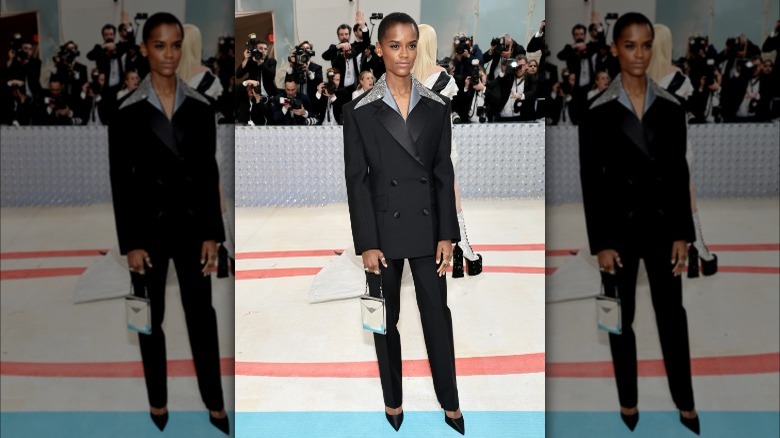 Jamie Mccarthy/Getty Images
Letitia Wright got it wrong on the red carpet this year. We all love Wright in the "Black Panther" franchise, but in this ensemble, she didn't look like the superstar that she really is. We can see where her inspiration for the theme came from, since in some ways, this suit looks like something that Kar Lagerfeld, himself, would have sported. Yet, with minimal makeup, plain black pumps, and an oversized fit, Wright looks like she's headed into the office for a big meeting.
Paris Hilton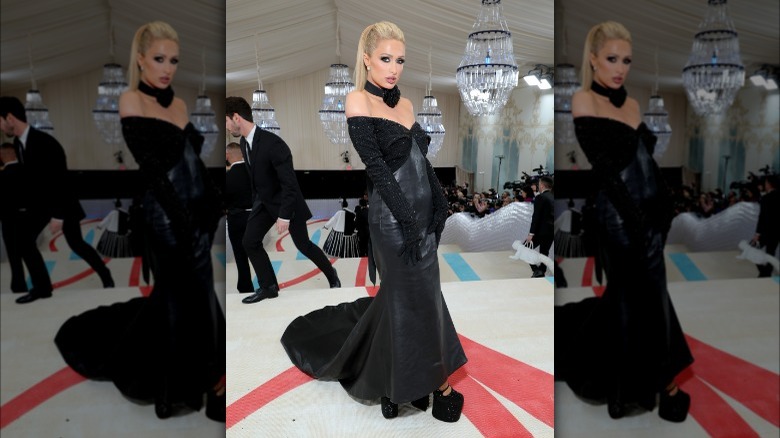 Kevin Mazur/mg23
Paris Hilton has been a fashionista for quite some time. So, why is it that the ensemble she chose for her Met Gala debut left us saying "meh?" This would have been a perfect time for the star to make a major fashion statement, but she chose an all black look that didn't make much of an impact with hair and makeup that's just plain boring. Throw on a witch's hat, and Hilton would have the perfect Halloween costume, but it's not the best Met Gala look. Hopefully, she'll do better next year.