Paris Hilton On Her Advocacy Work Against Child Abuse In Residential Facilities - Exclusive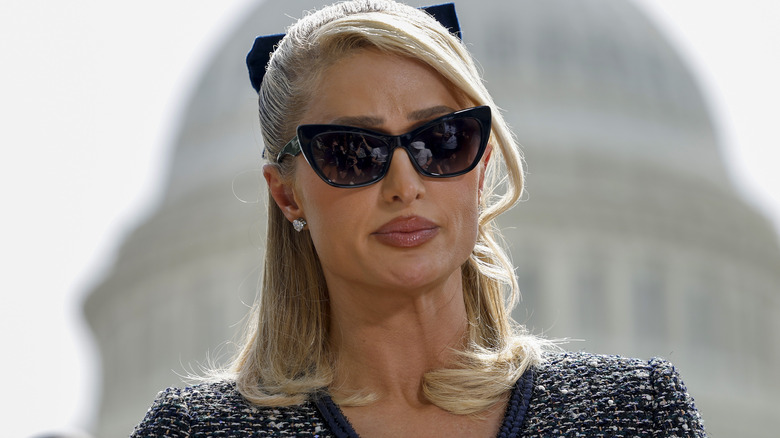 Anna Moneymaker/Getty Images
While you may know Paris Hilton as a prominent socialite who became famous in the 2000s, there's so much more to her story. The businesswoman, children's rights advocate, and tech enthusiast is reclaiming her narrative and showing the world her multifaceted identity. Recently, the New York Times-bestselling author shared her story in her memoir, titled "Paris: The Memoir," which details the traumatic incidents she's dealt with in life, including the sexual abuse she endured in multiple youth residential centers. 
Now she is advocating for stronger regulations around the "troubled teen" industry. Paris Hilton spoke exclusively to The List about her advocacy efforts to protect the rights of children and why she is passionate about the issue. "I truly put my heart and soul into everything I believe in, whether that's lobbying in D.C. or connecting on a personal level with my fans," Hilton told The List. By using her platform to shed light on the institutional abuse children often face in youth treatment centers, she is helping garner attention to the issue from state legislatures and federal bicameral legislative members.
If you or someone you know may be the victim of child abuse, please contact the Childhelp National Child Abuse Hotline at 1-800-4-A-Child (1-800-422-4453) or contact its live chat services.
Hilton is advocating for legislation to protect children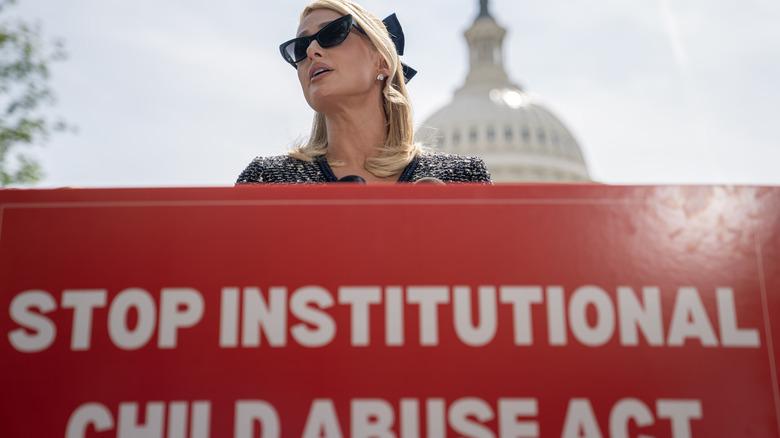 Bloomberg/Getty Images
On April 27, congressional members introduced the federal, bipartisan Stop Institutional Child Abuse Act to regulate treatment centers for children. Paris Hilton, along with other survivors who faced abuse in youth treatment centers, spoke in favor of the bill in front of Capitol Hill. In her speech, per The Hill, Hilton said, "When I attempted to tell my parents about the abuse on the phone, staff would stop and immediately hang up the phone and punish me. On top of this, you had no access to the outside doors, no sunlight, no fresh air. ... What I went through will haunt me for the rest of my life." 
A 2021 report by the National Disability Rights Network investigated for-profit residential facilities for children in 18 states and found widespread abuse. Senator Jeff Merkley, one of the bill's sponsors, told Business Insider that the objective of the bill is information-gathering on treatment center programs' operational procedures. Based on the findings, recommendations can be made regarding regulations. 
Representative Ro Khanna told The Hill that Paris Hilton and her mother "came in three years ago ... and they said 'We actually want to get legislation done.'" Khanna added that they met for several months with an advocacy organization and congressional members.
Hilton wants to give a voice to the voiceless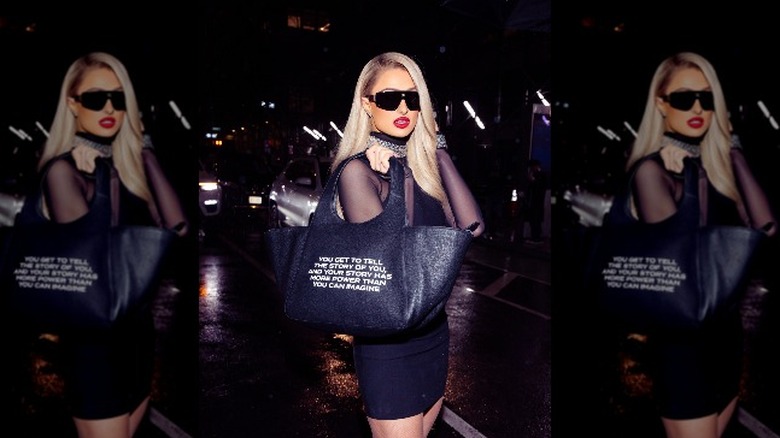 Kevin Ostajewski
As a survivor herself, Paris Hilton is especially passionate about protecting children. Hilton told us, "Survivors, especially as children, deserve to have their voices heard. I am fighting for reform of the troubled teen industry on behalf of the children from the foster care system, the juvenile justice system, children with disabilities, and migrant youth who historically haven't been believed."
Kayla Muzquiz, who also attended the bill announcement at Capitol Hill, went through the foster care system and was transferred between multiple youth residential centers, where she faced traumatic incidents such as being injected with sedatives without her consent. She told The Dallas Morning News, "Even though I entered the foster care system because I was a victim of abuse, I was treated more like a criminal in these places."
Hilton told The List she wants to ensure that children are in safe spaces and aren't "being abused or dying ... in the name of treatment." 
"I would like to see a stronger reliance on community-based care options instead of shipping youth away from their families ..." Hilton said. "We know from decades of research that institutional settings are not the most effective, yet we spend billions of dollars warehousing youth annually." 
She underlined, "We need to create a culture where survivors are believed, supported, and empowered to speak out against abuse and seek justice."
"Paris: The Memoir" is now available. Share your story in a 15-second video on social media with #THISISWHOIAM.
If you or someone you know may be the victim of child abuse, please contact the Childhelp National Child Abuse Hotline at 1-800-4-A-Child (1-800-422-4453) or contact its live chat services.