The Best 2023 Met Gala Looks Were Recycled, Proving Sustainability Never Goes Out Of Style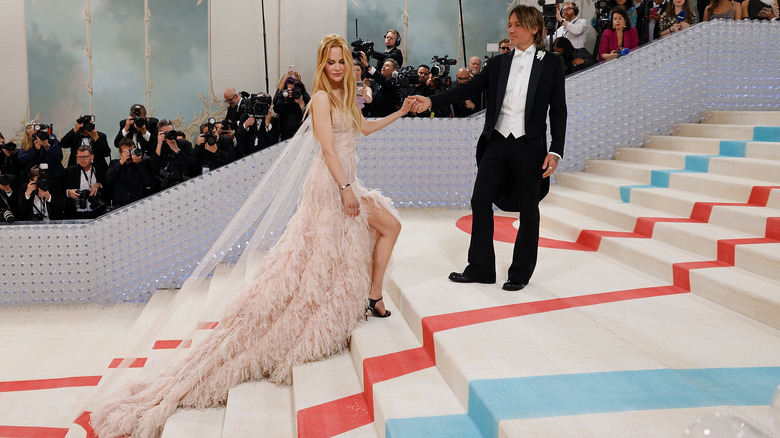 Taylor Hill/Getty Images
The Met Gala conjures up images of extravagance, wealth, and luxury. In 2023, the event honored Karl Lagerfeld, the designer whose name is synonymous with these words. Celebrities, including Rihanna, Jennifer Lopez, and Lily James, walked the red carpet in custom-made designer gowns for the occasion. While the Met Gala celebrated Lagerfeld's memory and his creative dynasty, it also quietly paid tribute to sustainability in more ways than one. Event planner Raul Àvila created a stunning centerpiece for the Met Gala constructed from recycled water bottles. He explained to Vogue the inspiration behind his creation.
Àvila said, "Given today's climate, we wanted to highlight the importance of giving our everyday items more than one life cycle." According to Columbia University's Climate School, the fashion industry is horrifically affecting the environment. The institution notes that it produces 10% of greenhouse gasses. In addition, fashion causes water pollution and has led to an abundance of microplastics in the ocean.
As Landfills are overflowing with discarded clothes, stars like Nicole Kidman and Gisele Bündchen opted to wear looks they had already donned. With that said, repeating an outfit is not a fashion faux pas. It's a statement made in the name of sustainability that you should and can repeat, even at such a monumental event as the Met Gala.
Fashion is supposed to be reworn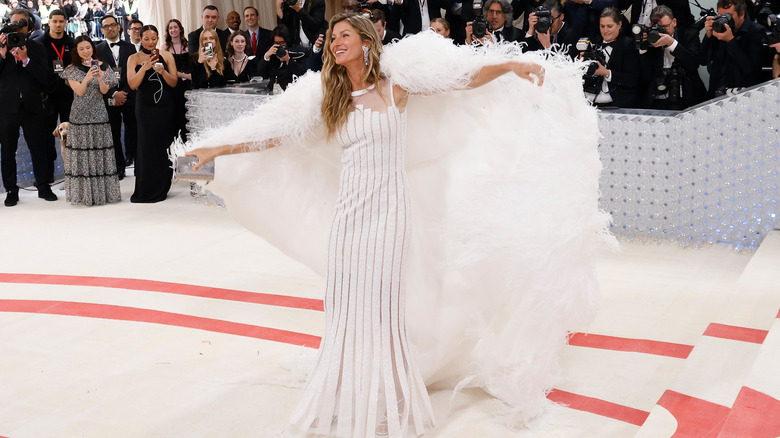 Taylor Hill/Getty Images
Although Nicole Kidman and Gisele Bündchen wore "old" looks, they were arguably some of the best-dressed. In 2004, Kidman starred in an ornate Chanel No. 5 commercial. In it, she sports a pink tulle gown adorned with feathers and sequins designed by Karl Lagerfeld. Kidman wore this dress at the 2023 Met Gala. In an interview on the red carpet with LaLa Anthony, Kidman explained why she chose a recycled look. Kidman said, "To be able to wear the same thing 20 years later and it still holds . . . There's whimsy to it," according to People, noting, "If you take care of them (couture gowns) and love them, they are timeless."
Bündchen, on the other hand, donned a white sequined dress and feather cape from the Chanel Haute Couture Spring-Summer 2007 collection. The supermodel first wore the frock in a 2007 photoshoot for Harper's Bazaar Korea. Kidman and Bündchen's looks prove that just because something is considered vintage doesn't mean it's outdated. If anything, this makes the dresses even more poignant; they have a meaningful and personal story behind them. Simply put, something doesn't always have to be new to impact the red carpet, the fashion world, or elsewhere.
Kidman's words about her dress echoed a 2019 statement made by Vogue's editor-in-chief and Met Gala's chairwoman, Anna Wintour. Per Euronews, Wintour spoke at a sustainability conference and said that clothes should be worn "again and again" before being passed down to family.
Fashion brands can use their platform to bring awareness to the environment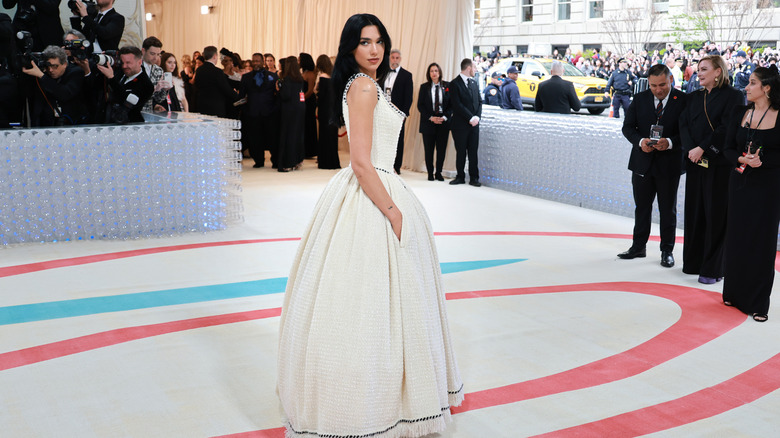 Theo Wargo/Getty Images
Nicole Kidman and Gisele Bündchen were not the only stars who chose sustainability for the ball. Dua Lipa wore a Chanel dress from 1992, while Naomi Campbell wore a pink and silver gown from the brand's 2010 Spring-Summer collection. However, rocking recycled or vintage looks is nothing new for the Met Gala. Some of the best-dressed stars at the 2022 Met Gala included Kim Kardashian, who wore Marilyn Monroe's iconic "Happy Birthday Mr. President" dress. While this decision had some fashion historians seeing red, it was, nonetheless, a sustainable choice; it spared materials and energy that would be used on a new gown. 
However, brands, like celebrities, can use their creations for the greater good of the environment. Per CNN, sustainable designer Maya Penn attended the 2023 Met Gala wearing a dress and purse designed by Coachtopia. The brand, affiliated with Coach, makes its designs from recycled materials. On the red carpet at the Met Gala, Penn explained that her purse was made from garbage scavenged from the Met Gala's trash bins. The result is a design that is equal parts inventive and chic.
Big brands offering these products motivate consumers to purchase sustainable items and introduce circular fashion to the masses. This concept states that clothing should be made with renewable materials and recycled and reused instead of completely disposed of. Perhaps in the future, the Met Gala will choose a sustainable theme to embolden this goal further.