Why Fashion Historians Are Seeing Red Over Kim Kardashian's Met Gala Dress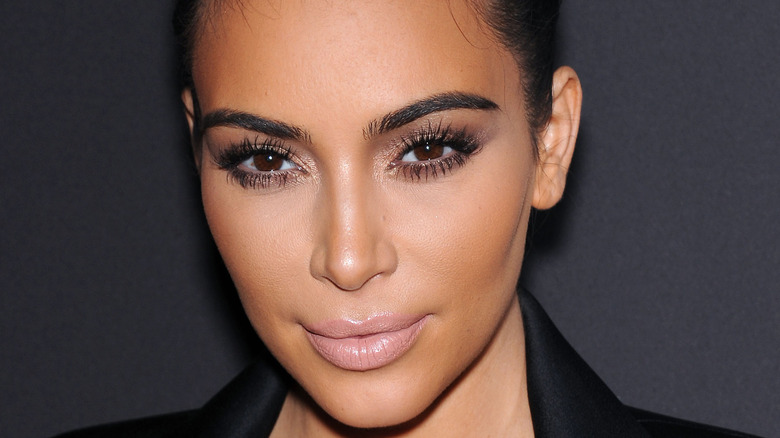 DFree/Shutterstock
There were plenty of celebrities who clearly didn't understand the Met Gala theme this year, but Kim Kardashian wasn't one of them. The "Keeping Up with the Kardashians" star stunned on the red carpet in a glittering Bob Mackie gown previously worn by Marilyn Monroe herself. As The Guardian notes, Kardashian is a heavy-hitter at the Met Gala, having previously attended in a tightly-corseted, wet-look Thierry Mugler creation, and most recently in her instantly iconic, total-body-covering Balenciaga bodysuit.
The 2022 theme was "Gilded Glamour," which was inspired by the gala's exhibition, "In America: An Anthology of Fashion." As Kardashian told Vogue, who's more American than Monroe? The SKIMS founder was so assured in her choice of dress — which was memorably worn by the screen siren during her infamous "Happy Birthday, Mr. President" performance for JFK — that she had no backup option. Kardashian had the dress on loan from Ripley's Believe It or Not Museum since it's technically a historical artifact. 
This is why some historians are dismayed by the reality star's decision to take the dress down the Met Gala red carpet. 
Marilyn Monroe's dress is a piece of living history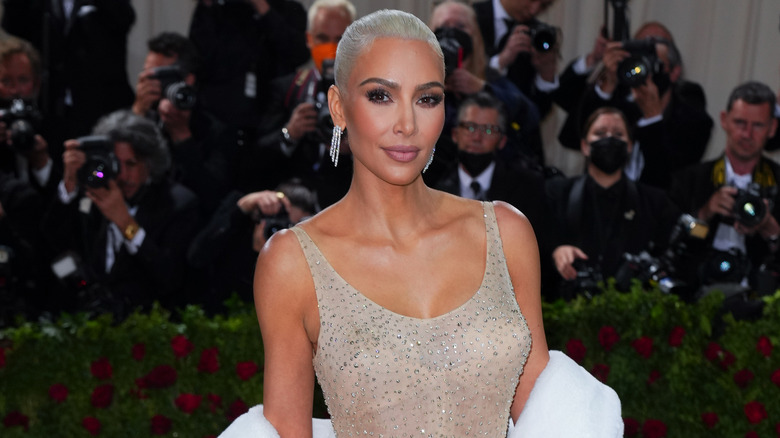 Gotham/Getty Images
Several experts spoke to People about why Kim Kardashian wearing Marilyn Monroe's dress to the 2022 Met Gala was so problematic. Dr. Justine De Young, professor of fashion history at the Fashion Institute of Technology, described the move as "irresponsible and unnecessary." As far as Dr. Young is concerned, the reality star should've simply paid for a replica dress to be made rather than risk any harm coming to a living piece of American history. Moreover, Kardashian has people upset over her extreme weight loss, which involved the mother of four dropping 16 pounds in three weeks to fit into the dress.
Dr. Young took issue with this, too, reasoning that it's an outdated idea that should've been left in the '60s, which is when Monroe originally donned the gown. Collector and historian Scott Fortner, who specializes in the screen siren, acknowledged, "I understand the appeal of wanting to wear such an iconic gown," but argued nobody else should be allowed to do so. Fortner explained, "The dress was custom-made for Marilyn Monroe. It's not an off-the-rack garment." Sarah Scaturro, Cleveland Museum of Art's chief conservator, also worried this could set a dangerous precedent. "I'm frustrated because it sets back what is considered professional treatment for historic costume," she opined to the Los Angeles Times. 
Kim Kardashian was 'honored' to wear the iconic gown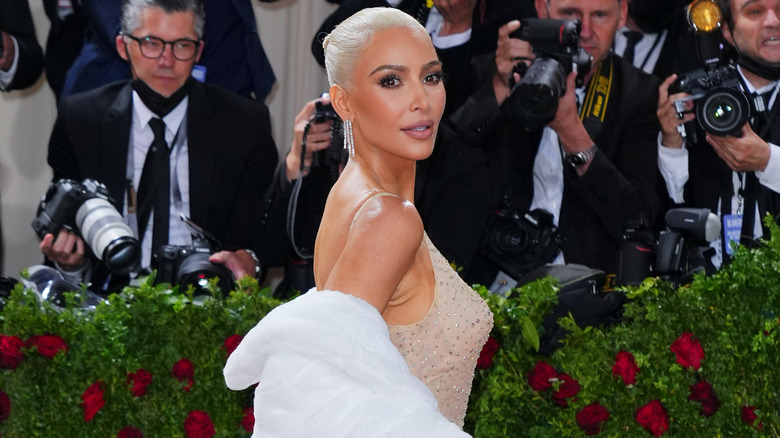 Gotham/Getty Images
In fact, Marilyn Monroe demanded a dress only she could wear when she originally requested the design. The garment was sculpted to fit her curves exactly using material imported from France for the occasion, as historian Scott Fortner informed People. Since Monroe and Kardashian are, demonstrably, different sizes, "It's logically assumed the fabric and seams were stressed." Moreover, Michelle Morgan, author of "The Girl: Marilyn Monroe, the Seven Year Itch, and the Birth of an Unlikely Feminist," pointed out to the New York Post, "The gown is extremely fragile and has been previously kept in temperature-controlled conditions, but now here it is, not only being worn, but also in a red carpet environment, where anything could have happened to it."
Fortner did admit, however, that it was nice to see the dress in full color and "in motion," since the only footage of Monroe wearing it is in black and white. It's worth noting Kardashian described wearing the dress as a great honor, gushing on Instagram, "I am forever grateful for this moment." A representative for Ripley's Believe It or Not confirmed to the Post she showed "the utmost respect for this opportunity and historic garment." Aside from losing weight to fit into the dress, Kardashian went without body makeup, only wore it for a brief red carpet appearance, and did absolutely no alterations whatsoever. They also confirmed the dress hasn't been damaged, which should put historians' fears to rest.