The Hit Singer Who Gave Rihanna Informal Vocal Lessons
Kevin Winter/Getty Images
When Barbados-born singer Rihanna's first single, "Pon De Replay," entered international airwaves in 2005, she effectively cemented herself as one of the most promising pop stars of the 21st century. Her entrancing alto voice seemed to drive the pulsating reggae rhythms, creating a sound that was at once a callback to Caribbean artists who came before her and distinctly her own. 
Her summertime smash hit was the lead single on her debut album, "Music of the Sun." The album was released on rapper Jay-Z's star-studded label, Def Jam Recordings, placing Rihanna among the ranks of other musical giants like LL Cool J, Kanye West, and DMX. Adding to the grandiosity of her rise to fame was the fact that she was only 17 years old at the time of her first single release. 
While Rihanna's talent was palpable from the first downbeat, this was largely a natural-born skill. In a 2007 interview with MTV, the singer said she received no formal voice lessons. However, she did get a few helpful tips from a fellow Def Jam artist and world-class musician in his own right.
With a little help from a Def Jam friend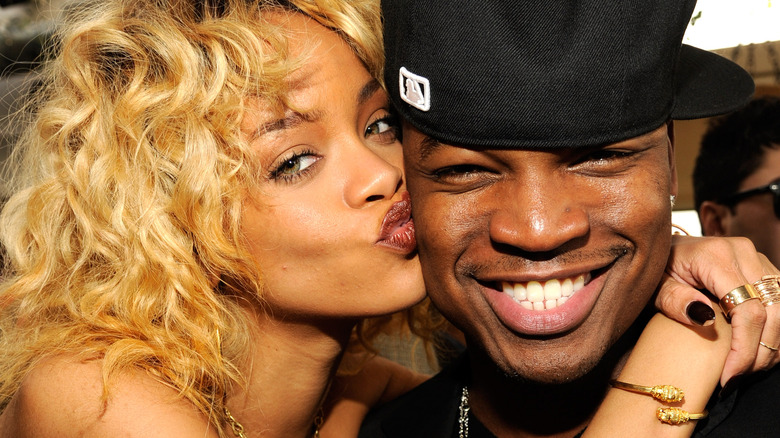 Kevin Mazur/Getty Images
Following the success of "Music of the Sun," Def Jam Records wasted no time in getting Rihanna back into the studio to record her second album, "A Girl Like Me." Her sophomore release would include hit singles like "SOS," "We Ride," and the brooding ballad "Unfaithful." In addition to Rihanna's undeniable star power, the record was bolstered by an immensely talented team of collaborators. 
One collaborator included musician, songwriter, and fellow Def Jam artist Ne-Yo. Ne-Yo, born Shaffer Chimere Smith, co-wrote Rihanna's emotional hit "Unfaithful." This collaboration would spark several more hits, including "Hate That I Love You" ("Good Girl Gone Bad," 2008) and "Russian Roulette" ("Rated R," 2009). 
But Ne-Yo provided Rihanna with more than catchy melodies and attention-grabbing lyrics. Per Rihanna's MTV interview, the musician also gave the self-taught singer some valuable, informal training while working together in the studio.
Fine-tuning the pop star's vocal technique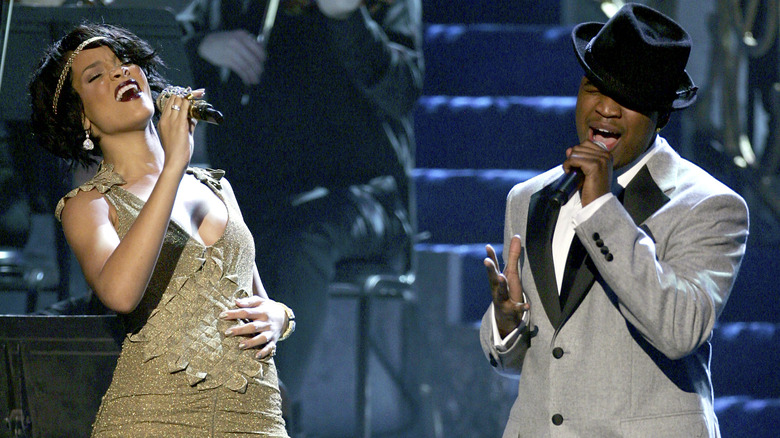 Ethan Miller/Getty Images
When it comes to delivering killer vocals, natural-born talent is an excellent place to start. However, with proper breathing technique, vocal placement, and general knowledge of music theory, a voice can be transformed from pretty good to superstar-worthy. Ne-Yo helped Rihanna get to this next level with tips on breath support, lyrical interpretation, and rhythmic approaches. 
"Unfaithful" marked a turn in Rihanna's career from a dance hall diva to a dynamic pop star. As she mournfully lilts the line, "I don't want to do this anymore," the pain in her voice is palpable. This was a far cry from the saltwater-soaked beats of "Music of the Sun" and the start of a long career of musical experimentation that would continue to set Rihanna apart from the rest.
The billionaire business mogul has expanded her brand to include Fenty Beauty, Fenty Skin, and Savage x Fenty. In 2012, her role in the sci-fi flick "Battleship" sparked a successful acting career that would later include "This is the End" (2013), "Home" (2015), and "Ocean's 8" (2018). She's also achieved major milestones in her personal life, becoming a mother of two with fellow musician A$AP Rocky. Of course, if anyone can juggle being a mom, entrepreneur, actress, and international pop star, it's Rihanna. And it's safe to say that no matter when she decides to focus on her music again, she'll continue featuring her powerhouse vocals and musicality fostered all those years ago by Ne-Yo.