Princess Diana's Niece Lady Kitty Spencer And Her Husband Have A Bigger Age Gap Than We Thought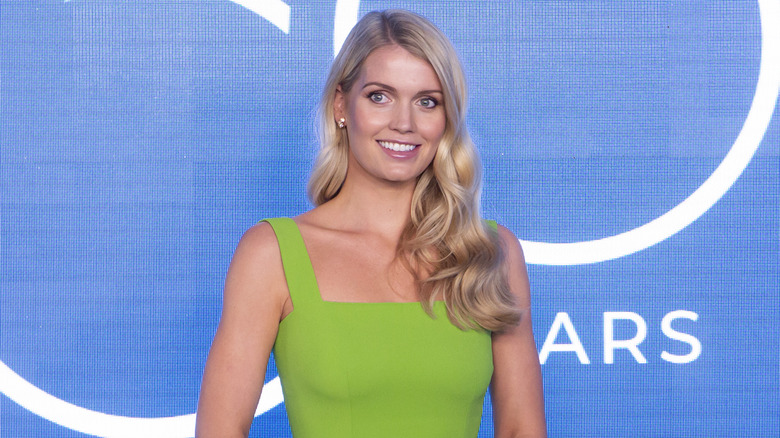 Daniel Perez Garcia-santos/Getty Images
Although it's been years since Princess Diana's untimely death, the public's fascination with her and her family continues. Born as Diana Frances Spencer to John Spencer and Frances Shand Kydd, the late princess had four siblings, including Charles Edward Maurice Spencer. Charles is now the 9th Earl Spencer and the father to Diana's niece, Kitty Spencer. Despite her famous last name and status in British society, Kitty has shied away from media attention. Instead, Kitty, raised in Cape Town, South Africa, spent much of her early adulthood focused on her college education. Kitty also followed in her mother, Victoria Aitken's, footsteps, and began modeling in 2017.
However, her appearance at the 2018 wedding between her cousin, Prince Harry, and Meghan Markle caused a frenzy. Since then, Kitty's notoriety and influence on the fashion world have grown. Per her Instagram page, Kitty is a global brand ambassador for Dolce & Gabbana. She's graced the covers of Haarper's Bazaar, Vogue, and more. But Kitty's love life has also become a point of interest for the press. Princess Diana's niece, Kitty Spencer, is currently married to millionaire and South African native Michael Lewis. While Kitty has kept mum about her relationship with Lewis, it is known that her husband is significantly older than her.
Kitty Spencer's father is younger than Michael Lewis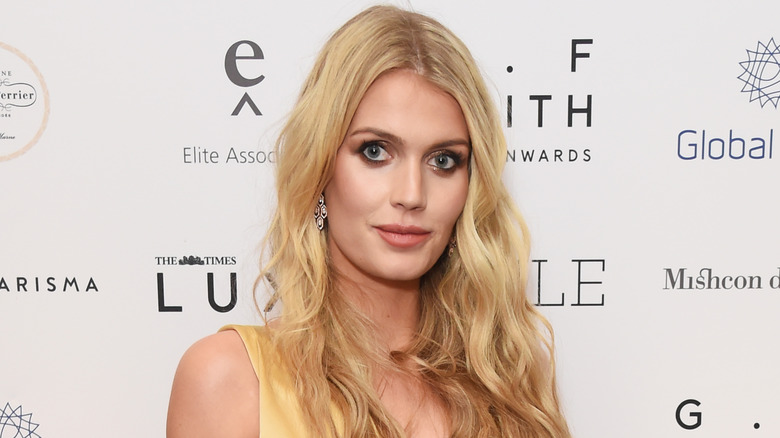 David M. Benett/Getty Images
Lady Kitty Spencer and Michael Lewis first got together in 2018 after a mutual friend introduced them to each other. The Evening Standard reports that Lewis, a businessman, comes from a prominent South African family. He owns retail chains in his home country, the UK, and Australia. Spencer and the very wealthy Lewis reportedly got engaged at the end of 2019, but the couple is notoriously private. In May 2021 interview with Town & Country, Kitty told the publication why her relationships are off-limits with the press. She explained (via Yahoo Life UK), "I feel less vulnerable when I don't discuss things like my love life. I just think, 'Really, what's that got to do with anyone else?' It shouldn't make a difference to anyone's day."
Kitty went on to say, "It's because, for me, love is the most important thing in the world, and I will protect it with all my heart by not making it a topic of discussion. You open yourself up to other people having opinions, and it just isn't relevant to anybody's life but mine and my family's." Kitty and Lewis tied the knot in the summer of 2021. At the time of their nuptials, Kitty was 30, and Lewis was 62. The couple has a 32-year age gap, and Lewis is also older than Kitty's father, Charles Spencer. In 2021, the 9th Earl Spencer was 57 years old.
Kitty Spencer and Michael Lewis' extravagant wedding
Lady Kitty Spencer and Michael Lewis said "I do" on July 24, 2021. This was her first marriage and Lewis' second, and the couple spared no expense for their big day. Their wedding took place at Villa Aldobrandini in Frascati, Italy. The country is a special place for Kitty; she went to university in Florence. Her famous royal cousins, Prince William and Prince Harry, did not attend. However, Lewis' three children with his first wife were there, as well as celebrities like Pixie Lott. While Princess Diana's wedding outfit is forever ingrained in history, Kitty took it up a notch by wearing not one, but five wedding dresses.
Dolce & Gabbana designed each dress. The stunning dress she walked down the aisle in had clear Victorian aesthetic notes, while two of her other dresses featured floral designs. Dolce & Gabbana designer Domenico Dolce explained to Tatler that this was an homage to Kitty's English roots. The groom, on the other hand, wore a white suit.
Except for her wedding day, Kitty does not post photos of Lewis on social media. Before tying the knot, she told Town & Country, "I just look forward to a really happy home life: a happy marriage and happy children. And I feel very at peace that things play out the way they should."