Meghan Trainor And Charlie Puth's Viral AMAs Kiss Wasn't Their First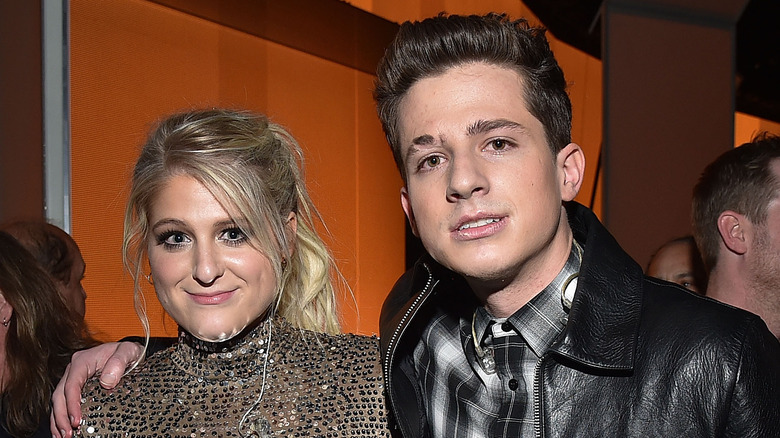 Mike Windle/ama2015/Getty Images
In 2014, Meghan Trainor debuted in the pop world with her single "All About That Bass." Trainor shot to stardom, and her subsequent songs, "Lips Are Moving" and "Marvin Gaye," were just as successful. The latter is a duet with fellow singer Charlie Puth. Released in February 2015, "Marvin Gaye" is featured on "Nine Track Mind," Puth's first album. "Marvin Gaye" was one of 2015's biggest hits. As of November 2022, the song is certified 4x Multi-Platinum by The Recording Industry Association of America (RIAA). 
In an interview with Billboard, Puth told the publication that his manager suggested he sing the song with Trainor, who he had recently met at a party and discussed the song with. The pair later performed the hit single at the 2015 American Music Awards (AMAs), where Trainor and Puth caused a stir when they passionately made out for several moments at the end of their act. Years later, Trainor revealed that this was not the first time she had locked lips with Puth. So, when was the other time? Let's find out. 
Meghan Trainor tells all to Andy Cohen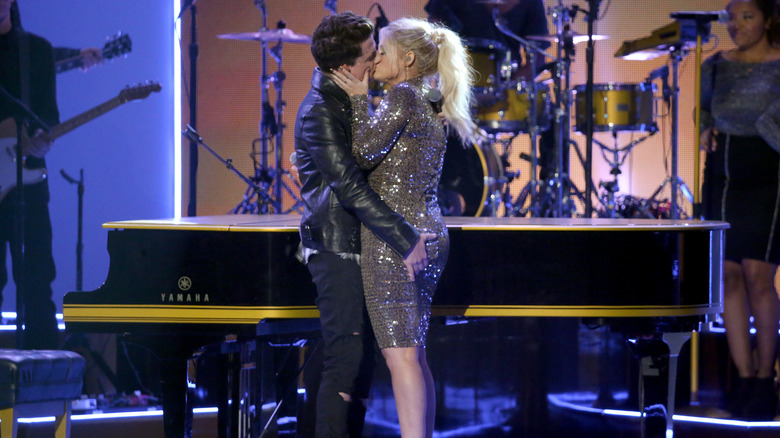 Michael Tran/Getty Images
In early May 2023, Meghan Trainor appeared on "Watch What Happens Live With Andy Cohen." A fan asked Trainor if she and Charlie Puth had ever kissed before their AMA performance of "Marvin Gaye." Trainor said, "Yeah, I'll give you tea." She continued, "The day we recorded 'Marvin Gaye' — very, like, romantic song — there was booze, and we made out that night in the studio." Trainor added, "We were in that moment. The song got to me, the liquor. It was great." The pop star also said that it didn't happen again. However, Trainor and Puth also kissed at the end of the music video for "Marvin Gaye."
Discussing the music video, Trainor told MTV News that she and Puth had to "make out a bunch of times" during production. In the same interview, Puth revealed, "Meghan's a very good kisser." The singers sheepishly disclosed that both their parents were there as they filmed the kissing scene. In 2015, Trainor and Puth toured together. Ultimately, this, and their steamy AMA performance, led to speculation that Trainor and Puth were an item. Puth later went on "The Ellen DeGeneres Show" and clarified that he and Trainor were only friends. When DeGeneres asked about the kiss, he explained, "It's all a visual aesthetic for what the song is."
Charlie Puth later shaded 'Marvin Gaye'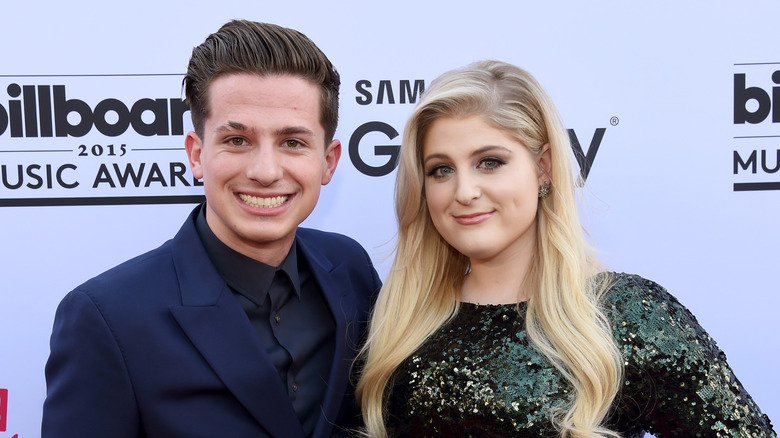 Larry Busacca/bma2015/Getty Images
"Marvin Gaye" was one of the biggest songs in the summer of 2015. According to Acharts, the song did exceptionally well in the U.K., New Zealand, France, and more. Although the song was a hit with listeners, the same can't be said for critics. TIME named it one of the worst songs of the year, along with Meghan Trainor's "Better When I'm Dancin.'" In 2019, Charlie Puth told Capital FM that he is not a fan of the song either. He said, "I don't know why you guys like that song so much." He added, "That's the worst song I ever recorded." 
At the time of this publication, Puth has not commented on Trainor's "Watch What Happens Live With Andy Cohen" admission. That was also not the first time Trainor had discussed the now-infamous AMAs kiss. In a TikTok posted in August 2022, Trainor seemingly expressed regret over the public smooching. One fan left a comment under the video applauding the kiss and said, "It was a cultural reset honestly lol rocked everyone out of their seats!!"
While Trainor and Puth may have put on a romantic display of affection for the show, she went on to find true love with her husband and former child star, Daryl Sabara. She and Sabara have a son named Riley and are expecting another boy in July 2023. Puth is currently in a relationship with Brooke Sansone.