How Lisa Marie Presley Inspired Riley Keough's Daisy Jones & The Six Role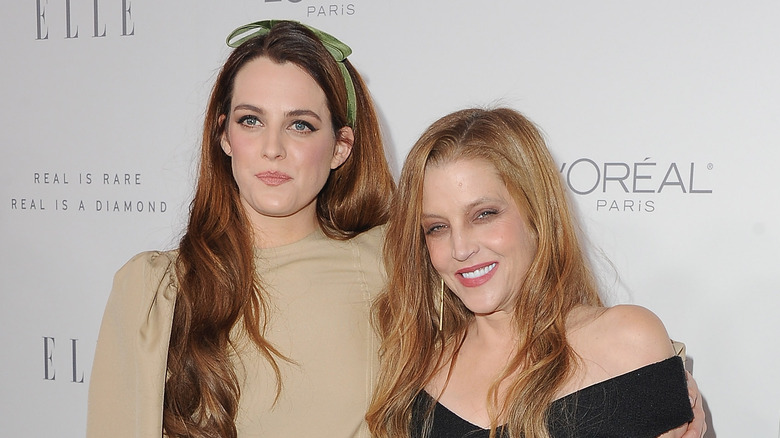 Jon Kopaloff/Getty Images
Amazon's "Daisy Jones & The Six" became one of the most talked-about TV shows of 2023 after its March premiere. The series follows a fictional rock band in the 1970s as they rise to fame, deal with drug and alcohol abuse issues, romantic relationships, and the '70s music scene. Riley Keough stars as the show's titular character, a wild party girl who falls hard for a married bandmate while trying to navigate her messy life.
The series is based on a book by Taylor Jenkins Reid and is said to draw heavy inspiration from real-life iconic '70s rock band Fleetwood Mac. Keough herself has revealed that she took cues from a number of different places. "I was like, 'I'm not going to exclusively look at women; I want to look at Led Zeppelin and Jimi Hendrix,'" she told Net-A-Porter. "I pulled influence from men because I felt like Daisy was ahead of her time, in terms of how open and how willing she was to go into a space and be confident. I think that was really hard for women to do." There was, however, one very important woman that Keough drew inspiration from, and that's her mother, Lisa Marie Presley.
Speaking to People in 2022, Keough said that playing a strong, independent woman who refused to be treated unfairly in the '70s music scene made her think of her mom. "My mother is certainly an inspiration to me," she said, calling her mother "a very strong, smart woman." Keough continued, "I was raised by somebody who did their own thing and didn't really care what other people thought. She was definitely inspirational to me."
Riley Keough had a special bond with her mother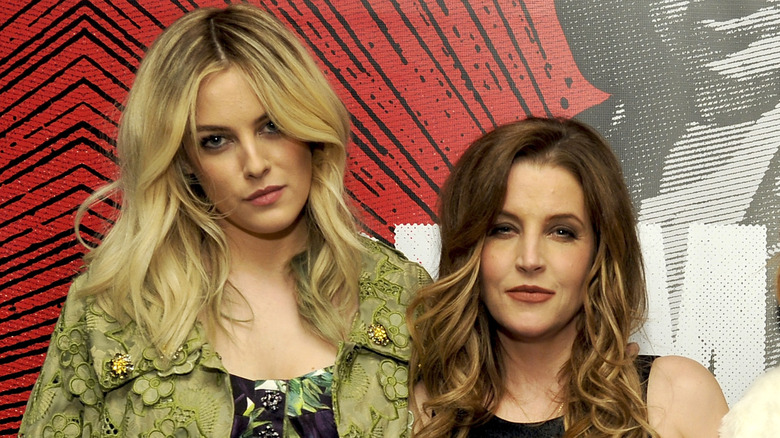 John Sciulli/Getty Images
Sadly, Lisa Marie Presley didn't get to see her daughter's debut as Daisy Jones or hear the praise that surrounded the series. In January 2023, Presley — the daughter of iconic musician Elvis Presley — died after suffering a cardiac arrest. At Presley's funeral, Keough's husband Ben Smith-Petersen read a letter from the actor to her late mother. "Thank you for giving me strength, my heart, my empathy, my courage, my sense of humor, my manners, my temper, my wildness, my tenacity. I am a product of your heart," the letter read (via Entertainment Tonight).
Keough is one of Lisa Marie Presley's four children. The actor and singer was also the mother of son Benjamin Keough — who tragically died in 2020 — and twin daughters Finley and Harper Lockwood. During a 2014 interview, Presley opened up about the important role her children played in her life, calling them her best friends. "I am very protective," she told Healthy Living magazine (via Yahoo!). "I just smother them in love and I am also ferociously protective. They are my priority. That's what I do. That's what I care most about."
Following Presley's death, sources told Us Weekly that the loss was very difficult for Keough. "Riley is no stranger to loss, but the passing of her mother has hit her very hard." The source added that although Keough was struggling, she knew her mother would be happy for her success. "Riley knows her mother was proud of her and would have wanted her to continue on," the insider added. Keough is now navigating the loss of her mother and her career success. However, she'll always know that part of her "Daisy Jones & The Six" performance can be credited to her mother's inspiring presence in her life.