What You Need To Know About The Young And The Restless' Lucy Romalotti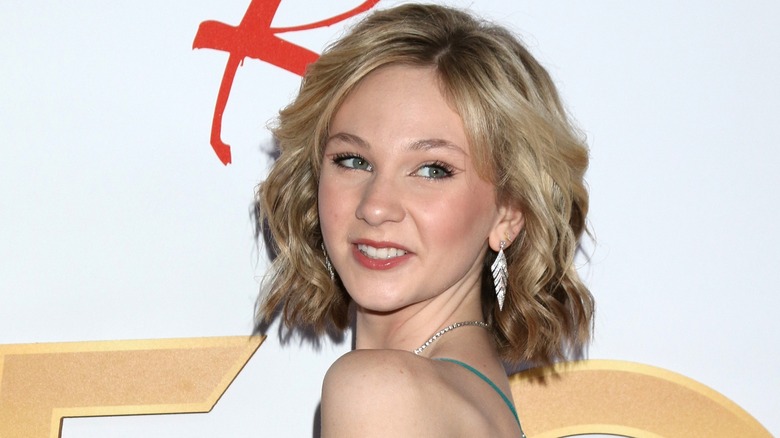 Kathy Hutchins/Shutterstock
Like all soap opera characters, Lucy Romalotti on "The Young and the Restless" has quite a fantastic backstory. Even though she was born in 2011, Lucy was last seen as a toddler who left Genoa City with her father, Daniel Romalotti (Michael Graziadei), and his girlfriend, Heather Stevens (Vail Bloom), in 2013. That is, until Lucy's recent return. Portrayed by actor and musician Lily Brooks O'Briant, Lucy is now a teenager navigating a complicated relationship with her family — especially her father. Daniel and Lucy are trying to reconnect after he left her and Heather to return to Genoa City, coinciding with the show's 50th anniversary.
Even though it's been so long since Lucy graced TV screens, long-time viewers aren't likely to forget the traumatic events surrounding her birth and eventual departure from the show. But if you're a new viewer wondering who the blonde teenager is, here's a recap of everything you need to know about the character.
Lucy Romalotti has a complicated origin story
Lucy Romalotti's father, Daniel Romalotti, is the son of two of the show's most popular legacy characters — Phyllis Summers (Michelle Stafford) and Danny Romalotti (Michael Damien) — although it was later revealed Daniel's biological father wasn't Danny at all. As a young man, Daniel experienced difficulties in his marriage to Amber Moore (Adrienne Frantz), and he attracted the unwanted attention of Daisy Callahan (Yvonne Zima), who became obsessed with him.
The half-sister of Daniel's good friend, Kevin Fisher (Greg Rikaart), Daisy drugged Daniel and forced him to have sex with her, which resulted in Lucy's conception. Several months later, Daisy returned and revealed her pregnancy. The last thing Daniel wanted was to be a father to her child, but he allowed her to stay with him nonetheless. When Daisy was eventually arrested, Phyllis decided she wanted to adopt her granddaughter, which caused a rift between Daniel and Kevin, who also wanted to raise his niece as his own.
When Daisy went into labor on the side of a road one night, Daniel found her and helped deliver his daughter. However, Daisy managed to run off with newborn Lucy, whom she then abandoned outside of a church in Canada. As fate and soap operas would have it, Lucy was found by opportunists and sold on the black market — only to end up back in Genoa City as the adopted daughter of Billy Abbott (then Billy Miller) and his wife, Victoria Newman (Amelia Heinle).
Teenage Lucy showed up in Genoa City
Unbeknownst to them, Billy Abbott and Victoria Newman were raising Daniel Romalotti's daughter, but Phyllis Summers managed to discover the truth when it was revealed the adoption wasn't legal. The Abbotts lost custody, and Lucy was put in foster care. Daniel confirmed he was Lucy's biological father through a DNA test and relinquished his rights, allowing Billy and Victoria to adopt the little girl legally. However, Phyllis sought out Daisy Callahan and used her to regain custody of Lucy, and Daniel reluctantly bonded with his child. Fearing for his daughter's safety, he agreed to marry Daisy to keep Lucy out of harm's way. However, Daisy disappeared, only for it later to be revealed she had been committed to a psychiatric facility. Daniel and his then-girlfriend Heather Stevens decided to leave Genoa City with Lucy, raising her together, first in Georgia and later in Portugal.
Since Daniel's return to town earlier this year, viewers have learned Heather recently fell in love with another man, which caused the couple to separate. Now a teenager, Lucy showed up in Genoa City and revealed how much Daniel's absence had hurt her. However, it's become clear the two shared a strong bond, having spent many hours playing video games together. Although Heather and Lucy have since returned to Portugal, it shouldn't surprise anyone if the young woman someday decides to return to live with her father.