Kate Middleton's Pre-Coronation Earrings Pay Tribute To Queen Elizabeth And Prince Philip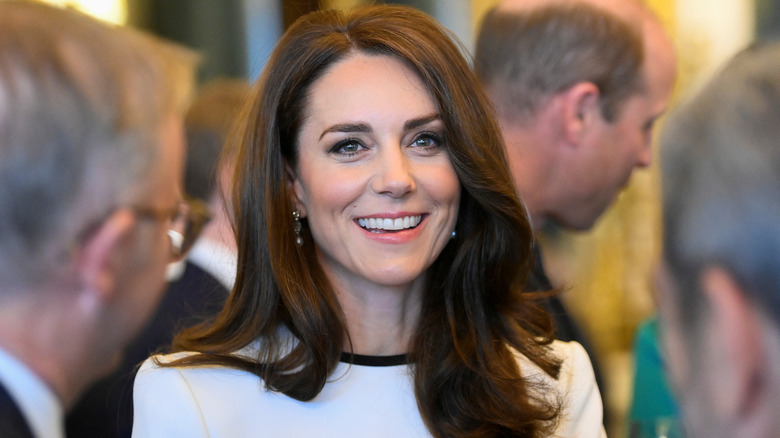 Pool/Getty Images
A day before his coronation, festivities commenced for King Charles' big weekend. Charles, Prince William, and Kate Middleton had lunch at Buckingham Palace with 42 guests, including the Prime Minister of the U.K., and Australia. Charles, William, and Kate caused a commotion when they greeted the large crowd that formed outside of Buckingham Palace. All eyes were on the Princess of Wales, however, as Kate wore a sleek white dress with black accents from designer Jenny Packham. She completed this look with simple black heels and a stunning pair of pearl drop earrings.
Known as the Bahrain pearl drop earrings, the earrings feature a round-cut diamond, four small round-cut diamonds, and three baguette diamonds with a pearl. However, the earrings Kate wore to her latest appearance have a deeper meaning; they belonged to none other than Queen Elizabeth II and were part of a wedding gift she and her husband, Prince Philip received. The queen was known to have an expansive jewelry collection, and she often loaned her jewels to others in the royal family to wear. The Bahrain pearl drop earrings were previously worn by Princess Diana in 1982. The queen later lent them to Sophie, Duchess of Edinburgh. With such a special meaning attached to them, it's no coincidence Kate wore the earrings on the eve of the coronation.
Kate Middleton wore the earrings at two royal funerals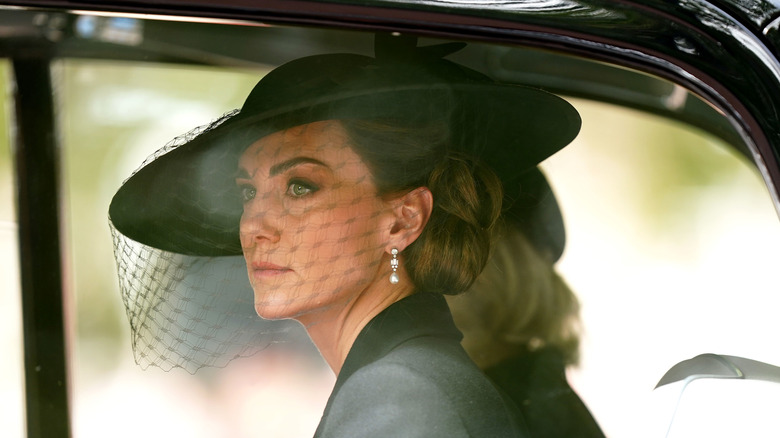 Wpa Pool/Getty Images
In November 1947, Queen Elizabeth married Prince Philip. Per Vogue, the couple received seven pearls from the Sheikh Salman bin Hamad Al Khalifa of Bahrain as a gift for their nuptials. Two of these pearls were used to create the Bahrain pearl drop earrings. While the queen wore them throughout her life, Kate Middleton, the Princess of Wales, was first pictured wearing the earrings in 2016. That year, Kate wore the earrings on Remembrance Sunday. She's worn the Bahrain pearl drop earrings several times since then, including at the queen's 2022 funeral. 
Kate's outfit for the queen's funeral harkened back to another event; Prince Phillip's 2021 funeral where she also donned the earrings for the somber occasion. While pearls are undoubtedly sophisticated and classic, the royal family is known to wear them during times of mourning. According to Yahoo Entertainment, this custom began with Queen Victoria in 1861 to grieve her beloved husband, Prince Albert.
By wearing the earrings at the Buckingham Palace lunch, Kate is memorializing the old monarchy. Although Queen Elizabeth and Prince Philip might be gone, their presence will still be felt at King Charles' coronation. The earrings, no matter how subtle they may be, are a touching reminder of the late Elizabeth and Philip.