Why Kevin Costner's First Marriage Ended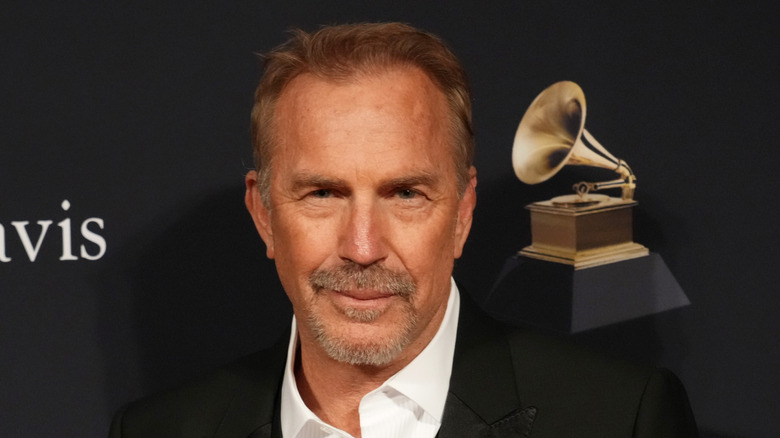 Jeff Kravitz/Getty Images
Kevin Costner is one of the most famous men in Hollywood. The actor has wowed fans for decades with performances in some of the most beloved movies of all time such as "Field of Dreams," "The Bodyguard," "JFK," "Dances with Wolves," and "Wyatt Earp." While Costner's professional life has been a huge success, his love life hasn't always followed suit. The actor and his first wife, Cindy Silva, had a messy and expensive divorce that made headlines and had the rumor mill working overtime.
Costner and Silver married in 1978, and she was with him as his star began to rise. However, In 1994, Costner and Silva announced their split after 16 years of marriage and three children. (Costner has seven children in total). "After 16 years together, we are ending our marriage. We have amicably resolved all issues regarding our children and financial affairs and a full marital settlement has been reached," they said in a joint statement at the time (via People).
Rumors of Costner being unfaithful quickly began to circulate. Tabloid gossip suggested that the A-lister had an affair with a nightclub worker named Sheri Stewart. Sadly, a more substantial rumor about Costner being unfaithful to Silva with a married woman while on location in Hawaii to film the movie "Water World" popped up, and may have been one reason for the couple's divorce.
Rumors of infidelity surfaced amid Costner's divorce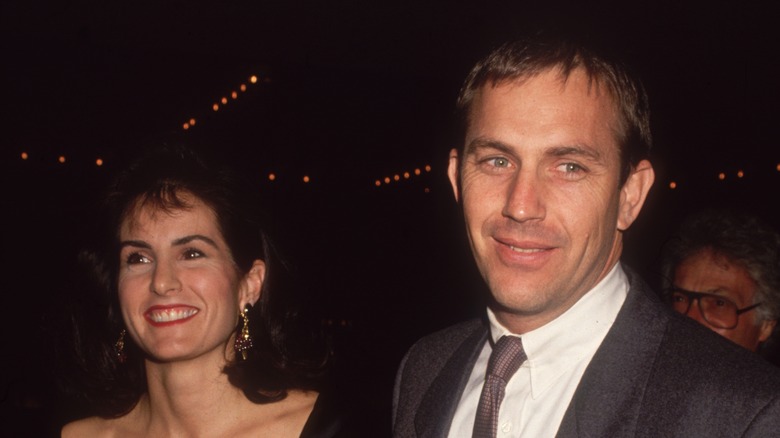 Darlene Hammond/Getty Images
Kevin Costner's first marriage to Cindy Silva ended after rumors of the actor having an affair with a woman named Michelle Amaral began to circulate, per Page Six. However, it was never confirmed whether the cheating allegations had anything to do with the pair's decision to end their marriage. Meanwhile, the couple may have also struggled with the distance between them, which was created by Costner's acting career.
People Magazine reported that Costner once told his friend John McInnes that his wife felt uncomfortable with him portraying heartthrobs and didn't want him to film any steamy scenes with his leading ladies. "I've either got to quit doing them or quit the movie business," Costner allegedly said. The divorce ended up costing the actor $80 million, but it also took an emotional toll on him. "My faith was shaken. No one wants their marriage to end, and it did. You are going to see the people you love most, your children, only half as much. That's a huge loss," Costner told The Hollywood Reporter of his divorce in 2012.
Unfortunately, Costner is set to go through yet another divorce after he and his second wife, Christine Baumgartner announced their split in 2023.
Costner's second wife filed for divorce in May 2023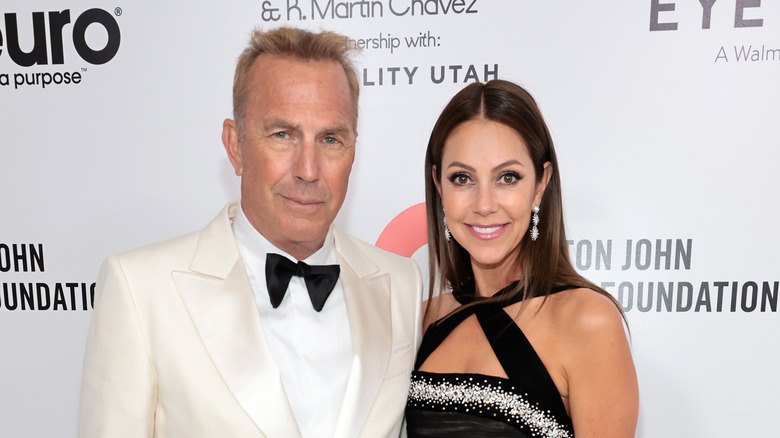 Jamie Mccarthy/Getty Images
In May 2023, Kevin Costner and his second wife, Christine Baumgartner announced that they were divorcing. The couple are ending their marriage after 18 years together and three children. "It is with great sadness that circumstances beyond his control have transpired which have resulted in Mr. Costner having to participate in a dissolution of marriage action. We ask that his, Christine's, and their children's privacy be respected as they navigate this difficult time," Costner's rep said, per Page Six.
The situation, which is similar to Costner's first divorce, also comes with cheating allegations. However, a rep for the actor told the outlet that the rumors of infidelity are completely false. Meanwhile, one of Costner's friends revealed that the actor was hurt by the divorce filing, and that it's unknown why the pair ended their marriage. "Kevin was very surprised by Christine's actions, he obviously doesn't want the divorce and he would take her back. It's disappointing, he loves her and he loves his children," the source stated.
According to People Magazine, the pair do have a prenup in place and will be dividing their assets up accordingly. For his part, Costner has not opened up about his second divorce, but knows all too well the impact that ending a marriage can have on a person due to his previous split with Cindy Silva.