Christine Baumgartner: 12 Facts About Yellowstone Star Kevin Costner's Wife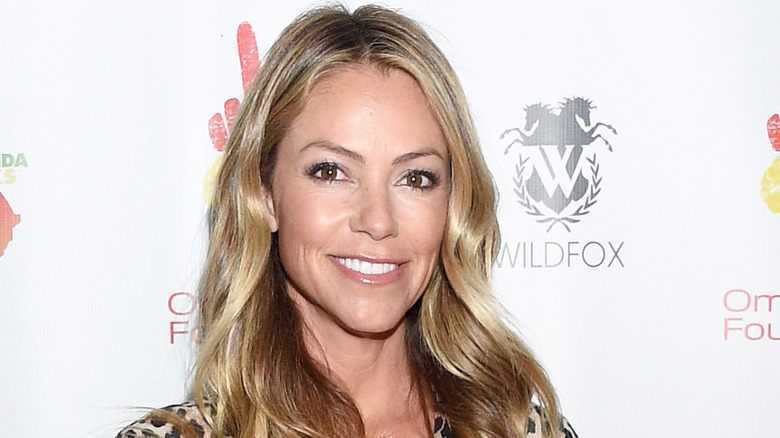 Gregg Deguire/Getty Images
Kevin Costner has been in the spotlight for decades as a musician and actor. After a 16-year-long marriage to Cindy Silva, which resulted in an expensive and "heartbreaking" divorce that reportedly shook his faith in marriage, Costner remained a bachelor for years. The Hollywood heartthrob also faced scandalous cheating rumors for years, all of which he vehemently denied. With that combination, it's understandable why he might have wanted to wait before tying the knot again.
In 2018, Costner became the lead in the hit Paramount Network series "Yellowstone," playing the character of John Dutton, the no-nonsense family man and owner of Yellowstone Dutton Ranch. With this recent surge in popularity, fans have been dying to know who the "Yellowstone" cast's real-life significant others are. And as the star of the television show has been making many more appearances on the red carpet, fans have been focusing more and more on Costner's love life.
Although Christine Baumgartner married Costner back in the early aughts, she's managed to keep a low profile. Nevertheless, she's had an interesting life beyond that of simply being the Hollywood actor's supportive wife.
She became a model after college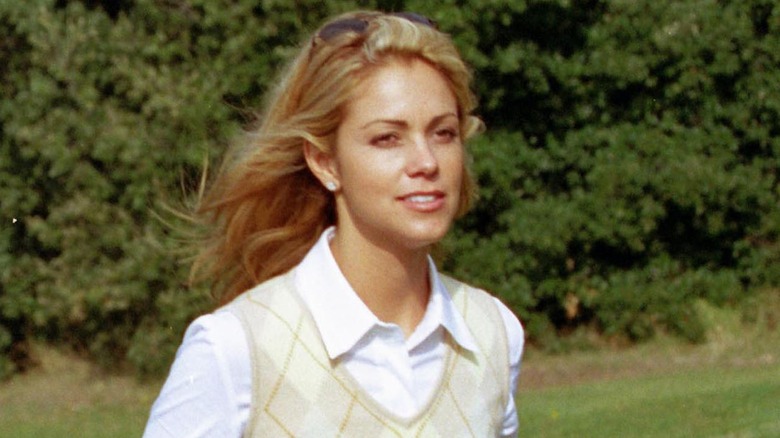 Toni Anne Barson Archive/Getty Images
Christine Baumgartner has proven she has both beauty and brains. She attended college in Fullerton at California State University, earning herself a degree in business. This knowledge would benefit her greatly in the years to come, though she had no idea at the time. Baumgartner then decided to use her good looks to make a career for herself as a model in the '80s. With beautiful blonde locks and an angular facial structure, it's no wonder it worked for her.
Unfortunately, because Baumgartner keeps such a low profile (seriously, no social media presence whatsoever), it's difficult to track down photos from her modeling days, but looking at the way she walks the red carpet with her husband, we can believe it. Not only could she clearly pull it off, but she seems to understand the value of modeling early in life, as her eldest son, Cayden, who she shares with Costner, made his modeling debut at just 10 months old. Hey, when you've got it, flaunt it.
Christine Baumgartner became a handbag designer in 2004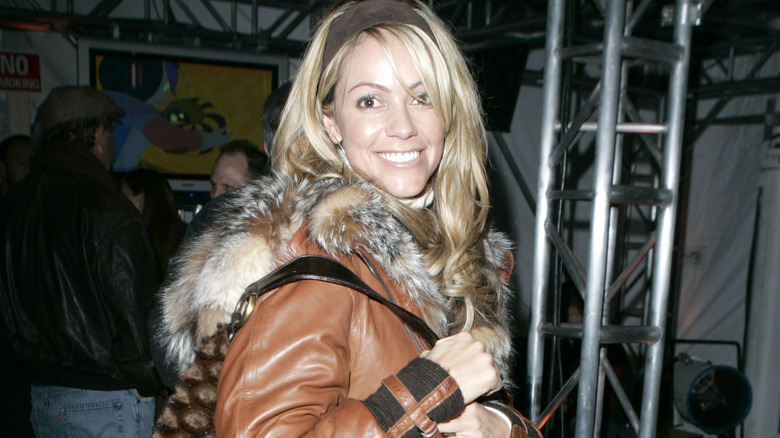 J. Vespa/Getty Images
Seemingly a jack of all trades, Christine Baumgartner also owns her own business. In a rare interview with the Denver Post in 2005, she spoke about how she became a handbag designer — and not long after, a business owner. Baumgartner said, "I didn't start because I loved handbags; I started because I was missing something. I use a computer quite a bit and travel a lot. I looked for a computer bag, and they functioned, but I didn't find anything that was right for me."
She admitted that Kevin Costner helped her at the time, saying, "When I came up with some samples, I showed them to Kevin, and he said they were beautiful and amazing. He told me I should take it to the next step and he'd help me." Even without Costner's support, Baumgartner said, "It's still a lot of hard work and a lot of time," dismissing any assumption that she hadn't worked her butt off to get where she is.
Baumgartner launched her business, Cat Bag Couture, with a friend in 2004. Unfortunately, her friend had other commitments to see to, so Baumgartner hired a few helping hands and worked to build the company up, expanding from computer bags to chic purses. In what must have been a career milestone for her, some of Baumgartner's Cat Bag Couture designs were even featured on "Desperate Housewives."
She met Costner back in the '80s when he was still married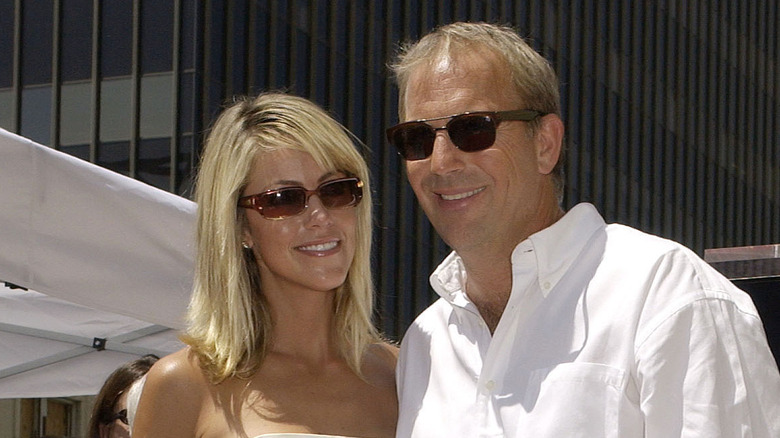 Vince Bucci/Getty Images
Back in the day, everyone thought Kevin Costner and Cindy Costner (née Silva) were meant to be. They were married for 16 years (from 1978 to 1994), had children together, and made regular appearances at events, hand in hand. So perhaps it was fate (or misfortune for Silva) that Costner met Christine Baumgartner for the first time in the '80s, back when she was still modeling, and he was with his wife. As far as we know, it didn't amount to anything, and Costner remained with his wife for a few more years.
After his divorce, Costner and Baumgartner met again on a golf course while he was preparing for his 1996 film, "Tin Cup." But, it still wasn't their time, as Costner went on to date Bridget Rooney and father a child with her. It wasn't until he'd ended his relationship with Rooney that Costner and Baumgartner hit it off officially, in 1998.
In speaking about Baumgartner, Costner told People, "We exchanged numbers, and I told her that I would — did she mind if I called her in two weeks. I did not realize that was like an insult to a woman." The couple worked things out and finally found their way to one another — but not without some difficulties.
Christine Baumgartner nearly called it quits with Kevin Costner because she wanted children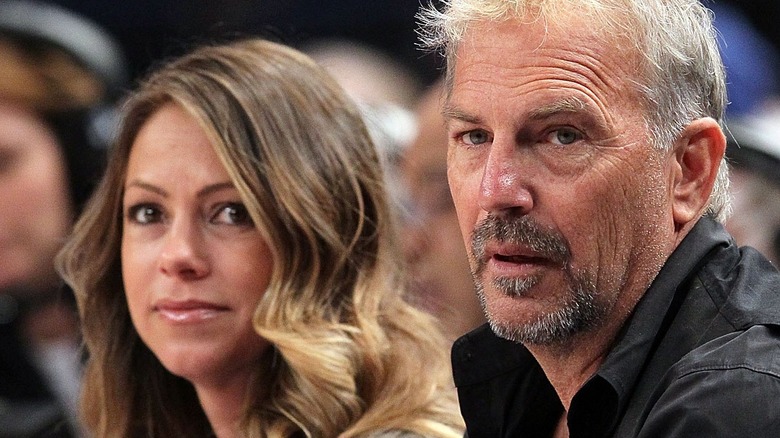 Jim Mcisaac/Getty Images
Their relationship was great, but there was a sore spot for the couple. While Kevin Costner was already a father to four children with two other women, Christine Baumgartner had yet to have any, and this was a deal breaker for her. After dating for some time, she finally drew a line in the sand in 2002. In speaking with Parade, Costner explained, "She said, 'I'm going to wait for you, but not long. When you come to your senses, come back to me.' And I did."
In 2020, Costner spoke with Extra about the ultimatum and how he eventually came around to the idea of children again. "It was unusual ... that somebody puts the news out right there the first day, and it took me about six years to get there ... and finally, there came a moment where maybe this doesn't go forward ... because I thought to myself, you know, I could be divorced again but what I couldn't be is divorced again with children. That crushed me," he said.
Costner said he asked himself, "Are you gonna miss life? Are you gonna miss love, because you're afraid? And the answer finally came back: I'm not gonna lose her because I'm gonna be afraid."
She married Costner on his ranch in 2004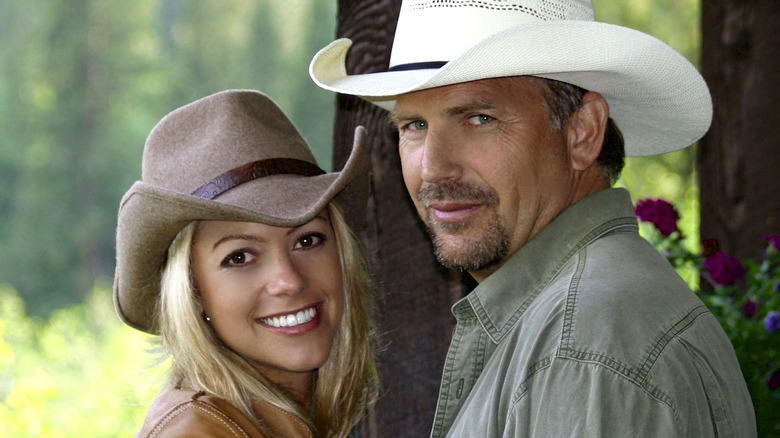 Getty Images/Getty Images
With all of their cards on the table, Kevin Costner and Christine Baumgartner reached an understanding, and all was well. In June 2003, Costner popped the big question and, of course, Baumgartner said yes.
The couple's wedding took place in September of 2004 on Costner's ranch in Aspen, Colorado. The event was as elaborate as it was beautiful, with Costner arriving in a horse-drawn carriage, and Baumgartner arriving in a vintage pickup truck. They said their vows in a meadow among 320 guests who had been invited to stay over the course of four days, some of whom included Tim Allen, Bruce Willis, and Don Johnson. 
Speaking with InStyle about the wedding venue, Baumgartner said, "One of our common bonds is that we are both big outdoors people." After they said their "I do's," the newlyweds went for a canoe ride. Baumgartner commented that her wedding dress, designed by Monique Lhuillier, was a concern for some when they set off on their boat adventure. "People worried about my dress, but it was so romantic. Kevin paddled me into a private world," she said. 
Christine Baumgartner welcomed three children with Kevin Costner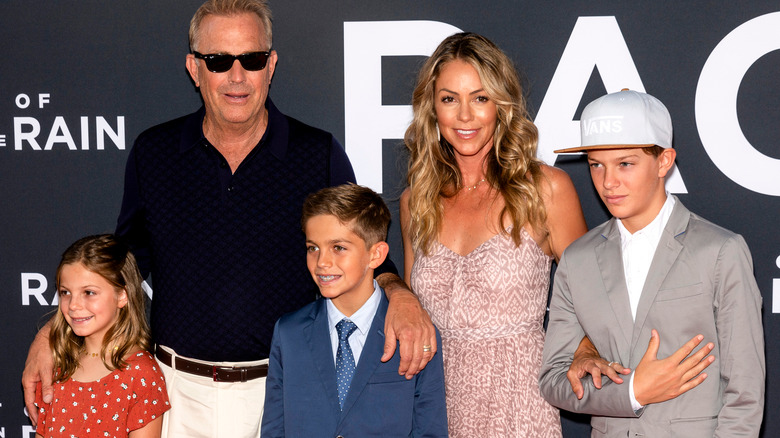 Ovidiu Hrubaru/Shutterstock
After a few years of marriage, Kevin Costner and Christine Baumgartner welcomed their first child together (and Costner's fifth overall). Cayden Wyatt Costner was born on May 6, 2007, and not long after, the couple had two more children. Hayes Logan Costner was born on February 12, 2009 and Grace Avery Costner rounded out the family of five on June 2, 2010.
Costner has been a father many times and for many years, but these are Baumgartner's only children. Speaking with People in 2007, Costner joked about something he'd learned to do in his many years of parenting. "I can fake like I'm asleep longer so I don't have to do as many diapers." He's also shared concerns about being an older father, saying he hopes he'll have as much energy for his youngest kids as he did for his oldest ones.
In speaking with the Huffington Post about parenthood, Costner said, "We walk out of the room ... and look at our partner — my wife — and go, "I don't even know what I said in there. I don't even know if it made any sense to them." 
She became a stepmother to Costner's four other children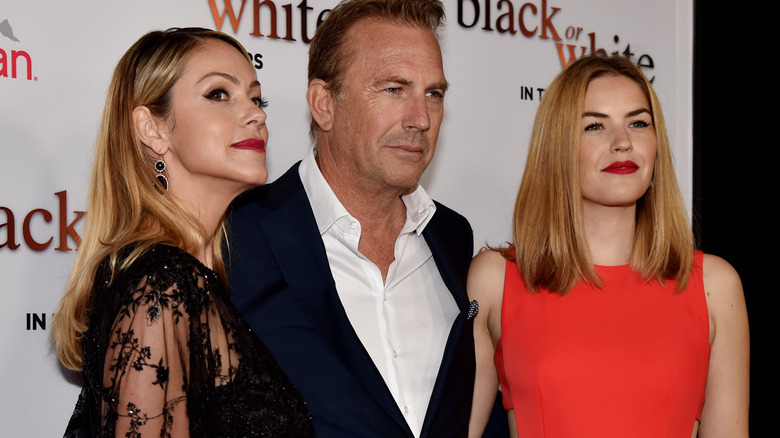 Kevin Winter/Getty Images
It can't be an easy task to be a stepmother to four children, but want kids of your own. Granted, Christine Baumgartner is only 11 years older than Kevin Costner's eldest daughter, Annie Costner, so it's not like she was busy raising her stepchildren who are all in their 20s now. Besides, when she gave Costner an ultimatum about having her own children, he obliged, and the couple have had their hands full.
It's not totally clear how close Costner is with his older four children — particularly Liam Costner, who is his fourth child (and only child with Bridget Rooney) — especially now that Costner has seven children. It's equally unclear how much stepmothering Baumgartner has had to do, but Costner told Good Housekeeping he doesn't play favorites, saying, "All of my kids are showered with love, which is what's important." He added, "I don't kid myself about certain realities; I won't be around to see as much of this one's life as I'll get to see of my older kids' lives ... I really want to be there for every single moment that I can."
She was Costner's constant date on the red carpet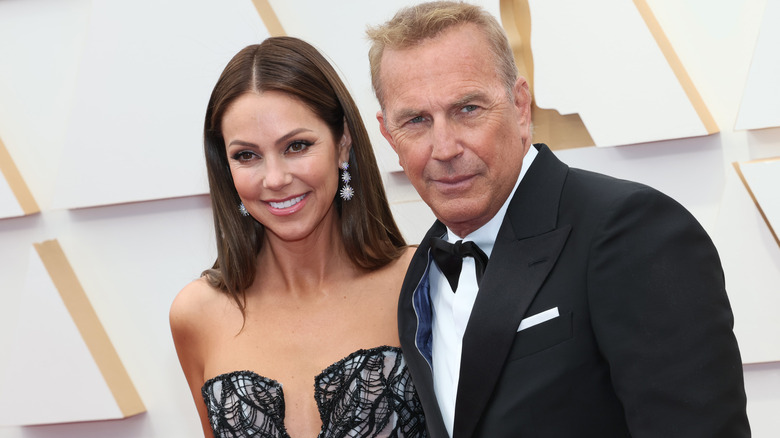 David Livingston/Getty Images
Whether it's the Oscars or the SAG Awards, Kevin Costner always ensures to bring a gorgeous date with him to the red carpet. Of course, interviewers are always eager to catch Costner for a quick soundbite, but on occasion, they've directed the mic towards Christine Baumgartner. 
At the Screen Actors Guild Awards in 2015, the commentator told Baumgartner that she must be the backbone of the entire operation, asking what it's like to live with Costner. Baumgartner responded, "That's a big question." She then added slyly, "I can't tell you the best part."
At the Oscars in 2022, Costner and Baumgartner strutted their matching evening wear: The actor was in a black tuxedo and white shirt while Baumgartner wore a gorgeous strapless, lacy, black and white gown. Costner was a presenter at the show and Baumgartner was supportively by his side.
Their marriage grew stronger over quarantine, according to the actor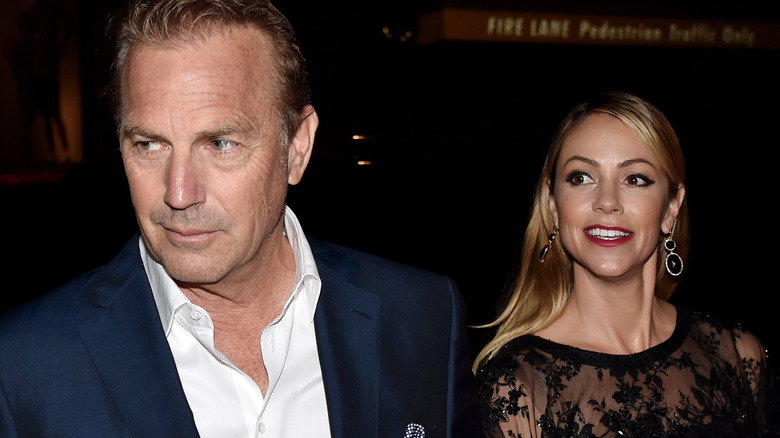 Kevin Winter/Getty Images
Remember that weird blip we had a while ago where we had to stay at home 24/7? The quarantine period was pretty rough on most of us, but probably less so for the many celebrities who quarantined in luxury. Although Kevin Costner and Christine Baumgartner haven't said much about how they spent their days indoors, we can imagine it was at least near-luxury.
Some couples didn't last through the shock of suddenly being forced to spend every waking moment together during the pandemic, but Costner said that his and Baumgartner's marriage actually became stronger during this time period. Speaking to People in 2020, Costner said, "Our partnership has really come into focus about what we do for each other and how we deal with our family." Costner added that the family unit has grown over quarantine as well. He said, "Our house is like a river: You've just got to get into the flow of it. And whatever you thought it was going to be, maybe it still can, but it's going to have to work with what the day brings."
She might have asked Costner to quit Yellowstone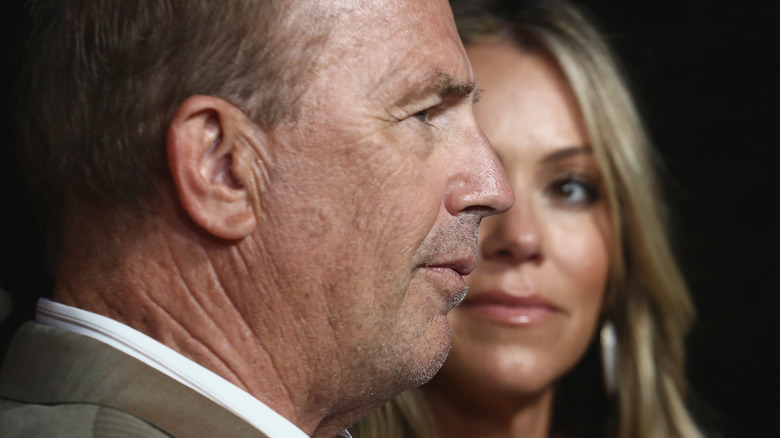 Tommaso Boddi/Getty Images
It's no secret that Kevin Costner's career had a sudden resurgence with the success of "Yellowstone," which has certainly helped him and his family live lavishly. But despite the extra income and success the show has brought Costner, Christine Baumgartner may have given him an ultimatum about "Yellowstone."
Rumors began to circle around Costner leaving the show when he tightened his shooting schedule, leaving less time for him to play the role of John Dutton. There's several spinoffs of "Yellowstone" in the works with talks of A-listers joining the cast, which sparked speculation as to whether Costner would stay on. A spokesperson representing Paramount Network told Variety, "We have no news to report. Kevin Costner is a big part of Yellowstone and we hope that's the case for a long time to come."
However, a source told RadarOnline that Baumgartner may have asked him to pull out of the show. "She wants a firm commitment this is his last season, or he might have to hit the dusty trail." Whatever the reason, Costner did decide to leave the popular series. In early May 2023, Entertainment Tonight confirmed that Season 5 will be his last. 
Christine Baumgartner is 20 years younger than Kevin Costner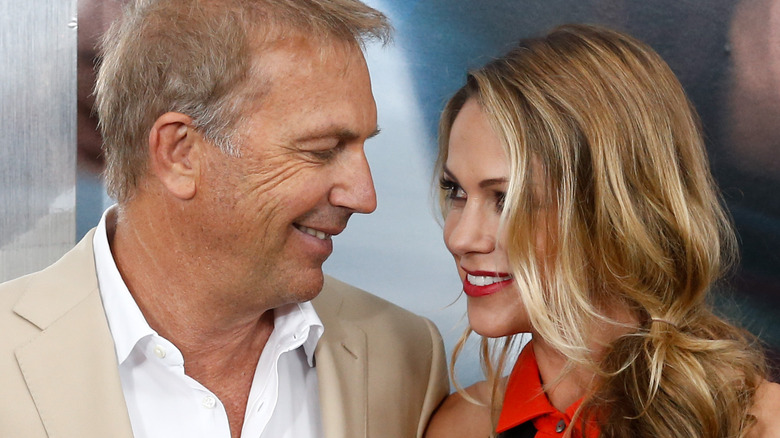 Debby Wong/Shutterstock
In 2019, Costner sat down to talk about Christine Baumgartner with Mirror, sharing how he doesn't let the couple's 20-year age gap affect their relationship or the relationship with his children. "I try to stay relevant because I have three kids I play with. I play hard and I try to take care of myself. I have a beautiful wife and I don't want her to look anywhere else," he said. Costner added, "I want to be something for her. I want to stay interested in life."
When speaking with Parade back in 2012, Costner was asked to share the key to making his marriage work. "Maybe it's the ability to say you're sorry," he mused. "I know that sounds so simple. If you're willing to tell somebody that you love them, are you also willing to say you're sorry? You need to, even when you think you're in the right."
Christine Baumgartner filed for divorce from Kevin Costner in 2023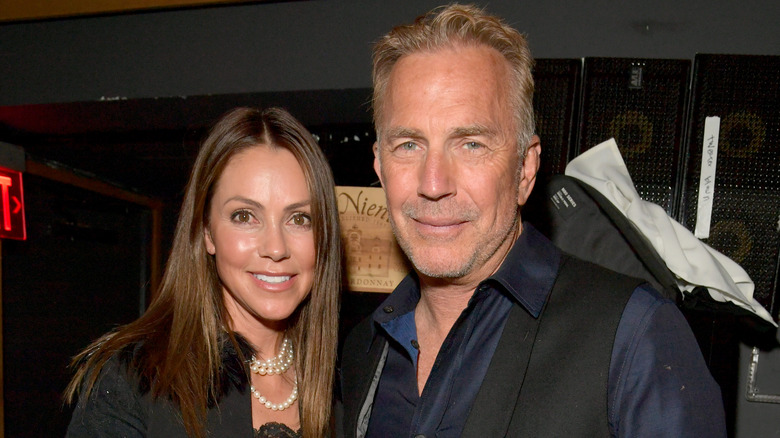 Lester Cohen/Getty Images
On May 2, 2023, Christine Baumgartner filed for divorce from her husband, Kevin Costner, after 18 years of marriage. "It is with great sadness that circumstances beyond his control have transpired which have resulted in Mr. Costner having to participate in a dissolution of marriage action," the actor's rep told TMZ. "We ask that his, Christine's and their children's privacy be respected as they navigate this difficult time," the rep added.
Baumgartner and Costner plan on seeking joint custody of the children, TMZ confirmed. The publication also noted that Baumgartner isn't seeking spousal support but will likely receive financial compensation per her and Costner's prenuptial agreement.
News of the couple's divorce came on the heels of reports that Baumgartner wanted Costner to quit his role in "Yellowstone." "It's really knocked a hole in their family life," a source alleged to RadarOnline in February.