Inside Lisa Kudrow's Struggle With Body Image On The Set Of Friends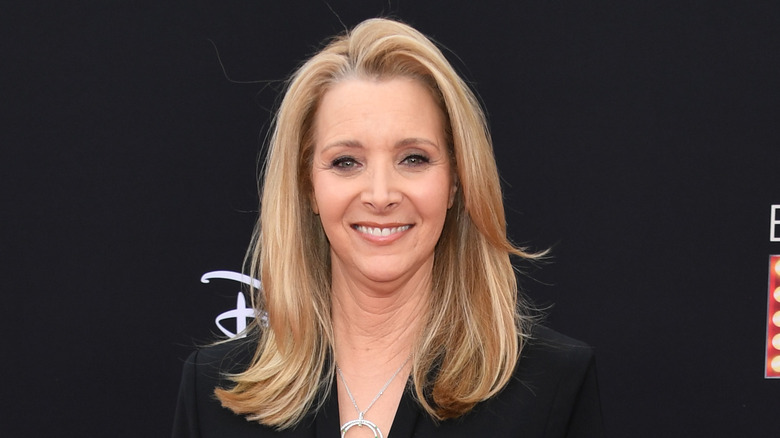 Jon Kopaloff/Getty Images
Lisa Kudrow is forever cemented in pop culture history for her role as Phoebe Buffay on the hit television series "Friends." The series is one of the most beloved and popular shows of all time, and fans are still obsessed with it today. Although Kudrow earned enormous fame for her role, she has admitted that the early days of filming weren't exactly easy for her, especially since she suffered body image issues after comparing herself to her co-stars Courteney Cox and Jennifer Aniston.
"I thought I was just really skinny. I can do whatever, [but] no, especially in high school. And I look at pictures and say, 'Wow, pictures really distort reality,'" Kudrow revealed on the Podcrushed podcast in 2022 (via People). "And it wasn't until Friends that I realized, 'Oh, I don't look like I thought I looked.' It was just seeing myself on the show and seeing myself in clothes and seeing Courteney and Jennifer in clothes," she added.
Kudrow went on to explain that she thought she could fix the problems she saw with better-fitting clothes. However, she came to realize that her body type was simply different from that of her co-stars. "That's when I would see, 'Oh, okay, it's not just about tailoring...' And I'm not trying to say I was overweight, either. I was not. I just had no idea the shape of my actual body" she admitted.
Lisa Kudrow compared herself to co-stars Courteney Cox and Jennifer Aniston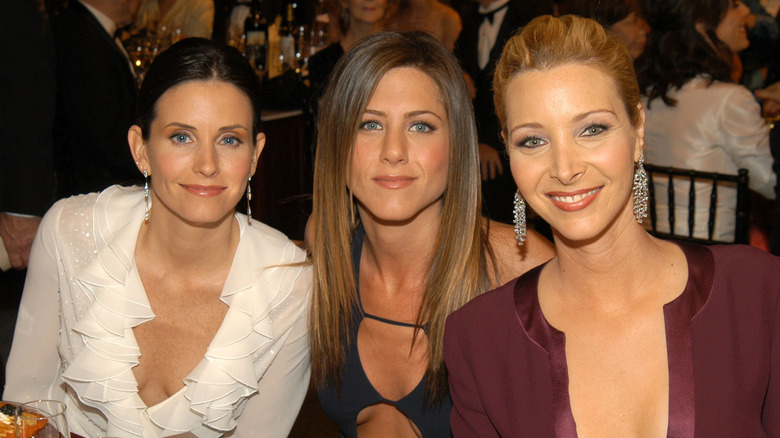 Kmazur/Getty Images
That wasn't the first time that Lisa Kudrow opened up about the body image issues she dealt with while filming "Friends." In 2019, she told Marc Maron on his podcast that she felt bigger than her co-stars Jennifer Aniston and Courteney Cox. "My bones feel bigger. I just felt like this mountain of a woman next to them," said Kudrow, who is three inches taller than Cox and Aniston.
However, as she got older, Kudrow figured out that as long as her body is healthy, she is happy. "I just realized, 'Oh no — it's okay. This is just what I look like. That's okay. Do what you need to do to be healthy but this is your body and it's okay,'" she told the Popcrushed Podcast (via People).
Thankfully, Kudrow had some great friends in Cox and Aniston to help her along the way. The trio have remained very close over the years, and have been open about supporting each other. Kudrow previously told Entertainment Tonight that she and her former co-stars have a group text and that she can always count on them to show up for her. "I mean, anyone who has friends for a long time I think can relate. Courteney's shown up for everything. Everything!" Kudrow revealed.
Kudrow remains very close with Aniston and Cox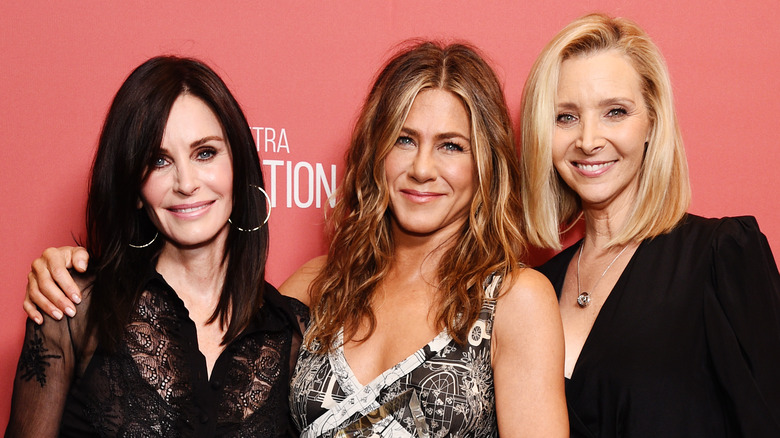 Gregg Deguire/Getty Images
Although much has been said about the closeness of Jennifer Aniston and Courteney Cox's friendship, they are still very close with Lisa Kudrow as well. The three women share a bond that started when they were filming "Friends" in the '90s and '00s, and they've been close ever since. Cox and Aniston were even there for Kudrow during one of the most difficult times in her life following the death of her mother at the beginning of the COVID-19 pandemic.
"These women came running to support, that was really nice," Kudrow told Howard Stern of Cox and Aniston, per People. "They came to the funeral, it wasn't a lot of notice, and they were there. We were able to have a funeral. Everyone thought I was a freak ... I made the Rabbi announce please don't hug or touch anybody 'cause we had been in an emergency room and there was no COVID protocol there. And everyone thought I was, like, a cold, ice horror of a person," she added.
Kudrow has been able to lean on Cox and Aniston through many of life's ups and downs, including her early struggles with body image as a young actress starring in "Friends." The trio have stuck together, and now Kudrow can share her wisdom and advice with others who may also suffer from similar body issues.