The Special Guests Matt Damon And Ben Affleck Brought To Their First Oscars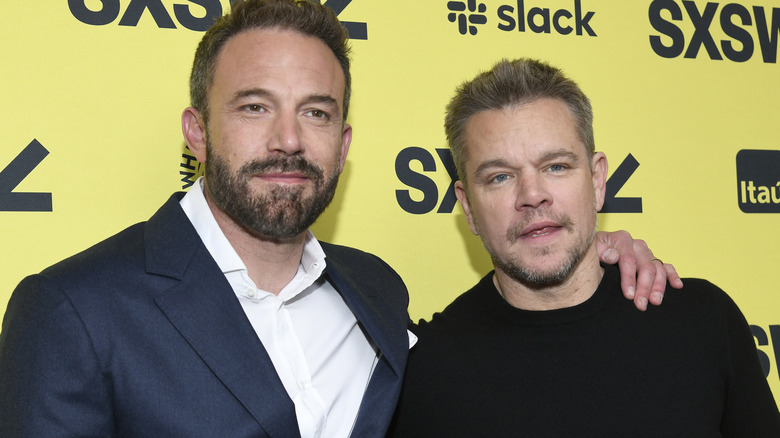 Tim Mosenfelder/Getty Images
Matt Damon and Ben Affleck's friendship is one of the most interesting and longest-lasting in Hollywood. The A-listers first met back in 1980 when they were just 8 and 10 years old and living down the street from one another in Massachusetts. After years of auditioning for roles together, Affleck and Damon took matters into their own hands when they co-wrote the "Good Will Hunting" script. The duo eventually sold their script to Miramax for $600,000. In 1997, production started on the film, and its release earned Damon and Affleck praise and fame. The movie was so well received that it earned the pair an Oscar nomination. The night of the ceremony, they even brought along the two most important women in their lives: their mothers.
"To go from that experience where, you know, we filled out the [Oscar ballot] sheets and we were betting on who was gonna win, to being in the front row of the Oscars together with our moms — in one year — it felt like warp speed," Damon told Vanity Fair of the experience. Although Affleck and Damon have both enjoyed individual career success, they'll never forget their first Oscars, where they not only won but got to share the incredible moment with the two women who loved, supported, and helped them along the way.
Matt Damon and Ben Affleck brought their mothers to the Oscars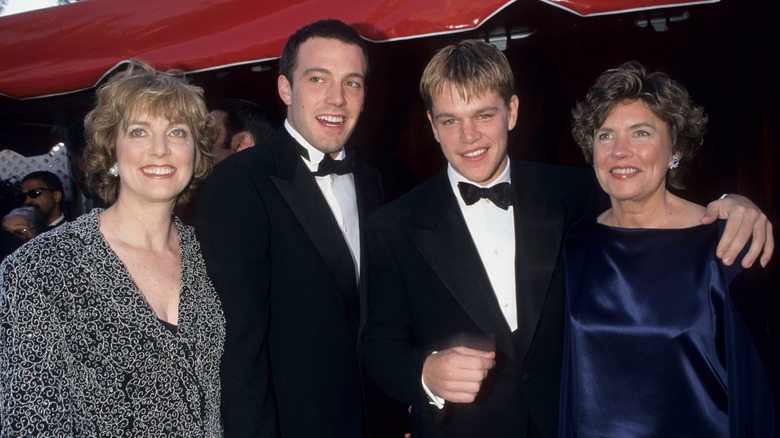 Kevin.mazur/Getty Images
In 1998, when Ben Affleck and Matt Damon were nominated for best original screenplay at the Academy Awards, they knew exactly who they wanted by their sides for the special night. The duo brought their moms with them as they walked the red carpet and soaked in their first taste of being among the Hollywood elite. However, some other attendees at the event reportedly found Damon and Affleck's choice of Oscar dates strange. "We were sitting next to our moms and we won, and we kind of hugged our moms," Affleck told Vanity Fair. "And I remember, how everyone had made such a big thing out of it. As if this was such a novelty. Of course, our moms were gonna go. That was really innocent and not faked," he added.
Damon says that he now looks back at the moment as one of the most joyful of his life, and his mother got to be there to experience it with him. Since then, many other stars have chosen to bring their mothers to the Oscars with them as well. Years later, Damon and Affleck still love spending time with their mothers. On Mother's Day 2019, the actors were spotted out together with their moms as they headed to the movie theater with their families, proving that they've always prioritized their relationships with each other as well as their parents.
Affleck and Damon continue to collaborate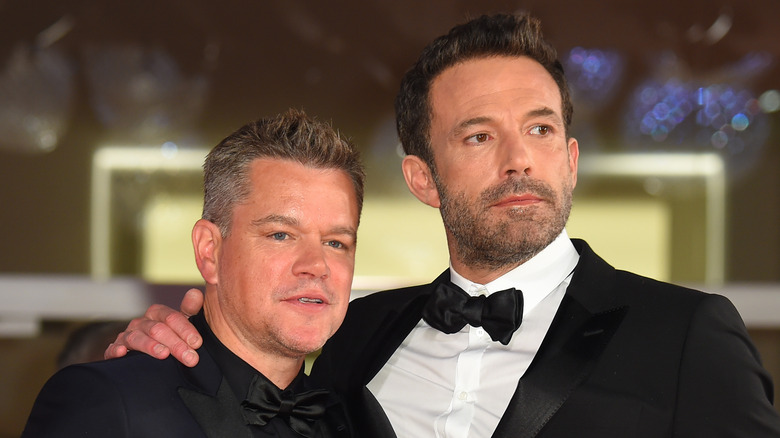 Stephane Cardinale - Corbis/Getty Images
Working together has become a pattern for Matt Damon and Ben Affleck. In addition to their early collaboration on "Good Will Hunting," the pair have also starred together in movies like "Dogma," "Chasing Amy," "The Last Duel," "Air" and other projects. Of course, they have also had much individual success, as well. Affleck returned to the Oscar stage when he won best picture for his film "Argo" in 2012. For his part, Damon has been nominated for an Academy Award three times since "Good Will Hunting," earning nods for his roles in "Invictus" and "The Martian," as well as a best picture nomination for "Manchester by the Sea."
As for the iconic duo's personal and work relationships, they're both doing fine. "I love and trust Matt so much," Affleck told Indiewire of working with Damon in 2023's "Air." "It was so lovely to be working together. It was just so much fun. I don't know. It kind of felt like just us and getting to do the thing that we wanted to do. I did. I loved it. I loved it," he added.
Damon and Affleck have come a long way together, and have become two of the most influential and popular people in the movie industry. It seems that they'll never pass up on a chance to work together, a decision that will no doubt please their many fans.