Prince Andrew's Welcome To King Charles' Coronation Is Anything But Warm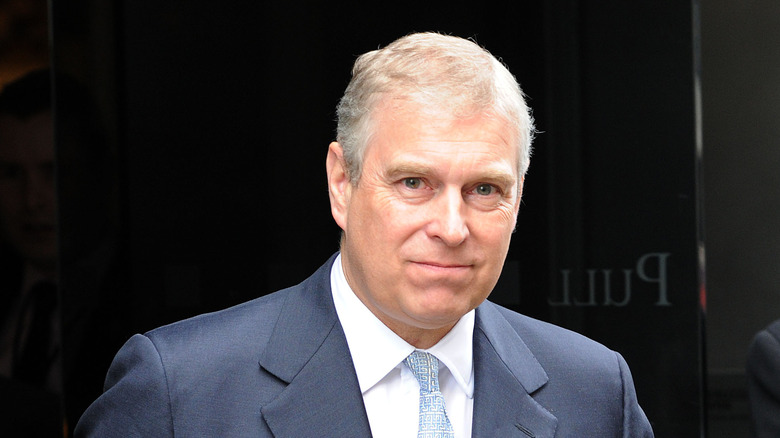 Eamonn M. Mccormack/Getty Images
The coronation of King Charles is officially underway, but some members of the royal family were given a much warmer welcome than others. Stepping out of Buckingham Palace, Prince Andrew, Duke of York, received hardly any love from the crowd, with those gathered for the momentous occasion heard booing as he went past in a state car. Also in the car was his daughter Princess Eugenie, who looked pensive as she drove by with her father.
Though he is attending the main coronation ceremony, Andrew will not be seen on the balcony among other royal family members later in the afternoon due to his status as a non-working royal. Andrew went to trial over allegations of sexual assault and was subsequently stripped of his royal titles soon after. However, he was allowed to wear a ceremonial robe for the coronation. This is in contrast to another non-working royal, Harry, Duke of Sussex, who was spotted wearing a regular suit.
Andrew has faced major backlash in the past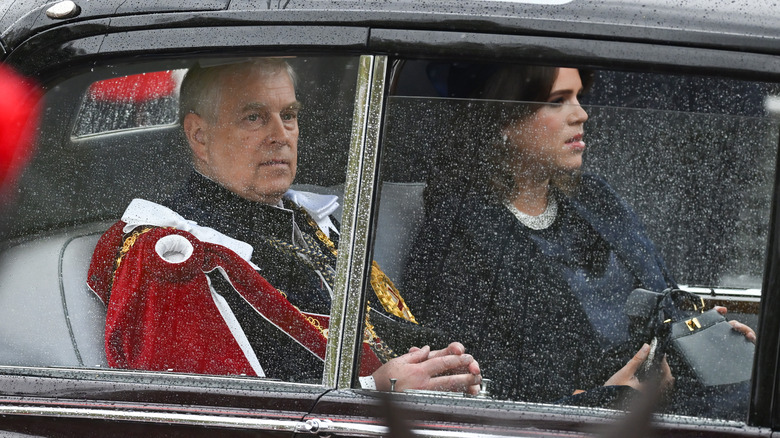 Dan Mullan/Getty Images
The lukewarm reception from the waiting crowds definitely makes sense considering Andrew's less-than-ideal past as a member of the royal family. As far back as 2011, Andrew was associated with known sex offender Jeffrey Epstein. This association was further exposed in 2015, when Andrew was named as one of the people who supposedly had sex with trafficking victim Virginia Giuffre, who was underage at the time of the alleged assault.
The case blew up in 2022 when the full allegations against Andrew were revealed, but it was eventually settled for an undisclosed sum before it went to court, presumably to try and salvage the Duke of York's reputation. Though the case was settled, Andrew's reputation has never recovered, although there have been rumors that the newly crowned King Charles might give Andrew his titles back. For now, it's safe to say that, unlike his siblings, Andrew does not have the support of the crowd.