All The Worst-Dressed Guests At King Charles' Coronation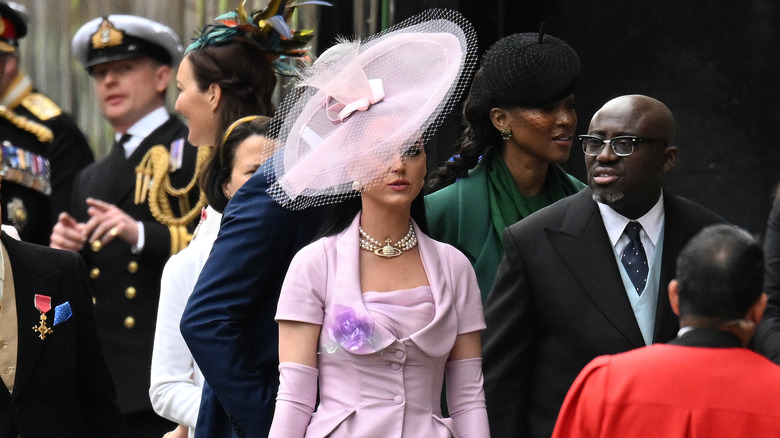 Jeff Spicer/Getty Images
What do you wear to a coronation? Considering the fact that this is the first coronation in over 70 years, it's understandable if you don't have an answer to this question. Yet, for those actually attending, it was important to make an appearance at this historic event in style. Who doesn't want to look their best when they're featured in the history books? It's no surprise that plenty of royals attended King Charles III's coronation, and there were some stars in attendance, as well. 
There were certainly some outfit trends that were very specific to this event. Still, even though some trends reigned supreme as folks watched King Charles begin his reign in person, plenty of other outfits fell flat. While Charles' coronation may not have had a red carpet, we still expected the A-list guest list to arrive looking their best. As for the ones who attended the coronation in less-than-stellar looks, they're now attending our worst-dressed at the coronation list.
Katy Perry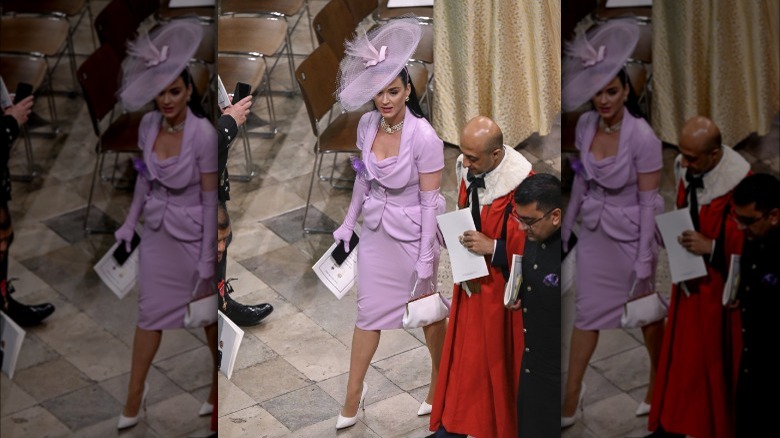 Gareth Cattermole/Getty
As an American pop star representing and performing at the coronation, Katy Perry had quite the opportunity to wear a winning 'fit and have all eyes on her –– when they weren't on the ones in the crowns, of course. Yet, something about Perry's lavender Vivienne Westwood skirt suit just wasn't right. She incorporated some trademarks of the day: a monochrome pastel look, a headpiece, and a suit, but there's too much going on with the brooch, huge hat, and big pearls and the unique shape of the suit has a cartoonish vibe that doesn't quite work. 
Penny Mordaunt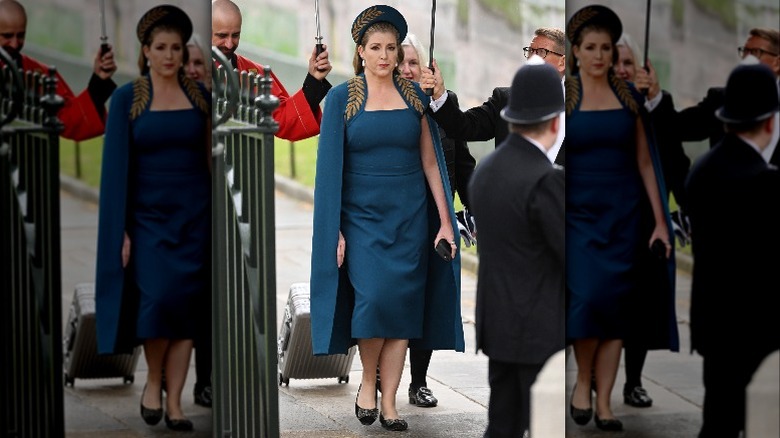 Jeff Spicer/Getty Images
Lord President of the Council, Penny Mordaunt, sported a teal blue dress with leaf details by Safiyaa with a matching Jane Taylor headband, which had a deeper meaning than what was on the surface. The design was a nod to the Privy Councillor's uniform. The unique shade of blue is named "Poseidon," which was a subtle shoutout to Portsmouth. We love an outfit with some symbolism, but since most folks didn't know about it, the look was just confusing. One Twitter user joked that she was "dressed like she's about to report Captain Kirk . . ." and we agree.
Andrew Parker Bowles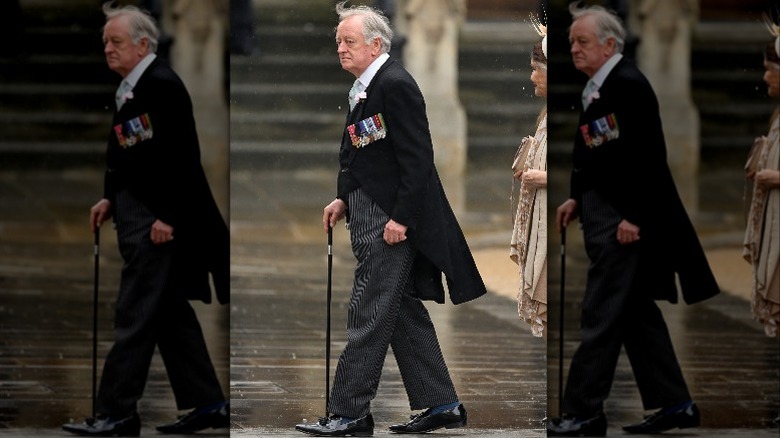 Karwai Tang/Getty Images
In his defense, we can't really think of a great outfit to wear to your ex-wife's husband's coronation, but we know that this isn't it. Queen Camilla's ex-husband, Andrew Parker Bowles, arrived at the coronation to support his former wife with whom he's still on good terms. For a reason we aren't sure of, though, he sported some pinstripe pants pulled up way higher than most of our favorite mom jeans. We may have loved a high-waisted pant if it was a Harry Styles style fashion statement, but with the tails and formal details, it doesn't work.
Princess Charlene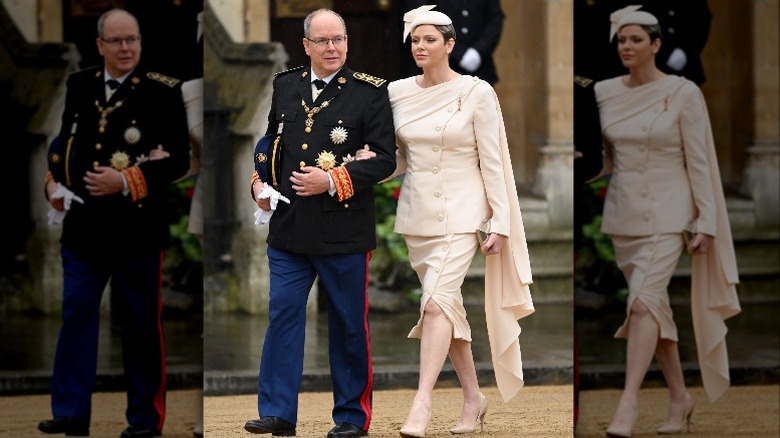 Karwai Tang/Getty Images
Princess Charlene of Monaco clearly knew what fashion trends would be big at the coronation, but she didn't seem to know how to execute them quite right. Monochrome looks and suits were certainly the attire of choice among many women attending the celebration, and many made this look feel sophisticated, chic, and classic. Princess Charlene opted for a monochromatic outfit, but this color looks drab on her, and the unusual cut of the suit makes her look unkempt and messy. The pairing of the hat with her hair also works to make the look have an unbalanced feel.
Dame Joanna Lumley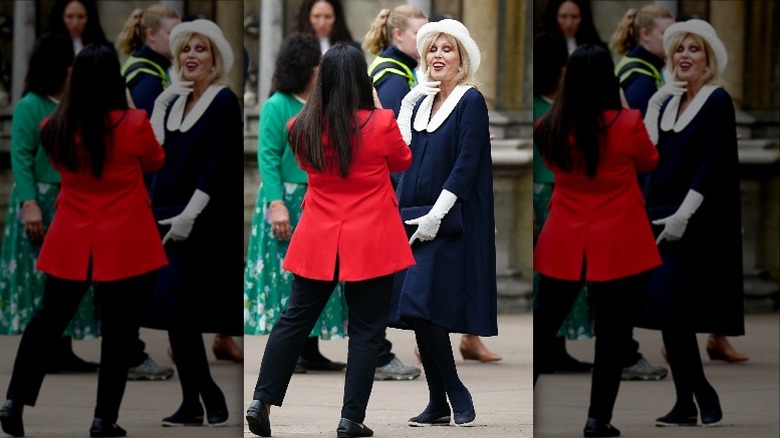 Wpa Pool/Getty Images
With a scan of the crowd at the coronation, it was easy for your eyes to go right to Dame Joanna Lumley. Unfortunately, this was because she looked so out of place. Lumley donned a navy coat with a big, white Peter Pan collar. The coat, itself, had the potential to look chic and classic, yet it was accessorized all wrong. The navy tights and nearly flat shoes dress the outfit down and make it look weighed down and casual. The white hat also worked to make the outfit look costume-y. 
Carrie Johnson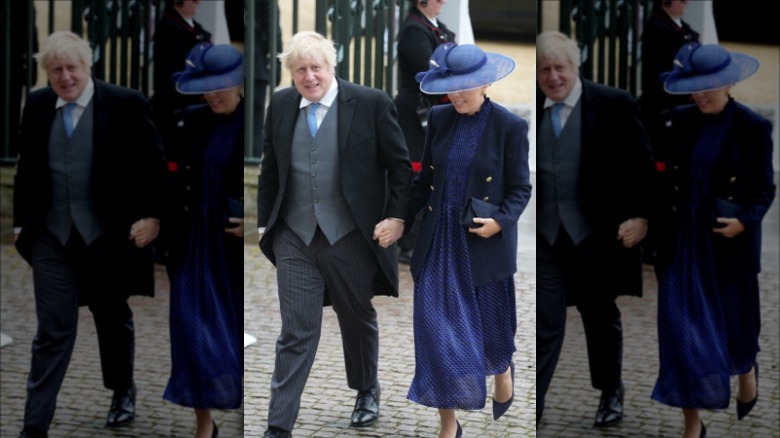 Wpa Pool/Getty Images
When Carrie Johnson attended the coronation alongside her husband, former British Prime Minister Boris Johnson, she put a twist on the day's trend of monochrome looks. Rather than opting for a pastel hue like most, Carrie wore navy blue from head to toe. The printed dress and pointed-toe pumps may have made for a sweet statement on their own. Yet, all of these elements just don't seem to go together. The hat, jacket, and dress are all different shades of blue, and the jacket isn't the right shape for this dress, making the whole outfit look mismatched. 
Samantha Cameron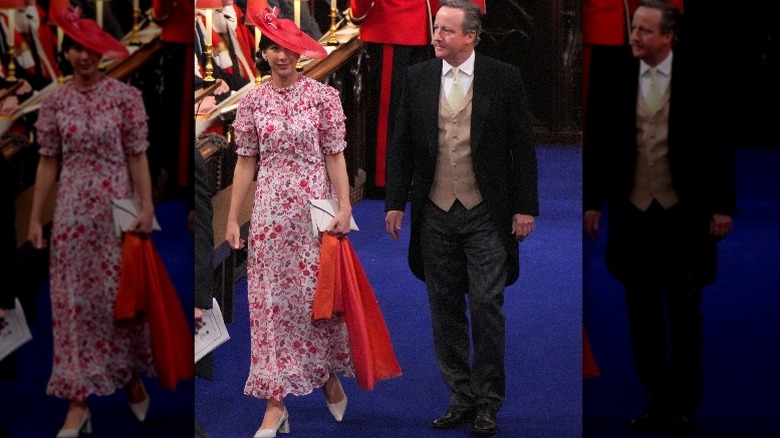 Wpa Pool/Getty Images
We commend Samantha Cameron, businesswoman and wife of former Prime Minister David Cameron, for daring to add pops of red to a group of guests who were largely sporting muted tones. Unfortunately, this look overwhelms Cameron entirely. If this dress had included fewer ruffles and a shorter hemline, the red and white print may have made for a welcome vibrant statement. Yet, as it is, and when paired with off-white heels, a red hat, and a matching jacket that she carried with her, this look is too busy, and Cameron gets lost in it.