Princess Charlotte Proves She's A Katy Perry Fan With Adorable Coronation Concert Sing-Along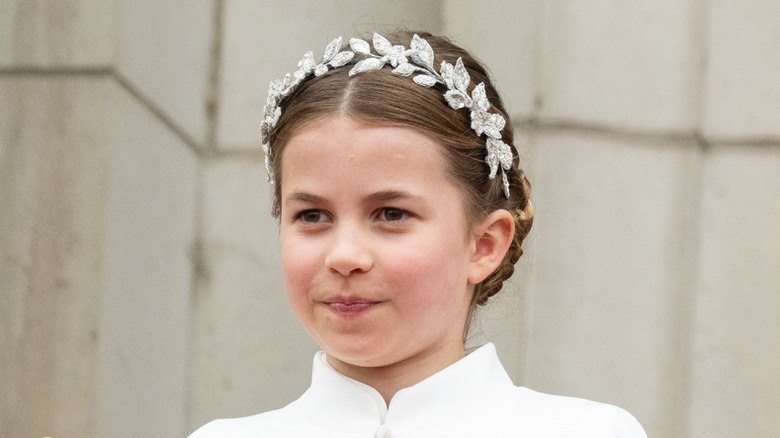 Pool/samir Hussein/Getty Images
In the months leading up to the coronation of King Charles III, finding artists to perform as part of the festivities received significant media attention. Multiple big names like Adele and Ed Sheeran turned down performance opportunities due to prior commitments. However, the coronation organizers got a "yes" from Lionel Richie and Katy Perry. Both stars took breaks from their roles as judges on "American Idol" in order to fly to London for the ceremony. 
A highlight of the coronation was participation from Prince William and Princess Kate's children, Princes George and Louis as well as Princess Charlotte. As the eldest and second in line to the throne behind his father Prince William, Prince George served as a page boy for Queen Camilla. However, at the coronation concert after the ceremony, he kicked back in the arena's royal box with his sister Princess Charlotte, who subtly revealed that she is a Katy Perry fan. 
Princess Charlotte appeared to enjoy the coronation concert
It seems like eyes are always on the British royal family, especially since there has not been a coronation since that of Queen Elizabeth II in 1953. Eyes around the world are on even the youngest of the royals as they show that they are still just kids. After Princess Charlotte proved to be a fashion icon in the making at the ceremony itself, the young royal enjoyed the coronation concert performance from Katy Perry, adorably singing along to Perry's hit song "Roar." She sang while waving the United Kingdom's Union Jack flag between her mother Catherine, Princess of Wales and brother Prince George.
Perry is no stranger to the British royals. In 2020, King Charles III appointed her as an ambassador for the British Asian Trust. He made the decision due to Perry's "long-standing commitment to charitable causes around the world" (per Forbes). At the coronation, Perry performed "Roar" and "Firework" at the concert. It is unclear, though, whether she and fan Princess Charlotte got a chance to meet during all the commotion of the busy coronation day.