Princess Charlotte Is Fashion Icon In The Making At King Charles' Coronation (Classic & Modern FTW)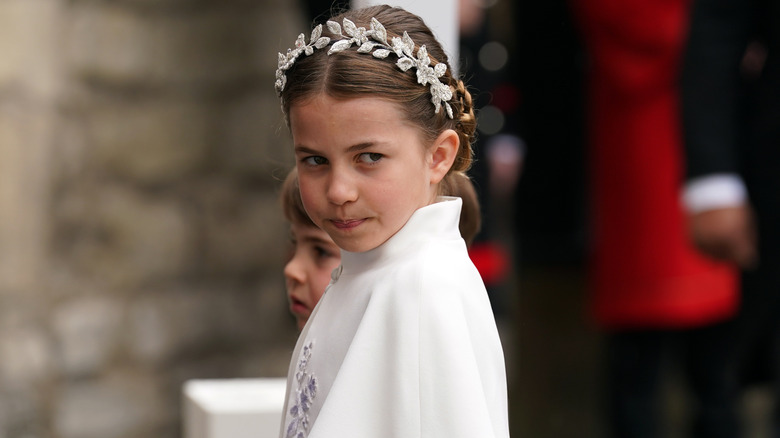 Wpa Pool/Getty Images
Although many eyes were on King Charles III during his coronation, there is no doubt that Princess Charlotte of Wales stole the show. As is typical with young royals, Princess Charlotte was one of the few members of the royal family who many wanted to see the most. While the occasion is historic for the United Kingdom and the Commonwealth nations, the coronation also begins a new chapter in the young royal's life. Charles' coronation marked the very first time Charlotte wore any sort of ceremonial garment. Plus, with her father next in line for the throne and her older brother second in line, there's no doubt we will see plenty more of Charlotte in the years to come. 
The princess certainly did not disappoint when she arrived at Westminster Abbey alongside her younger brother, Prince Louis, and her parents, William, Prince of Wales, and Catherine, Princess of Wales. Although her parents were dressed in all of their splashy regalia, the princess arrived in a much more minimalist but sparkling modern attire.
She wore a traditional but modern white dress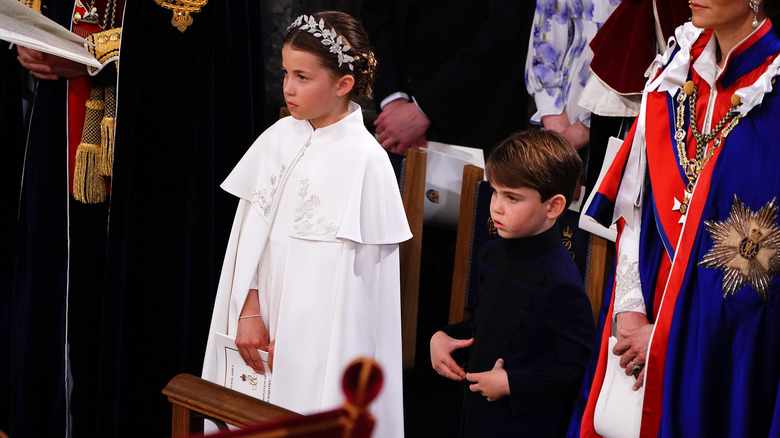 Wpa Pool/Getty Images
Princess Charlotte arrived at the coronation in an ivory Alexander McQueen dress, adorned with a matching white cape draped over her shoulders. While an almost exact match to her mother's dress and in the same color as Queen Camilla's gown, the princess shined in her own right in bright white. Princess Charlotte's gown was beautiful and delicate but it was also a traditional choice. "It's a coronation tradition for female members of the royal family to wear white," royal reporter Natalie Oliveri told 9Honey. "If you look back to late Queen's coronation in 1953, women of the royal family and the broader aristocracy all wore white."
Princess Charlotte accessorized with a thin bracelet and a silver leaf-shaped headband by Jess Collet x Alexander McQueen, which matched her mother's leaf-style headpiece. Despite its simplicity, the headband — and Charlotte herself — shined far more than any of the ornate crowns in the room. As one royal watcher noted on Instagram, "I don't care what other people say, and I know that she is a child, but she is the best dressed, without a doubt, among all those present."
An ensemble full of symbolism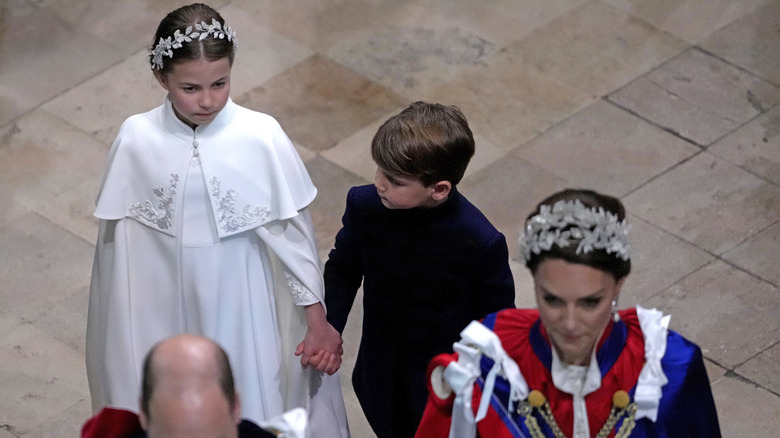 Wpa Pool/Getty Images
Princes Charlotte's ensemble cemented her role as a young fashion icon, yes, but her look was also full of symbolism. The flowers on Princess Charlotte's cape included rose, thistle, daffodil, and shamrocks, which represent the U.K. nations (England, Scotland, Wales, and Northern Ireland), reported the Telegraph. The intricate leaf headpiece she wore that matched her mother's also had a significant meaning that honors King Charles III. According to Vogue, the design is reminiscent of the Green Man. "An ancient figure from British folklore, the Green Man symbolizes spring and rebirth," Vogue explained. "He wears a crown of oak, ivy, and hawthorn, and the emblematic flowers."
Although Charlotte did not have a special role at the coronation, she was very much looking forward to the event. During an appearance at the Dog & Duck Pub in Soho before the big day, the Princess of Wales said her and Prince William's kids were "very excited," according to People. She continued, saying, "They had their rehearsal yesterday so they knew what they'd expect." She added that she was way more nervous than her little ones.
Indeed, Charlotte did not seem nervous in her modern yet traditional ensemble — which was a breath of fresh air in a room filled with plenty of pomp and frills. And if the princess' dress is any indication, the future of royal fashion may look different than anything we've seen before.