Need Help Determining Your Skin's Undertone? Check Out Your Jewelry Box
The surface color of your skin and its undertone are totally different from one another. Your basic complexion — or surface color — generally falls into four categories; fair, light, medium, or dark. Within those different complexions are a million variations and subtle hue differences that come from the amount of melanin in your skin. Knowing your undertone will make your fashion, hair, and jewelry choices sing.
Undertones are categorized as cool, warm, neutral, or olive. Although you might easily conclude that the darkest skin tones and black eyes are automatically warm, they're not always correlated. Dark-skinned folks can have cool undertones, and fair-skinned people can have warm undertones (picture your favorite redhead).
As Healthline explains, a cool undertone is bluish or pinkish while warm undertones are yellow, golden, or peachy. Cools burn and turn red in the sun, and warm tones tan more easily. A sunburn can definitely tell you about your skin's undertones. Neutrals are right in the middle, and olive skin has a greenish tone. If you pick up a coffee table book about master paintings, look closely at the skin in a portrait and you'll see all the blues, greens, purples, and reds that actually create "flesh" colors. But, if you're looking to find your own undertones, your jewelry box might be the answer.
Your jewelry box holds color secrets
Consider what color metal you long for, gaze at, or plot over several months to purchase. Do a quick survey. If your necklaces, bracelets, and earrings are white gold, silver, platinum, titanium, or stainless steel, there's a good chance you have a cool undertone. If instead you're in love with glittering gold, brass, copper, gold vermeil (which looks like gold), and rose gold jewelry, your undertone is probably warm. However, there are a few exceptions.
You've probably received earrings and necklaces you like and wear for sentimental reasons but that doesn't really suit you. Our friends and family don't always think about the undertones in our skin when they're gifting us jewelry, they're just lavishing us with their generosity. Here's a good test. Though Alara Jewelry suggests using silver and gold foil, if that's not available, pull your hair back and dangle silver and then gold jewelry next to your face. Ask yourself if it makes you look sallow, drained, or tired. If you glow and feel empowered, that's your answer. If you're neutral or olive, all metal colors usually work, though olive is often a bit warmer.
Other ways to figure out your undertone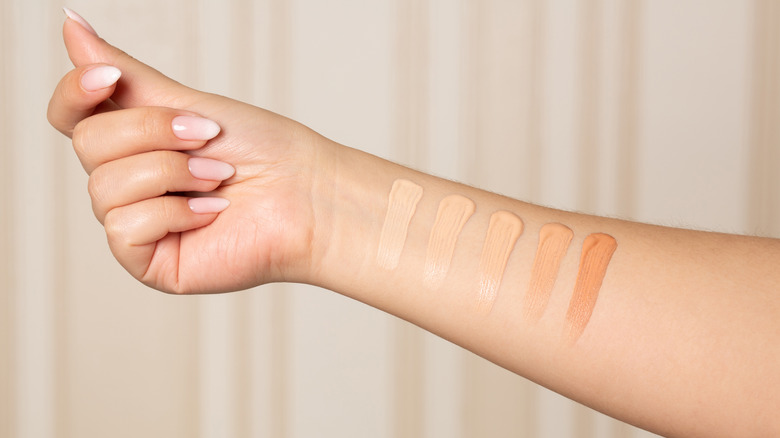 Viktoriya Pavliuk/Shutterstock
Speaking of jewelry, look at what color gemstones you have. Put them next to your face and see if the effect is enlivening or deadening. Earthy colors like turquoise, fire opal, peridot, citrine, and golden pearls are great for warm undertones. Bright vivid stones like silvery or white pearls, ruby, emerald, sapphire, and amethysts in a bluer shade of purple are best with cool undertones.
Looking at the veins on your wrists is another way to spot your undertone. Some of us have a mixture of both, which could mean you're neutral, but if they're primarily blue, you're cool, and if they're green, you're likely warm. Cosmetologist and beauty expert Leigh Raeder recommends putting a sheet of bright white printer paper next to your face and looking at the contrast. The paper is cool — see what your tone is in comparison.
Eye color provides another hint about undertones, but it's not definitive. Generally speaking, lighter eye colors are cool, and darker eyes are warm. If you examine photos of eyes from one color family, let's say blue, you'll see everything from an ice blue husky dog color to a turquoise Caribbean ocean. They're both light, but ice cubes are cool and the tropics are warm. As you look past your skin color to determine your undertone, your fashion and makeup choices get easier, for example, if you're on the hunt for glowy makeup, here's the best highlighter for your skin tone.