Prince Louis Put To Work At His First-Ever Official Royal Engagement (And It's Adorable)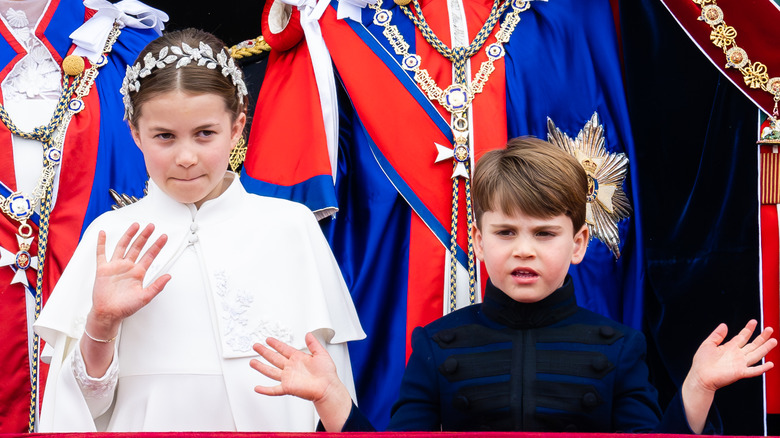 Samir Hussein/Getty Images
In the run-up to the coronation of King Charles III, there had been questions about whether Prince Louis, the youngest child of William and Catherine, Prince and Princess of Wales would be there. He wasn't in attendance at the queen's funeral, though his older siblings, Prince George and Princess Charlotte, attended. He did, after all, just turn five less than two weeks before the coronation, and while a celebratory occasion in some ways, it's still very much a solemn one that could be a challenge for a child that age to sit through. But Louis did show up in the crowd of over 2,000 guests, and he was definitely on good behavior, though viewers did see him yawning a couple of times during the two-hour ceremony. It's not the first time he has unintentionally pulled focus — Prince Louis stole the show at the start of the Platinum Jubilee celebrations.
After the service, the young prince and his family made their way back to Buckingham Palace. Along the way, The List saw Prince Louis letting loose after the coronation and seemingly playing peek-a-boo with the crowds. Louis was a no-show at the coronation concert on Sunday, which the rest of his family attended, but the family was back together on Monday at a volunteer event where Louis joined in helping renovate a scout hut in Slough.
Prince Louis and his family helped in a nationwide volunteer coronation event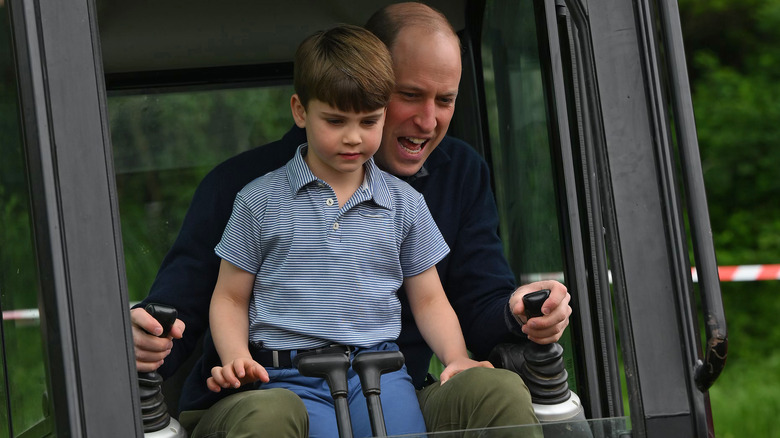 Wpa Pool/Getty Images
William and Catherine, Prince and Princess of Wales went with their three kids to a scout hut in Slough, west of London, on the Monday after the coronation as a part of a nationwide volunteer initiative called the Big Help Out, as reported by the BBC. And Prince Louis got in on the action alongside his family. At one point, the five-year-old was operating a digger — while sitting on his dad's lap and with his help, of course! Louis also helped load a wheelbarrow full of dirt and wheeled it all by himself for a bit.
It wasn't all just work at the event. The kids got to roast marshmallows and try their hand at archery. All three kids added their handprints to a mural inside the scout hut, and they posed for pictures with the other volunteers with matching Scout neckerchiefs.
Along with the Big Help Out volunteer initiative on Monday, coronation events included the Big Lunch on Sunday: These are street parties meant to bring communities together. The Prince and Princess of Wales stopped by one in Windsor, though without the kids, via People. Other royals attended the community parties across the country, but King Charles III and Queen Camilla didn't show up at any of the events (per the Independent).