People Queen Camilla Has Uncomfortable Relationships With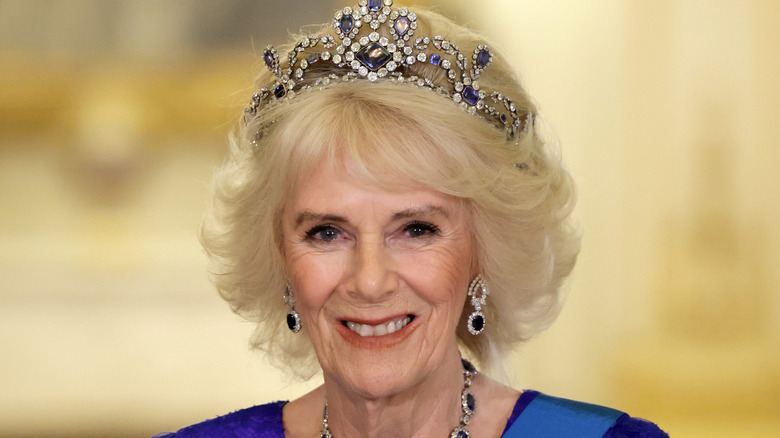 Chris Jackson/Getty Images
Queen Camilla entered the royal family amid plenty of drama — both private and public. The world knew all about her affair with King Charles III, and after Princess Diana's death, Camilla was the perfect scapegoat when people started looking for someone to blame.
The tabloids were happy to tear her apart, with royal expert Tina Brown telling The Washington Post that Camilla was basically "public enemy number one" after Diana's tragic death. After her affair with Charles became public knowledge, the press had no mercy. "It's actually almost inconceivable how much abuse Camilla took," Brown said. Brown added that Camilla did all she could after she married Charles to restore her reputation and prove herself worthy of the monarchy. "She's been supportive. She's been charming. She's been hard-working," Brown said.
In addition to getting torn apart by the tabloids, Camilla also had to adapt to royal life and her new family, which couldn't have been easy after everything that transpired. In an interview with "Good Morning America," Prince Harry claimed that the monarchy did, however, do all it could to restore Camilla's public image, sometimes at the expense of other family members. "She was the villain, she was a third person in the marriage, she needed to rehabilitate her image," Harry said in a "60 Minutes" interview with Anderson Cooper. This likely did not sit well with some family members, and a number of reports suggest Camilla still has plenty of uncomfortable relationships with some of them to this day.
Camilla and Princess Diana had an awkward friendship in the early days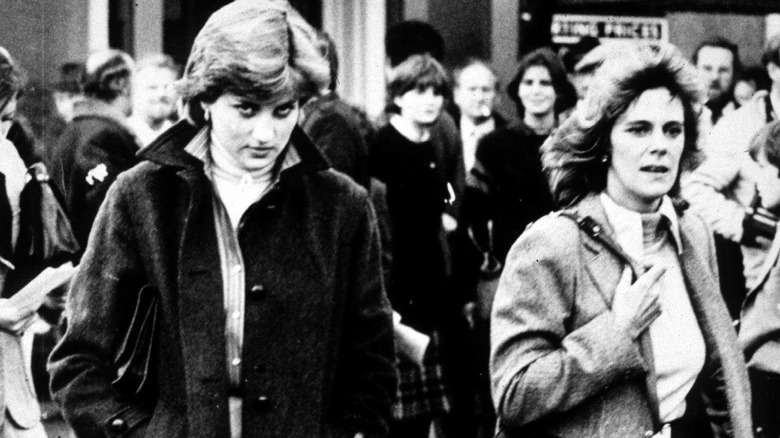 Express Newspapers/Getty Images
When you think of Queen Camilla and Princess Diana as friends, you can't help but cringe a little. The two knew each other prior to the affair that would break up Diana's marriage, and while they weren't besties, they did go out for lunch once.
In Andrew Morton's book "Diana" In Her Own Words," the late princess recounts her first interaction with Camilla. "I met [Camilla] very early on. I was introduced to the circle, but I was a threat. I was a very young girl, but I was a threat," she recalled. Royal biographer Penny Junor told the Daily Mail that Diana and Charles paid frequent visits to the Parker Bowles household in the early days of their relationship. Per Morton's book, the princess-to-be soon started to suspect that Charles and Camilla were closer than she'd thought at first. After Diana and Charles got engaged, Camilla sent her a letter, congratulating her and inviting her for lunch, saying that she'd "love to see the ring." Diana would later tell Morton that it was a pretty awkward lunch, with the conversation being persistently "tricky."
To make things even more awkward, Camilla was invited to and attended the royal wedding. At this point, Diana knew that Charles used to date her and that he was, quite possibly, still in love with her. The two women's awkward relationship turned downright hostile after Diana confronted Camilla about her affair with Charles at a party in 1989.
Camilla and Prince Harry don't exactly have a warm relationship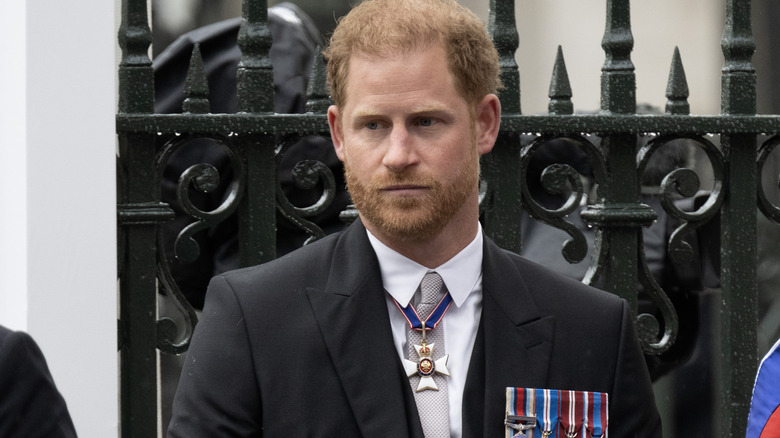 Wpa Pool/Getty Images
Prince Harry's memoir "Spare" dropped several bombshells, one of which is that he and Prince William supposedly begged King Charles III not to marry Queen Camilla after their mother's death. It appears Harry and Camilla continue to be polite toward one another, but they don't have a close relationship. During his interview with Michael Strahan on "Good Morning America," Prince Harry admitted that he and his stepmother hadn't been in contact for a "long time," but emphasized that he still loved his family regardless of their disagreements.
This doesn't mean that Harry's relationship with Camilla has the potential to become all warm and fuzzy, which was clear from what the prince said next. "So, when I see her, we're perfectly pleasant with each other," he claimed, adding that he doesn't see her as the "evil stepmother." "[I see] someone who married into this institution and has done everything she can to improve her own reputation and her own image for her own sake," the prince continued. Is that a jab, Haz?
In his aforementioned interview with Anderson Cooper, Harry spoke about his father and Camilla's affair and confirmed that he and William didn't want their father to remarry and felt it was unnecessary. "We thought that it was going to cause more harm than good," Harry said. "Why go that far when you don't necessarily need to?" Clearly, Harry and Camilla's relationship was destined to be somewhat uncomfortable from the start.
Prince William apparently won't let his children call Camilla grandma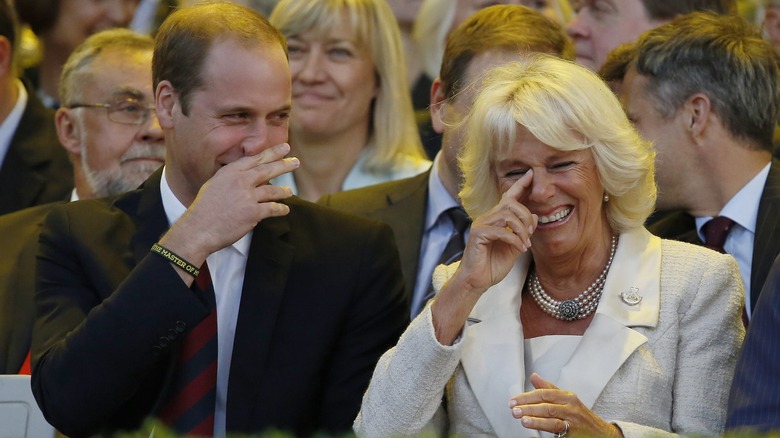 Wpa Pool/Getty Images
While Prince William might have a slightly warmer relationship with Queen Camilla than Prince Harry, the two definitely are not thick as thieves, and according to royal author Angela Levin, William had made it abundantly clear to Camilla that she's not his mother, and that she won't ever be able to fill Princess Diana's shoes. In "Camilla: From Outcast to Queen Consort," Levin explains that Camilla never really had any maternal influence over William and Harry, so to speak. By the time she married King Charles III, William and Harry were in their 20s. "She was more of a friendly grown-up they saw occasionally at royal gatherings. She tried to be encouraging rather than influential," Levin explains.
In Levin's book, the relationship between the queen consort and the prince is described in detail, and while it's not too shocking that William flat-out told Camilla that she's not his mother, it is surprising that he's also keeping some distance between her and his children. "William has made it clear that Camilla is the wife of his father, but not a step-grandmother to his children," Levin writes. Apparently, William's three children know not to refer to Camilla as their grandmother. Per Levin, Camilla does not mind this at all and is happy not to take on any responsibilities as a step-grandmother. But we have to admit, it has to sting a little.
Camilla and Princess Catherine reportedly only tolerate each other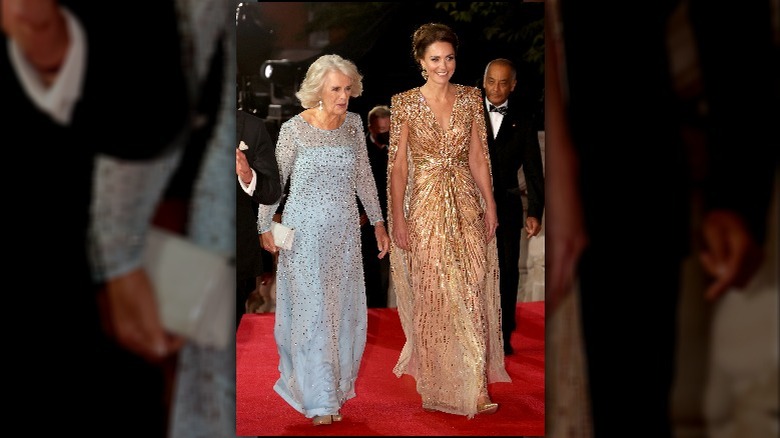 Chris Jackson/Getty Images
You might have heard whispers that Queen Camilla didn't initially want Princess Catherine to join the family and even went as far as to try and break her and Prince William up. Speaking to the Daily Beast, royal biographer Christopher Andersen claimed that Camilla apparently did not think someone like Catherine, who was very much a regular citizen when she met William, was fit to join the royal ranks. Her supposed plans to break up the couple for good backfired, but it appears the queen consort still likes to show Catherine who's boss.
Camilla and Catherine's relationship isn't exactly a warm one, an insider claimed to Radar. "It's been this elephant in the room for so many years since Camilla feels Kate merely tolerates her," the source stated, adding that Camilla's new title means she has a little more authority over members of the family, and that Catherine would have to "fall in line." Other sources claimed that Catherine is irritated with the way Camilla is abusing her newfound power. Andersen adds that some of the more unflattering stories the media has published about Catherine came from none other than Camilla's people. "[I]t's a subtle war but it's an ongoing one," Andersen said.
Princess Anne and Camilla have an uncomfortable history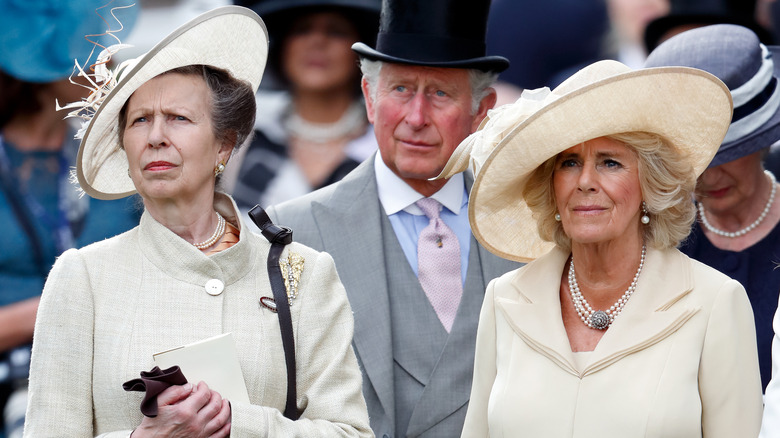 Max Mumby/indigo/Getty Images
Princess Anne and Queen Camilla's relationship has been complicated, to say the least. This is in no small part thanks to the relationship Princess Anne had with Camilla's ex-husband Andrew Parker Bowles in the '70s, royal biographer Angela Levin claims in her book "Camilla, Duchess of Cornwall: A Royal Survivor." That alone must have been quite the elephant in the room when Camilla joined the royal family, but Levin also reveals that Anne was strongly opposed to Camilla becoming queen consort one day and believed that she could never be "a true queen." "Like many people who didn't know Anne well, Camilla found her frosty demeanour difficult and somewhat unnerving to cope with [at first]," Levin writes.
Levin claims that Princess Anne kept Camilla at arm's length for years. "Princess Anne is quite a tricky character and she can be quite abrasive," royal author Penny Junor told Channel 5 (via Express). "Over the years, Camilla has been slightly intimidated by her," Junor added. The two did seem to get on better as the years wore on, however. Body language expert Judi James told Express that early pictures of the two women suggested they preferred to ignore each other and keep their distance, with Anne quite literally leaving Camilla out in the cold on one occasion when she didn't offer to share her umbrella while it was raining. Nowadays, their body language is much friendlier.
Sarah, Duchess of York, and Camilla reportedly clashed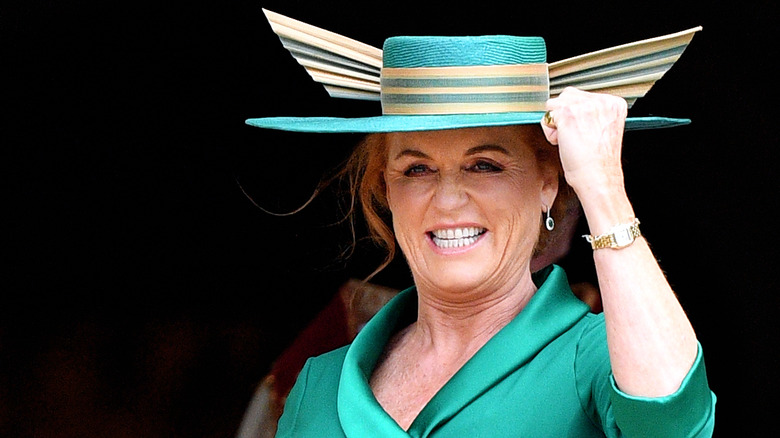 Pool/max Mumby/Getty Images
Royal fans all know that Queen Camilla and Sarah, Duchess of York, don't exactly get along. They were never close to begin with; by the time Camilla was allowed to publicly be with King Charles III in 1999, Sarah and Prince Andrew were divorced. Sarah is also said to have had a close friendship with Princess Diana at one point, which means a potential friendship with Camilla had always been unlikely. While they seemed to tolerate each other for the most part, word got out about a fight the pair of royals had while both attending a summer retreat at Balmoral in 2018.
A royal source dished to New Idea that the two women got into it while the family was enjoying after-dinner drinks. Apparently, Sarah had never really discussed Diana with Camilla, but the queen consort's involvement in Diana's crumbling marriage and her unhappiness within the royal family had been bugging the duchess for a while, and it appears that being around Camilla for an extended period of time made those feelings bubble up to the surface again. "Fergie couldn't hold it in anymore and really let Camilla have it," the tipster claimed, adding, "She and Camilla have never seen eye-to-eye, but being at Balmoral brought back a lot of memories of Diana and all the time they spent there together – so it was only a matter of time before she let Camilla have it," the source added.
Camilla's initially warm relationship with Meghan Markle quickly soured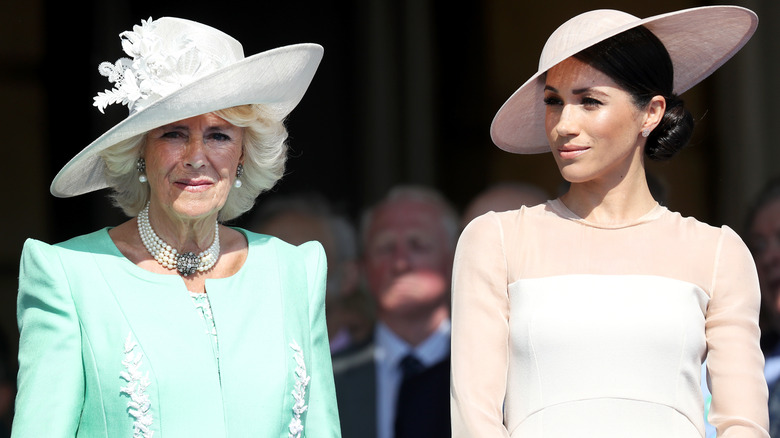 Chris Jackson/Getty Images
When Meghan Markle first joined the family, it appeared that she and Queen Camilla got along swimmingly. In the unauthorized biography "Meghan: A Hollywood Princess," Andrew Morton claims that Meghan and Camilla bonded over their shared interest in yoga and wine. The day after Prince Harry and Meghan went public with their engagement, People reported that Camilla told the press, "America's loss is our gain. We are all absolutely delighted." Camilla also reportedly offered Meghan some helpful advice on how to cope with royal life.
Unfortunately, things quickly went sideways when Meghan paid a private visit to the National Theatre and had the pictures published the same day Camilla was delivering a very important speech to commemorate the 10th anniversary of the Women of the World Festival in London. Meghan's pictures dominated the news cycle instead of Camilla's speech, which left the latter incredibly upset, an insider told the Mirror. "[E]veryone was in agreement that Camilla's speech should take precedence. ­Unfortunately some people had other ideas," the insider claimed. This seemed to be the beginning of the end of the warm relationship between Meghan and Camilla. In one ITV News clip that went viral on social media, Camilla was asked whether she was going to miss Harry and Meghan when they leave the royal family. The queen consort seemed to consider the question for a moment, and then replied "Hmmm, 'course!" No love lost there, it seems.
Camilla has a complicated relationship with the British public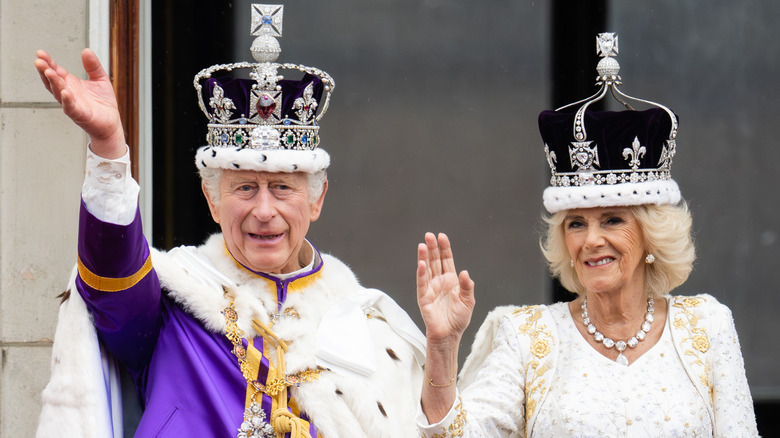 Samir Hussein/Getty Images
While her relationship with some of the royal family members is clearly more than just a little complicated, Queen Camilla's relationship with the British public is one that's evolved quite a bit over the years. She had a rocky start with the press and the public, with many painting her as the villain, especially after Princess Diana's death.
Things were already looking dire for the future queen consort when her affair with King Charles III became public knowledge in the 90s, but it became downright awful after Diana's passing. "Camilla should leave the country. Without the mistress, none of this would've happened," one of Diana's mourners said to the press at the time (via Reuters). It seemed many shared that sentiment, with a television poll showing that the majority of people believed Charles should be denied the throne if he marries Camilla. In short, it was not pretty, and it must have been terrible for Camilla. Royal biographer Tina Brown told The Washington Post that the public abuse Camilla endured even before Diana's passing was unimaginable. "[S]he was called hag, old bag, witch. I mean, these were the kind of words that were used about Camilla for years," Brown said.
The public eventually warmed to her, thanks in part to the great efforts made by the palace. "Her image has been transformed, a carefully managed makeover, and they have done a fantastic job rehabilitating her [reputation]," PR executive Roddi Vaughan-Thomas told NBC News in 2017.