The Sweet Nickname Kate Middleton Calls Prince Louis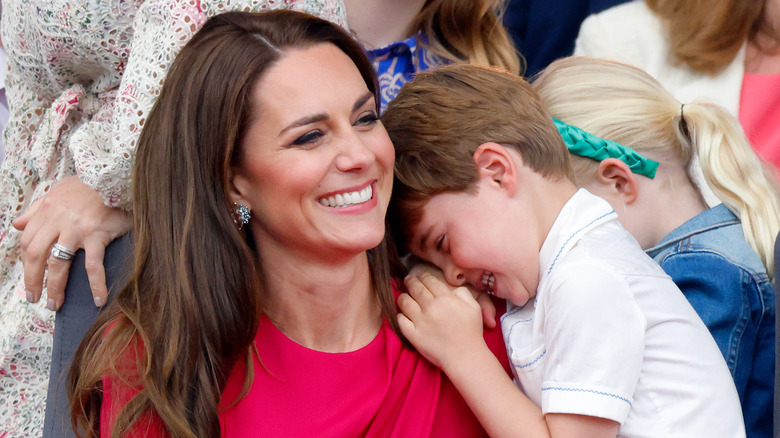 Max Mumby/indigo/Getty Images
Prince Louis, the youngest child of William, Prince of Wales, and Catherine, Princess of Wales, stole the show at the Platinum Jubilee with his antics. (Just check out Prince George's reaction to Prince Louis' wild Jubilee behavior.) He joined in on many of the big events, including waving at the crowds from a carriage along with his older siblings and appearing on the Buckingham Palace balcony next to his great-grandmother Queen Elizabeth II. Then 4-year-old Louis wasn't seen during the next big public royal event, Queen Elizabeth's funeral, a decision that his parents reportedly went back and forth on, according to Us Weekly.
But the young prince was back for the coronation of King Charles III on May 6. The now 5-year-old sweetly held hands with big sister Princess Charlotte at times during the event. He made it through much of the two-hour service, though he did get a break at one point; viewers noticed that Louis was no longer seated between his sister and his mom, according to People. And while he missed the coronation concert on May 7, Louis was put to work at his first-ever official royal engagement on the Monday after the coronation with the rest of his family at a volunteer event in Slough, west of London. During that event, we learned the sweet nickname Kate Middleton has for her youngest son.
Kate Middleton used the same term for Prince Louis and Princess Charlotte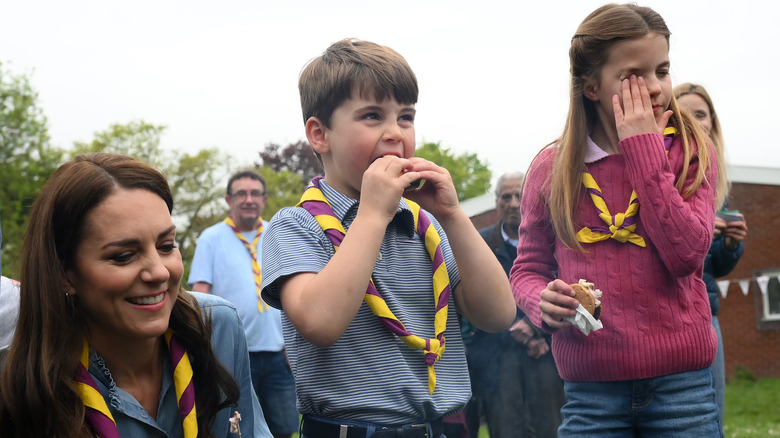 Wpa Pool/Getty Images
Prince Louis and his family lent a hand at a Big Help Out volunteer event in Slough on May 8 in honor of the king's coronation. They were helping with the renovations at the 3rd Upton Scouts Hut, which is used by a number of area community groups. During the outing, the royal siblings got a chance to enjoy a classic scouting pastime: roasting marshmallows. After Louis ate his freshly toasted marshmallow, Catherine, Princess of Wales told him he could throw the used stick into the fire by saying, "You can pop that in the fire, Lou Bugs" (via Twitter). Too precious! Louis was then handed a s'more to eat, to which William, Prince of Wales said, "You've made his day!"
At another time during the event, Kate Middleton called Louis "poppet" as he added his handprint to a mural inside the scout hut, per the Daily Mail. That's the same adorable nickname Kate has used with Princess Charlotte, according to another Daily Mail report. "Poppet" is a common term of endearment, especially for younger kids, in England, so it's likely Kate has used the same name for Prince George, too. We love to see that motherly love!
Kate Middleton has volunteered with UK Scouting before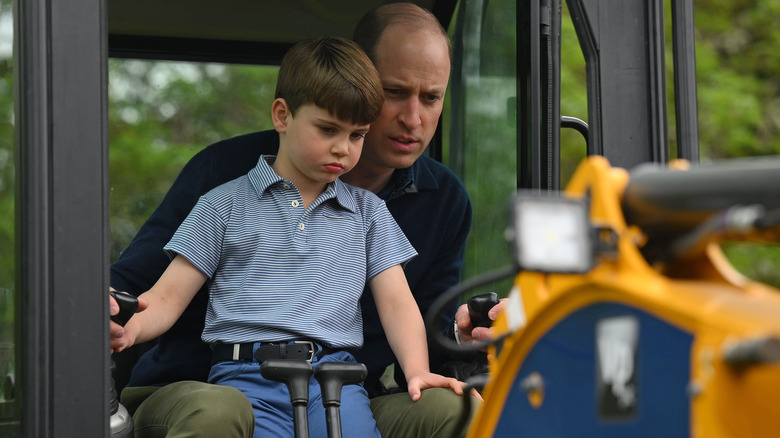 Wpa Pool/Getty Images
Prince Louis did far more than just munch on s'mores at his first royal engagement. He got to try out archery, along with his siblings and mother. And he worked hard; Louis was seen sitting on his father's lap and driving a digger, and he helped fill and then push a wheelbarrow full of dirt, as noted by the BBC. Louis and his family were at one of the 55,000 Big Help Out events, which were organized around the UK for the Monday after the coronation to help encourage people to come back to volunteering and support their community after the pandemic.
And while it was a surprise that the three Wales kids joined the parents at the volunteer event, it shouldn't be surprising that they were helping update and spruce up a scout hut since Catherine, Princess of Wales was named joint president of UK Scouting in 2020, per Twitter. It's a good fit, since she was in the Brownies as a kid and she's volunteered with the Scouts a number of times since she got married, as reported by People and E! News. Joining the Scouts is something Kate Middleton hopes her own kids will get into someday, according to People. And with the fun it looked like Louis, Charlotte, and George were having at their royal outing, it seems like scouting could be a good fit for them!