Buckingham Palace Releases First Portraits Since King Charles' Coronation (But Two Royals Are MIA)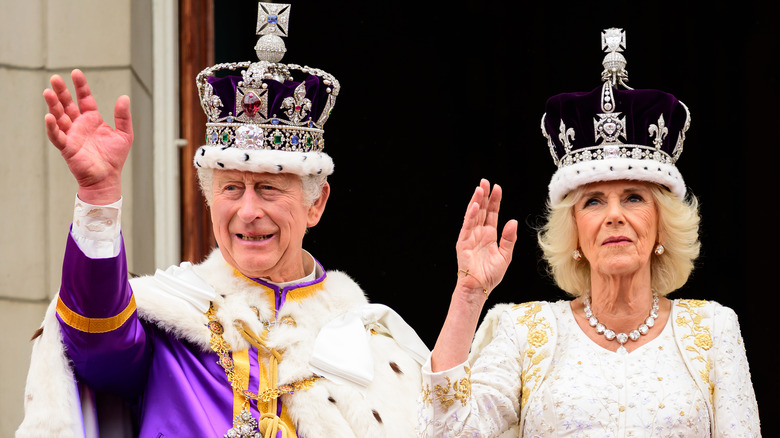 Leon Neal/Getty Images
Years in the making, King Charles III's coronation has come to a close. It was a weekend full of activities, with the actual coronation itself on Saturday, May 6, the coronation concert on Sunday, and then a day of volunteer activities around the country on Monday. And the audience who attended the more than two-hour service included royalty from around the world, like the monarchs of Spain, the Netherlands, Sweden, and Jordan.
Along with foreign royalty, the British royal family was out in full force, and many royal fans thought Princess Anne won the coronation. With so much royalty, there were plenty of glittering jewels and glamorous outfits full of symbolism — The List's exclusive survey unveiled the best dressed royal at the coronation. It was definitely a sight to see. And as the coronation weekend came to a close, Buckingham Palace released official coronation portraits. One of the pictures includes King Charles and Queen Camilla at the center, flanked by other members of the royal family. 
But not every royal family member made the cut for the official photo.
Princes Andrew and Harry attended the coronation, but they're definitely not working royals
With Buckingham Palace's release of the official portraits, there's no denying that Prince Andrew, King Charles' brother, and Prince Harry, Charles' son, are firmly on the outs when it comes to official royal engagements, as they were nowhere to be seen. But that's because the 10 people surrounding Charles and Queen Camilla in the official portrait were chosen not because of how closely related they are to the king but because of their role as working royals, which Harry and Andrew no longer are.
Andrew and Harry sat in the same row at the coronation — two rows behind William, Prince of Wales and Catherine, Princes of Wales. But that's where the similarities between nephew and uncle seem to end. Harry wore a morning suit and military medals, while Andrew wore ceremonial robes for the Order of the Garter, per the Daily Mail. Harry arrived without fanfare and made a quick departure after the coronation to get back to California, likely to celebrate his son Archie's birthday, while Andrew was booed during his ride to Westminster Abbey from Buckingham Palace.
Harry stepped back from royal duties along with his wife, Meghan Markle, in early 2020. And, a few months prior, Andrew's duties were terminated after questions and concerns continued to swirl about his association with Jeffrey Epstein. By 2022, the ongoing legal issues surrounding his alleged sexual assault of Virginia Giuffre led to the removal of his military titles and patronages, per NPR.