Prince Harry And Prince William Have Thoughts About Queen Camilla's Royal Title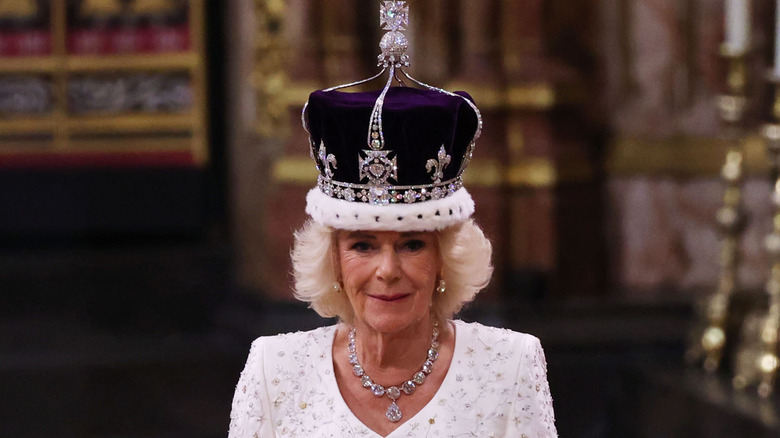 Wpa Pool/Getty Images
It hasn't been long since the coronation of King Charles III, but there could already be tension in the air about Camilla Parker Bowles's new title, Queen Consort. During the coronation ceremony, Charles and Camilla were both crowned, with Queen Camilla's crown representing a royal first. Camilla's possible title was up in the air until 2022 when the late Queen Elizabeth II explicitly stated that she wished for her daughter-in-law to hold the title of Queen Consort.
Despite the focus on the coronation, there was plenty of discussion on what might have been, too. Princess Diana tragically passed away in 1997, leaving behind her two sons; William, Prince of Wales, and Prince Harry, Duke of Sussex, who were only 15 and 12 at the time. Although Diana and Charles officially divorced in 1996, the couple had been separated for several years. 
Nevertheless, it must have been tough for Harry and William knowing that their beloved mother would never get to be queen and the title would instead go to Camilla — especially given their reportedly strained relationship over the years. So, what's their opinion of Queen Camilla these days?
The relationship between the trio supposedly started out well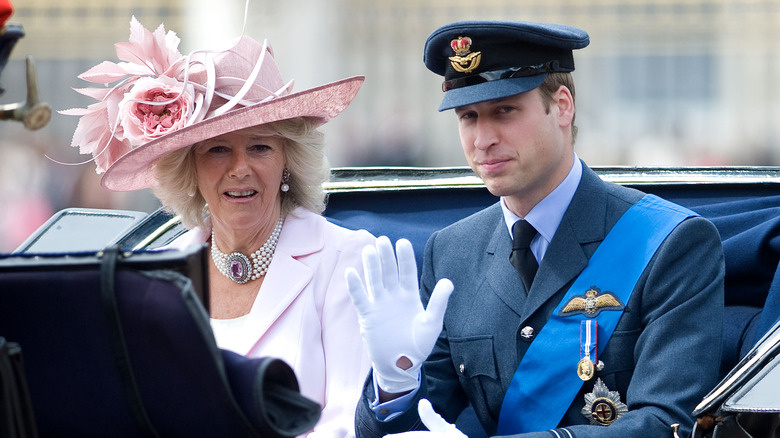 Samir Hussein/Getty Images
Speaking to People, royal author Ingrid Seward opined that, when it comes to their stepmother's crowning, Prince William and Prince Harry are "likely feeling a little wobbly about it." Seward added, "I think a lot of people will feel the same." Positive public opinion toward Queen Camilla has been shaky since she first officially entered the royal family. In a poll run by the Daily Mail, she ranked 11th in a popularity rating list, with only 39% of respondents saying they had a "favorable" opinion of her. 
This landed Camilla just above the Duke and Duchess of Sussex and the disgraced Prince Andrew. In stark contrast, King Charles was ranked sixth overall. However, when Charles and Camilla, then the Duke and Duchess of Cornwall, got married in 2005, sources confirmed that William and Harry were never anything but welcoming to her. 
An alleged family friend firmly stated that "there wasn't any animosity" between Camilla and the two boys. Moreover, Harry himself insisted that he and William "love her [Camilla] to bits," additionally clarifying that she was "not the wicked stepmother" many believed her to be. It appears, then, that William and Harry did agree with Camilla being a part of their family, at least at first. But in the years since, things appear to have shifted.
It appears to have soured somewhat in recent years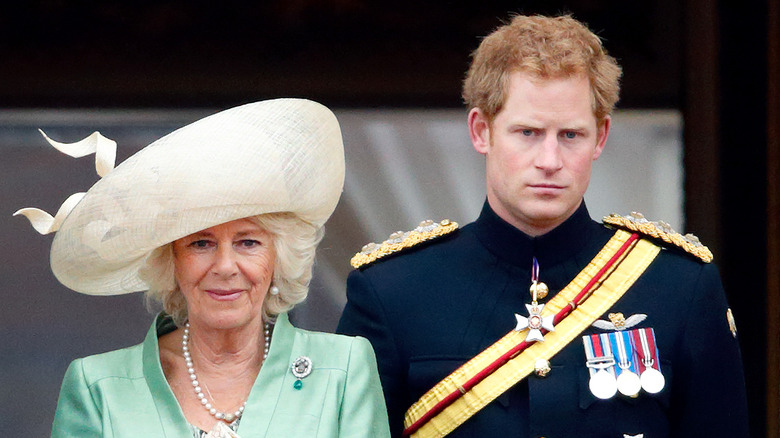 Max Mumby/indigo/Getty Images
Although their relationship started off well, Prince Harry's feelings toward Queen Camilla have apparently changed as he's entered adulthood. Among the startling revelations from Harry's tell-all memoir, "Spare," was the Duke of Sussex acknowledging that he and his older brother, Prince William, never wanted their father to marry Camilla in the first place (though they were fine with the prospect of him having another romantic relationship after Princess Diana's death). 
Further, Harry also discussed the topic of Camilla entering the royal family with Michael Strahan on "Good Morning America," stating, "She had a reputation or an image to rehabilitate, and whatever conversations happened, whatever deals or trading was made right at the beginning, she was led to believe that would be the best way of doing it." The royal defector also revealed in "Spare" that, upon entering the royal family, Camilla "sacrificed me on her personal PR altar."
Despite this, Harry doesn't seem to harbor any major negative feelings toward his stepmother. During the same interview, he shared, "When I see her, we're perfectly pleasant with each other." The prince also reiterated once again that she wasn't the villain. Rather, "I see someone who married into this institution, or got involved with this institution and has done everything that she can to improve her own reputation and her own image for her own sake, and I can understand why."