Queen Camilla's Coronation Crown Represents Significant Royal First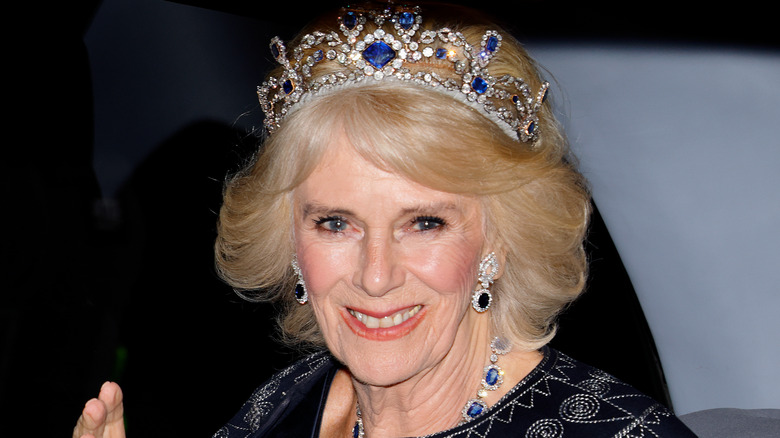 Max Mumby/indigo/Getty Images
It's been over 70 years since the world saw the coronation of a monarch in the United Kingdom. Queen Elizabeth's coronation in 1953 was the first to ever be shown on television, with millions around the world watching the event unfold. Millions will no doubt be tuning in on May 6, 2023 for the coronation of King Charles III as well, and they'll see many of the same things they did for Queen Elizabeth's coronation. Both held at Westminster Abbey, where all coronations have been held since 1066, and both with plenty of pomp and circumstance. British Prime Minister Rishi Sunak and others in leadership are happy to highlight Britain at its best for the event.
But there will be some differences. King Charles III is changing up his coronation outfit to help reflect a changing monarchy. It will be shorter than the Queen's 3-hour ceremony, and there will be around 2,000 guests in contrast to the 8,000 guests that showed up in 1953 (per Vanity Fair). Another difference will be that after King Charles's coronation ceremony, Camilla, Queen Consort will also be crowned (Prince Philip wasn't crowned at Queen Elizabeth's coronation). For the occasion, Camilla had a variety of coronation crown options, but now, her crown choice has been verified, and it's a nod to both history and the future.
The Koh-i-Noor diamond won't be in Queen Camilla's crown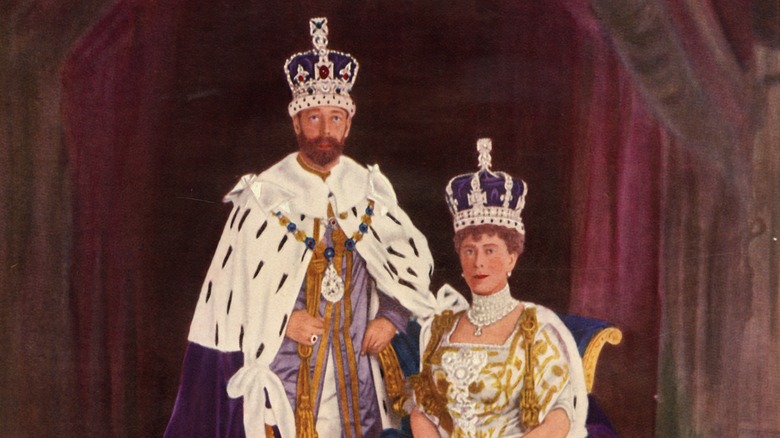 Print Collector/Getty Images
Camilla, Queen Consort will be crowned with Queen Mary's Crown, as reported by the BBC. Usually, a new crown would be made for the queen for the coronation, but in a royal first, Camilla will be reusing a crown because of "interests of sustainability and efficiency," per the BBC. Typically housed in the Tower of London, Queen Mary's Crown is now being prepped. It's being fitted for Camilla, having some of its arches removed, and some of its stones are being replaced with others from Queen Elizabeth II's collection (via Vanity Fair). The Cullinan III, IV, and V diamonds were worn by the late queen as brooches; all three diamonds were a part of Queen Mary's crown on different occasions. One diamond originally in Queen Mary's Crown will not be making an appearance: the controversial Koh-i-Noor diamond, one of the world's largest cut diamonds.
Queen Mary's Crown made its first appearance at George V's coronation, featuring the Koh-i-Noor diamond in the center. The diamond had previously been worn by Queen Victoria as a brooch, in a crown by Queen Alexandra, and after the 1911 coronation, it was placed in the coronation crown of Queen Elizabeth, the Queen Mother. While the Koh-i-Noor won't be at this coronation, it's still a part of the Crown Jewels collection. Countries including India, Pakistan, Iran, and Afghanistan have asked that the Koh-i-Noor diamond be given back, as it was acquired during British colonial control of India.