GH's Laura Wright And Eden McCoy Recall Their First Days As On-Screen Mother And Daughter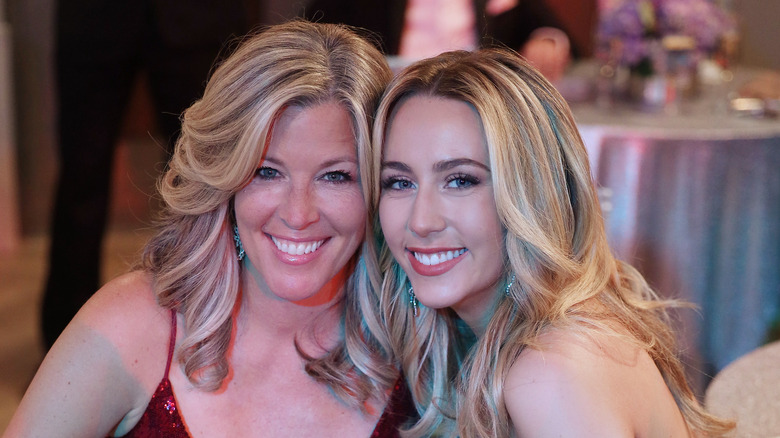 ABC/Christine Bartolucci
When Eden McCoy stepped into the role of Josslyn Jacks on "General Hospital" in 2015, she had no idea that not only would she still be playing the part eight years later, but she would form a real-life bond with Laura Wright, who plays her mother Carly Spencer. Because her mother was married to mob kingpin Sonny Corinthos (Maurice Benard) for most of her life, Joss was aware of the many potential dangers to his family members. As McCoy has evolved as an actress and Joss has grown, she's become very much like Carly.
In 2019, McCoy told Soaps in Depth that Joss and Carly are "both very opinionated, go places they shouldn't, and have very powerful energy," adding, "I just watch [Wright] and have performed with her for so long that my tendencies are her tendencies. I'm my own actor and my own person, but I've adopted her character into mine." Jasper "Jax" Jacks (Ingo Rademacher) is Josslyn's biological father, and because he and Carly have such opposite approaches to life, McCoy stated, "They learn from each other and bring out the best in each other. Josslyn is just a product of that." Now that Joss is involved with Sonny's lieutenant Dex Heller (Evan Hofer), rather than forbid their romance as Sonny has done, Carly has simply cautioned Joss to be careful, drawing from her own relationship with Sonny's late enforcer, Jason Morgan (Steve Burton). 
The actors recently discussed their dynamic on the show.
Wright knows McCoy better than her own mother
Laura Wright and Eden McCoy chatted with Soap Opera Digest about their relationship both on and off screen. Because of the high turnaround of young actors playing Josslyn in 2015, Wright wasn't sure if McCoy was going to stay. On her first day, McCoy was terrified to ask Wright to take a picture with her, but they did. Wright said, "I remember the first photo we took," and McCoy followed up with, "Which we still have."
Wright remembered meeting McCoy for the first time, explaining, "It wasn't until the storyline where Josslyn had friends to the house and was drinking and got caught with a beer bottle in the couch or something where I was like, 'Okay! Now we have an actor!'" She further elaborated that Joss' prior portrayers were all good actors, but were very young and inexperienced. Regarding the evolution of their off-screen relationship, Wright stated, "We hang out together all the time, we talk about things, we talk about our scenes, we laugh. There's an honesty and a respect."
McCoy added that Wright sometimes knows her better than her own mother, and also explained that her respect for Wright's work ethic has provided a great example for her. She also addressed unexpected emotional moments in scenes with Wright, stating, "Those moments are so great, when those unexpected feelings arise, because that's what happens to people in real life."