Tragic Details About Julia Louis-Dreyfus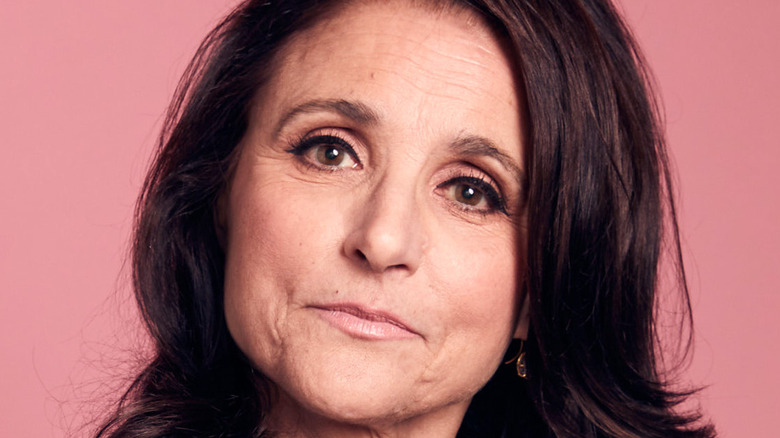 Michael Rowe/Getty Images
You almost definitely know her as Elaine Benes on "Seinfeld," but if the hit sitcom is a bit before your time or wasn't your cup of tea, then you probably recognize Julia Louis-Dreyfus from "Veep." She's been delighting audiences with her impeccable comedic timing and assertive delivery for four decades since she was cast on "Saturday Night Live" in 1982. Louis-Dreyfus has been recognized for her contributions to comedy countless times, and she currently holds the record for most Emmy awards won by any actor with 11 wins, so needless to say, she's a total television icon.
Although Louis-Dreyfus has built a successful career in comedy, and her role in the monumental success that was "Seinfeld" set her up for life, she hasn't always had it easy. From familial tragedies and personal health crises to having to fight for a spot in such a male-dominated field, it could be argued that Louis-Dreyfus has had to overcome more than her fair share of obstacles throughout her life. Here are nine tragic details about Julia Louis-Dreyfus you probably didn't know about.
She had an emotionally devastating miscarriage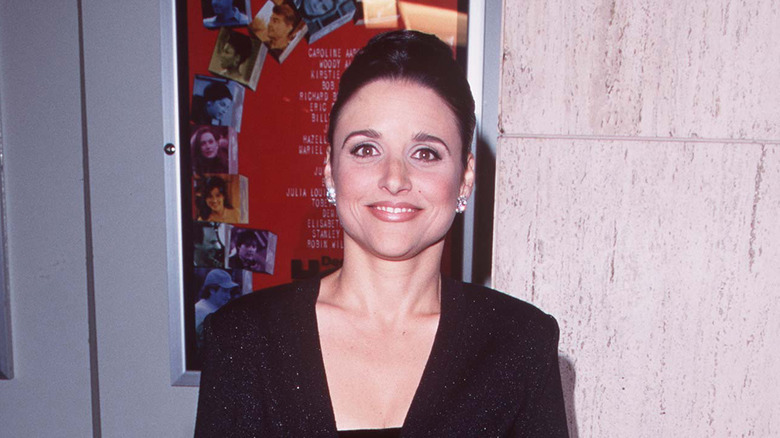 Steve Granitz/Getty Images
Everybody knows Julia Louis-Dreyfus as the quick-witted comedian with a big, toothy grin. But she showed a more vulnerable side to herself when she opened the April 25, 2023 episode of her podcast "Wiser Than Me" with a touching story about a miscarriage she experienced in the late '80s. She said, "When I was about 28, I got pregnant for the first time and I was crazy happy. I got pregnant easily. I felt very fertile, very womanly. And then, quite late in the pregnancy, my husband Brad and I discovered that this little fetus was not going to live. So that was emotionally devastating, as you can imagine, but it got worse because I developed an infection that landed me in the hospital."
Louis-Dreyfus detailed that her mother flew out to be with her while she recuperated. Although the actress was allowed to leave the hospital, she was "bedridden" and couldn't eat solid foods yet. Still, with food being so paramount in her family's traditions, Louis-Dreyfus' mother made chili with cornbread baked on top. This was exactly what the actress needed, as Louis-Dreyfus remarked, "It was the best meal ever. And I didn't even eat it. The making of it was so comforting. It was so embracing." It was understandably a tragic event, but at the very least, she had her husband and mother to look after her, and the "wonderful" smell of her mother's cooking to comfort her.
Her father died in 2016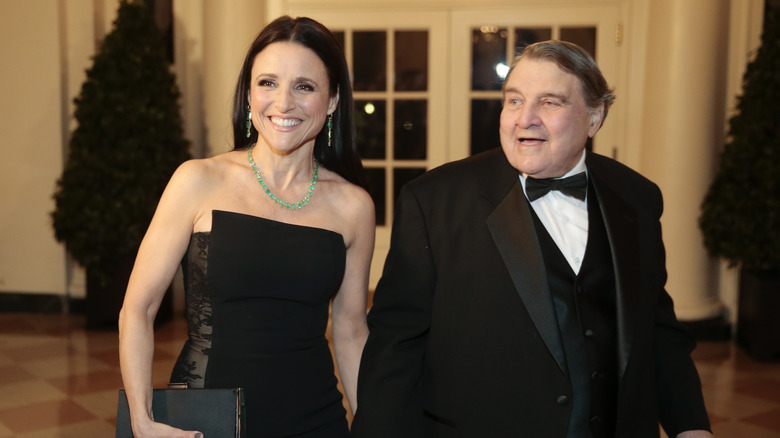 White House Pool (isp Pool Images)/Getty Images
Gérard (William) Louis-Dreyfus was born in 1932 and was raised in Paris, France. His father worked for the Louis Dreyfus Group, a merchant firm and processor handling agriculture, among other industries. Louis-Dreyfus began his career in law and soon moved over to the family company as chairman. He accumulated a multi-billion dollar fortune in the course of his life, and he was extremely charitable when it came to the arts, having opened a gallery with the purpose of supporting important causes and sharing art with the world. Louis-Dreyfus was a father to three daughters, including Julia Louis-Dreyfus, and had divorced the actress' mother when she was a baby. When he sadly died in September 2016 at the age of 84 from complications around his congestive heart failure, she made sure to honor him in her Emmy acceptance speech.
After about a minute of comedically thanking everyone involved with her "Veep" win, Julia Louis-Dreyfus paused. Hands shaking and voice quavering, she said, "Lastly, I'd like to dedicate this to my father, William Louis-Dreyfus, who passed away on Friday. And, I'm so glad that he liked me because his opinion was the one that really mattered."
She was diagnosed with breast cancer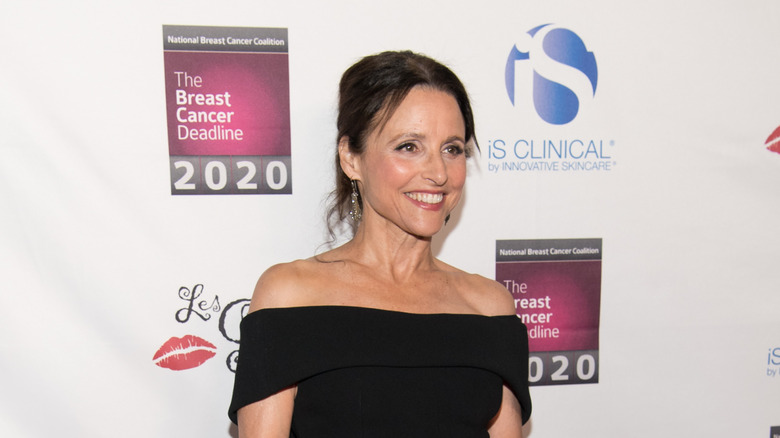 Emma Mcintyre/Getty Images
Just one year after her father passed away, Julia Louis-Dreyfus shared a post on Twitter that read, "One in eight women get breast cancer. Today, I'm the one." She had been diagnosed with stage II breast cancer and took to the social platform to say that she had "the most glorious group of supportive and caring family and friends" to help her through the difficult time. Jerry Seinfeld and Jason Alexander, her "Seinfeld" co-stars, voiced their support as well when they heard the news. Speaking with People, Louis-Dreyfus explained how crucial the support was for her recovery, specifically mentioning that her husband and two sons never left her side. "It was like they had their hands underneath me holding me up," she said.
Six rounds of chemotherapy, a double mastectomy, and one year later, she was on the other side of it. But the horrible experience left an impression on Louis-Dreyfus. In a 2023 episode of her podcast "Wiser Than Me," she said, "I had breast cancer a few years back. And when I got the diagnosis, which was so f****** terrifying. But one of my first thoughts was, I don't want to go, I don't wanna leave. I do not want to leave." With such a traumatic event, it's truly phenomenal that she has remained optimistic. "I got diagnosed with cancer, and I powered through it, and I came out the other side. I'm grateful for all of it," she told People.
The side effects of chemotherapy took a toll on her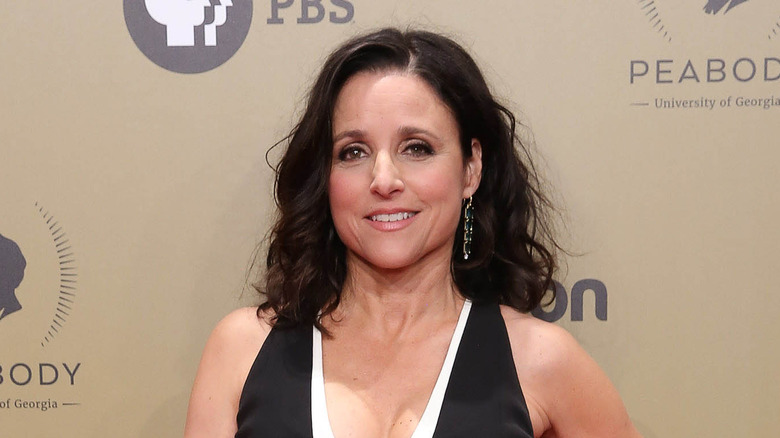 Jp Yim/Getty Images
The side effects of chemotherapy are rarely described as anything positive (aside from the fact that it can cure cancer). Julia Louis-Dreyfus was nauseous, sores appeared on her face and inside of her mouth, her stomach was always unsettled, and she developed neuropathy in her hands and feet. But despite her diagnosis and intensive treatment, she continued to work on "Veep." In an interview with Net-a-Porter, Louis-Dreyfus said, "We weren't shooting, but I read scripts. My rounds of chemotherapy were three weeks apart, so at the end of every three weeks I would go in and do table reads. The effects of chemotherapy are cumulative, so I definitely felt that more towards the end, but going to work was a very joyful distraction, and I was so pleased to have the strength to do it."
In speaking with The New Yorker in 2018, Louis-Dreyfus described the side effects of chemotherapy as "debilitating" and that still, a year after her diagnosis, her hair had been "blasted by chemotherapy and [it's] still growing out." Thankfully, she was able to keep her support network nearby while she underwent treatment. In her acceptance speech for the Mark Twain Prize for American Humor she said, "When I was getting my hideous chemotherapy, I'd cram a bunch of friends and family into the tiny treatment room with me." She added that laughter is the best medicine and they were cracking jokes the entire time.
Julia Louis-Dreyfus was deeply affected by her father's criticism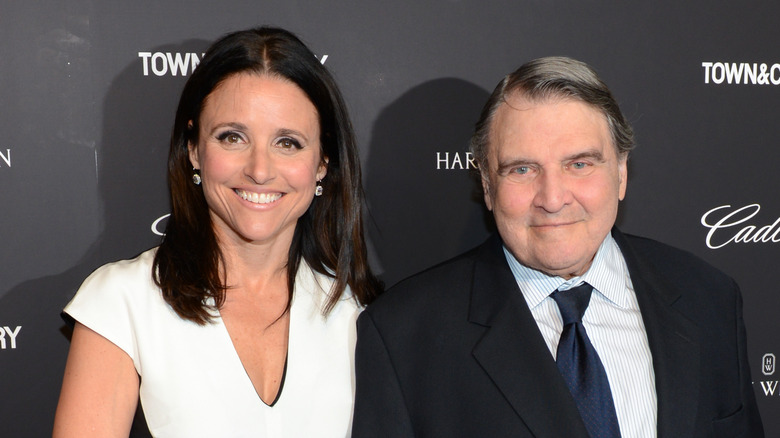 Mike Pont/Getty Images
Gérard (William) Louis-Dreyfus was a businessman, but also a lover and collector of art. In 2014, he spoke with Today about a documentary directed by Brad Hall, Julia Louis-Dreyfus' husband, which detailed the donation of many of Gérard's artworks to charity. In the interview, he admitted, "I couldn't tell she was going to be a star. I knew how natural she was and how much she liked life and fun. She was always very funny and fun to be with."
In an interview with Variety, Louis-Dreyfus described another time Gérard made his thoughts about his daughter's performance known. She described a phone call she received from her father during her first season of "Saturday Night Live," having dropped out of college after being scouted to work on the comedy sketch show. "I remember him saying something really negative to me. He didn't handle it properly, and he wasn't gentle. His complaint was that I was too big, too broad. I was devastated by that," she said.
Today, Louis-Dreyfus seems to have made her peace with her father's criticism. In her podcast "Wiser Than Me," she said, "God, he was a true narcissist in the clinical sense ... And I've spent a lot of time in my own life, trying to somehow fix that with him. But there was something nice when I realized that's him. And that's not me. And away from that is where I live, you know, separate."
Her sister died of an overdose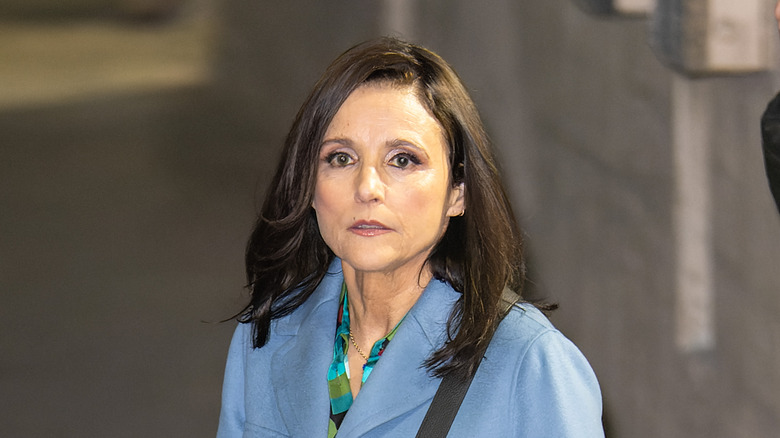 Rb/bauer-griffin/Getty Images
After a harrowing couple of years, first with the loss of her father and then with her breast cancer diagnosis, Julia Louis-Dreyfus had experienced enough loss and hardship for a lifetime. But then in August 2018, she received even more awful news — her youngest sister, Emma Louis-Dreyfus, suffered a seizure on a camping trip in the Sierra Nevada mountain range in California and died. Louis-Dreyfus has only just returned to working on her television show after obtaining the status of cancer-free when the tragedy took place. As she told The New Yorker, "It was out of the blue."
A report determined that Louis-Dreyfus' sister, who was only 44, died with a combination of alcohol and cocaine in her system, which triggered her seizure, but it was ultimately ruled an accidental death. The actress had yet to comment publicly about her sister's death before her interview with The New Yorker, and one tabloid claimed this was due to the sisters being estranged. This led Louis-Dreyfus to say, "Given the fact that that heinous s*** came out, I would simply say I've kept this under wraps out of reverence for my dearest Emma. It's been a very bad period of time."
She was affected by the Seinfeld curse for many years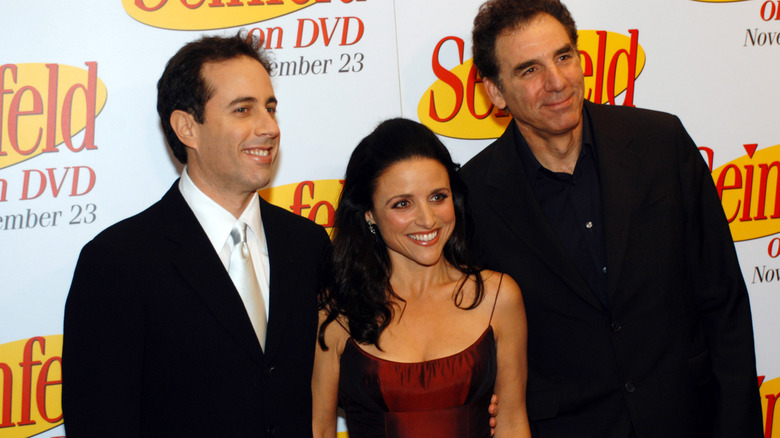 Carley Margolis/Getty Images
Fans of "Seinfeld" or Larry David's other hit "Curb Your Enthusiasm" probably know all about the supposed "Seinfeld" curse. This pop culture phenomenon refers to the difficulty actors of the hit sitcom had in finding successful roles after the show ended in 1998. For example, Jason Alexander — who played George Costanza on "Seinfeld" — starred in a handful of shows in the early 2000s, but none were very successful. Michael Richards (Kramer) and Jerry Seinfeld (as himself) faced similar issues for many years, as did Julia Louis-Dreyfus. Some would hypothesize that the actors on "Seinfeld" would only ever be seen as their characters.
But the difference is that Louis-Dreyfus managed to climb her way out of the "Seinfeld" curse after some trial and error. In 2002, she and her husband Brad Hall collaborated on an NBC show — which she starred in — called "Watching Ellie," but it was canceled after only two seasons. Louis-Dreyfus then lent her voice to a handful of animated shows like "The Fairly Odd Parents" and "The Simpsons" and guest starred on a few sitcoms, but in 2006 she gave it another go with "The New Adventures of Old Christine." The reception was stronger, and the sitcom lasted for five seasons. It wasn't until "Veep" that Louis-Dreyfus hit her stride with another smash hit. Now, she's part of the Marvel universe — something nobody would have imagined for a former "cursed" "Seinfeld" alum.
She experienced postpartum depression after having both of her sons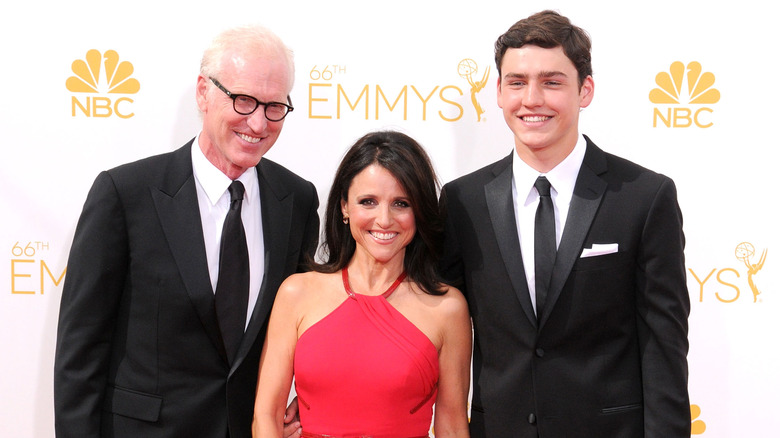 Barry King/Getty Images
Over the years, many celebrities have opened up about how they've navigated postpartum depression, including Julia Louis-Dreyfus. In 2020, she spoke on Gwyneth Paltrow's podcast "The Goop" about her experience after having both of her sons in the middle of filming "Seinfeld." She said, "I think also, actually, I suffered from some postpartum after both pregnancies and that was — well, I don't think, I did — but nobody was calling it that then so I just thought 'oh s*** I'm losing my mind,'." Louis-Dreyfus went on to say, "I just remember it was terrifying, it really was scary because there was this feeling like 'I should not have had children,' and that is ... terrifying after you've given birth. It's not a good feeling."
In March 2023, the actress bragged to People about her two sons, Henry Hall, 30, and Charlie Hall, 25, who both took after their parents and are now actors. "My son Henry just finished shooting a series for Amazon, and Charlie's in all sorts of shows, 'Single Drunk Female,' 'Sex Lives of College Girls,' and so on," she said. "The fact that my children are able to pull that off gives me endless joy." Thankfully, now that she's on the other side of it, having received the help that she needed, Louis-Dreyfus can relish in her children's success knowing it was all worthwhile.
She had to fight to be taken seriously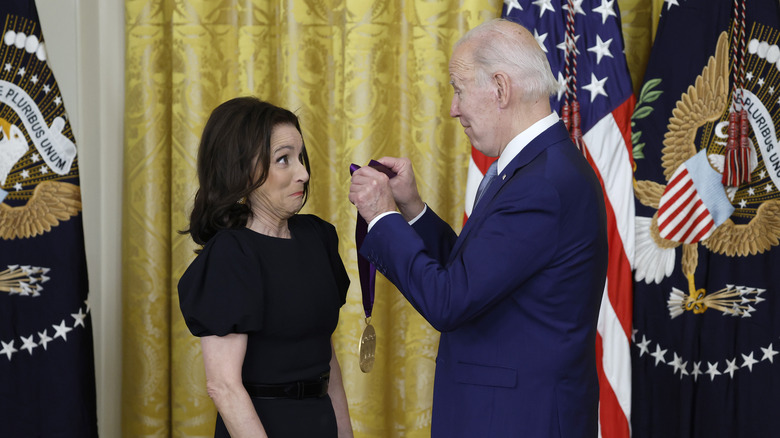 Anna Moneymaker/Getty Images
Having overcome countless obstacles to be where she is today, Julia Louis-Dreyfus is easily up there with female comedians that deserve their own talk show. Today, she owns any room she walks into, but back in the day, she had to fight hard to be taken seriously as a woman in the world of comedy.
During her time on "Saturday Night Live" when she was only 21, Louis-Dreyfus realized the force she was up against. In an interview with Vanity Fair, she said, "I had no idea about this business of show. It was a very male-dominated, male-centric environment there, in addition to the fact that everybody was completely high on any drug that they could get their hands on, and I had no idea. I learned quick." When she eventually moved on to "Seinfeld," Louis-Dreyfus battled writers to build her character more. In an extra scene in a 2006 documentary about the show, she said, "I didn't think I was getting enough really meaty comedy stuff. I had stuff, but it wasn't, like, the really funny stuff."
Having pushed boundaries so early on, Louis-Dreyfus is now seen as a trailblazer and comedic icon today. As she told Time, "I can honestly say that I have a s*** ton of experience when it comes to making entertainment. So I think I have ... I don't think. I have a lot to add."
If you or someone you know needs help with mental health, please contact the Crisis Text Line by texting HOME to 741741, call the National Alliance on Mental Illness helpline at 1-800-950-NAMI (6264), or visit the National Institute of Mental Health website.